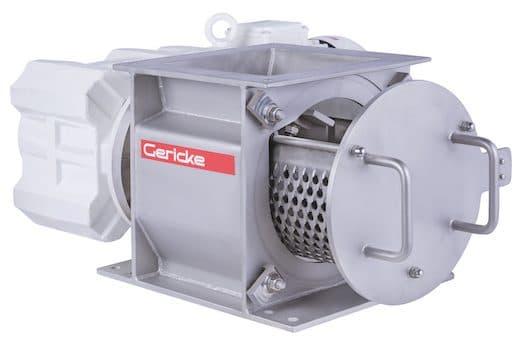 The Nibbler line of lump breakers from process equipment manufacturer Gericke USA, Somerset, NJ, is offered in optional hygienic designs for installation in sanitary processing facilities.
Developed to offer the company's proprietary size reduction technology in models that comply with FDA requirements, the hygienic lump breakers feature a novel shaft assembly that allows the entire basket, screen and front end to be quickly removed and fully accessed for complete cleaning, thorough inspections and easy maintenance. The Nibbler deagglomeration includes woven wire screens in 316 stainless steel, continuously welded seams throughout, and polished internals to virtually eliminate the potential to harbor product or bacteria.
Proven in food, pharmaceutical, nutraceutical, and other sanitary processes, the hygienic Nibbler reduces agglomerates, granules and lumps down to 1 mm via attrition milling using a low speed, high-torque, rotating paddle assembly that cuts the material without damaging the product or generating excessive fine particles. A choice of screen sizes ensures the powders meet the required particle size. The hygienic Nibbler line comprises seven standard models and may be custom-engineered to accommodate nearly any process specifications, including installation in hazardous environments requiring ATEX certification.
Click here for related articles and news
Search for lump breaker manufacturers in our equipment guide
Sign up for Size & Volume Reduction E-Updates
Recent Size and Volume Reduction e-newsletters
Read our last "Size and Volume Reduction" e-newsletter campaigns here:
This article is published by
Gericke
Gericke Feeding, Mixing, Conveying, Size Control Technology. High class workmanship for a world of industry. Gericke supplies conveying, sifting, high-precision feeding and mixing solutions that handle a broad range of ingredients such as pellets, powders, floodable powders and fibreglass for food, chemical, industrial, and pharmaceutical industries.
Gericke process ...