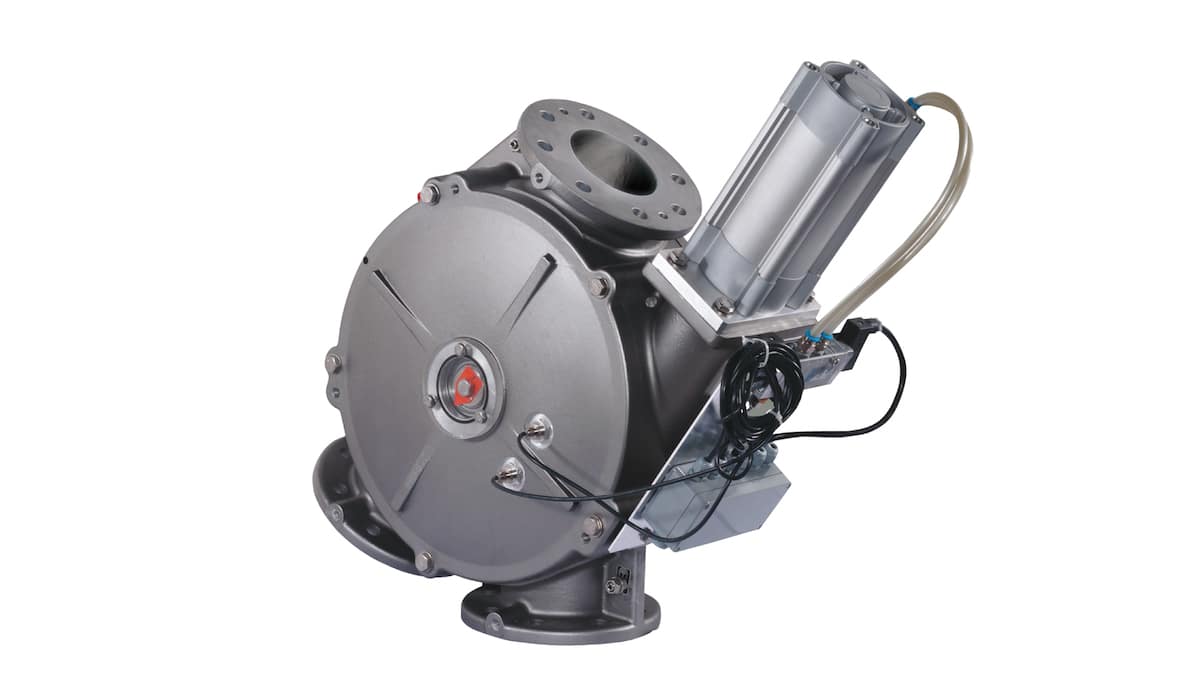 Diverter valves or product flow distributors are an essential part in pneumatic and freefall conveying systems. TBMA can now offer its own plug diverter valves for the diverting and/or converging of powders and granules for pneumatic conveying systems.
The DTD double channel plug diverter and the SDTD single channel plug diverter are suitable for applications in dilute or dense phase or vacuum pneumatic conveying systems in the food, feed, chemical, plastics, pharmaceutical and biomass industries. The smart, value engineered design ensures a smooth product flow and minimal switching time with as little product degradation as possible.
The diverter valves are easy to inspect and clean by removing the cover on the non-drive side. There are no moving parts on the outside for maximum operator safety. The DTD is available in 7 sizes (50-200), while the SDTD is currently available in 4 sizes (150-300). Both types are optionally available with inflatable seals, suitable for use in systems up to 6 bar.
With this expansion, TBMA can offer two very attractively priced diverter valves and a wider range of components for delivery to end users and system integrators. Thanks to our experience in designing and supplying systems, we can adequately advise our customers about the application possibilities of these diverters.
TBMA will be present at the Solids show on 1st and 2nd April 2020 in Dortmund in hall 6 stand H6 S41D (Benelux Pavilion).
TBMA components have been used in the international process industry for more than half a century. From demanding hygienic to heavy industrial applications and from high-end valves to dust filter applications. We also take care of the design and implementation of complete (pneumatic) conveying systems, so we know the circumstances under which our valves have to do their work thoroughly. We are also happy to use our expertise for a special application or special implementation.
This article is published by
Solutions beyond bulk handling
TBMA are specialists in the design and supply of components and systems for bulk solids handling. Our extensive range of high quality processing equipment is suitable for handling powders and granules with proven reliability in practice in a variety of processing industries. The highly qualified and experienced ...