The industry-leading MechaTron® dry material feeder has all the unique design features that manufacturers require for their processing applications.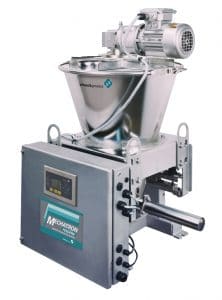 Complete disassembly from the non process side of the feeder eliminates the need to remove upper extension hoppers, bins, bulk bags, and IBC's to clean or maintain the feeder. Flexible or all stainless steel hoppers are available to accommodate any unique dry material feeding application.
MechaTron® feeders are perfectly suited to handle a wide range of volumetric or gravimetric feeding applications for bulk solid materials such as TiO2, carbon black, cheese, raisins, and cellulose. Additionally, the MechaTron® can achieve feed rates from .002 to 1,100 cubic feet (.05 to 31,150 liters) per hour.
Contact Schenck Process at 1-816-891-9300 or sales-fcp@schenckprocess.com for more information.
Click here for more information on the MechaTron® dry material feeder
Sign up for Feeders E-Updates
Recent Feeders e-newsletters
Read our last "Feeders" e-newsletter campaigns here:
Schenck Process is the global technology and market leader in applied measuring technology. We make processes work in all areas of industry throughout the world. For us that means improving our customer processes in terms of reliability, efficiency, and accuracy. Combining outstanding equipment and extensive process knowledge, we develop and manufacture ...