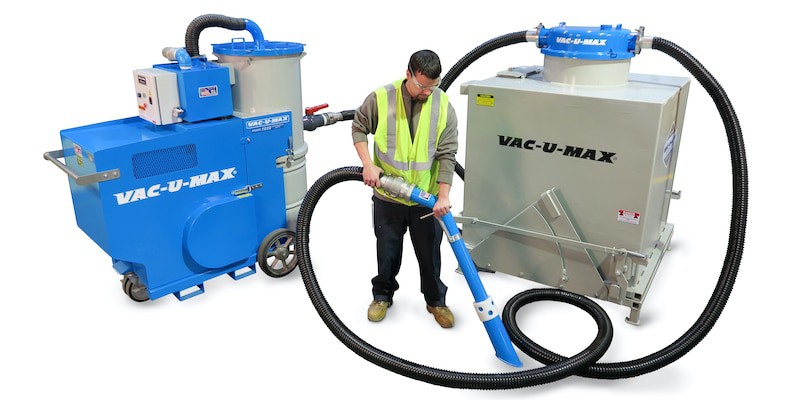 VAC-U-MAX Model 1050
continuous-duty industrial vacuum cleaner is ideal for applications requiring high-volume recovery of up to 5 Tons per hour (5,000 kg/hr) of the heaviest material including steel shot, cement, and foundry sand.
System features "break-away" concept with the flexibility of a portable vacuum and powerful as a central system with multiple pick-up points for long distances.
The heart of the Model 1050 is a positive-displacement rotary-lobe vacuum pump which is unlike any centrifugal vacuum producer. The vacuum pump provides 50% more vacuum power with airflow that never diminishes for quick recovery of material from large piles and over long distances.
Versatility of the Model 1050 allows use as a central vacuum system when connected and disconnected from permanent tubing networks or it can be operated as a portable vacuum cleaner. The Model 1050 is easily rolled to any location including tight areas and uneven surfaces. System features large 14" diameter (350mm) front wheels and 8" (150mm) dual swivel casters at the rear for ease of mobility. For longer distance transportation the Model 1050 features built-in forklift pockets. 
This article is published by
VAC-U-MAX specializes in the design and manufacture of pneumatic conveying components, systems, controls, and support equipment for vacuum conveying, batching, and weighing of bulk materials. With a VAC-U-MAX pneumatic conveying system on site, bulk materials move gently and quickly from point to point, with nothing in the way to impede the efficiency ...