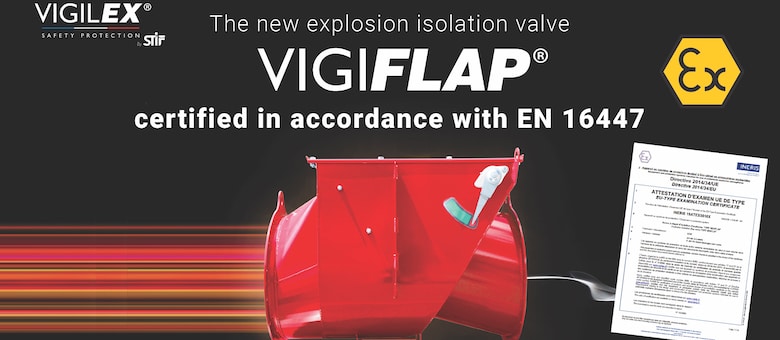 The VigiFLAP is an explosion isolation valve that is designed to prevent the propagation of a deflagration or flame front through ducting from a downstream event originating in equipment such as dust collectors, flter or cyclone.
The VigiFLAP can be used as both an upstream and downstream protection device when used on each side of the protected vessel. To accomplish this, the VigiFLAP uses a unique locking mechanism that allows the valve to be held open in a working position, with the ability to quickly close during an event. This locking mechanism also reduces the pressures drop experienced in many similar isolation type devices.
In the event of an explosion or deflagration, the valve will close, lock and prevent the passage of flame. Unlocking of the flap once it has been closed, must be completed manually at the locking mechanism.

Certifications:
Version 1: July 2020
Dirty air and clean air side
Horizontal position only ±10º
Pull flow
KST MAX 250 (all dusts, metallic dust included)
ø160 to ø800mm
Version 2: November 2020
Horizontal and vertical position
Push and pull flow
With elbow
Version 3: Januari 2021
KST MAX 300
ø > 800until ø1300mm included
Metal dust included until diam 800
This article is published by
VIGILEX explosion protection systems are designed by the STIF Company, which is specialized in the manufacture of components for the bulk handling industry.
Created in 1984, the S.T.I.F. ...