Due to the difficult process parameters, it is impossible to use differential pressure measurements on the evaporative cooler. Optical measuring devices also quickly reach their limits here due to the high dust load.
Until today, the air velocities are either not controlled at all or are controlled with the help of an optical measuring device. In many places, the fans are also run permanently at high load, which brings with it a huge potential savings.
PROCESS DATA
| | |
| --- | --- |
| Dust load | 5-10 g/m³ |
| Diameter | 3600 mm |
| Process temperature | 250 °C – 500 °C |
| Customer | Cement plant in Germany |
| Installation | In the inlet of the evaporation cooler |
| Product | Different dusts |
| Function | Monitoring of the air volume for more process safety and energy savings |
SOLUTION
The AirFlow P high temperature version is a sensor specially designed for measuring air flow in dusty applications at high temperatures. It determines the air velocity based on the dust particles in the process. The evaluation unit (MSE300) calculates the measured velocity with an entered line area (v x A = m³/h). This makes it possible to obtain an air volume in m³/h or a velocity measurement in m/s with the AirFlow P. The sensor, featuring an electrodynamic measuring principle, measures the discharges of the passing dust particles and correlates these signals.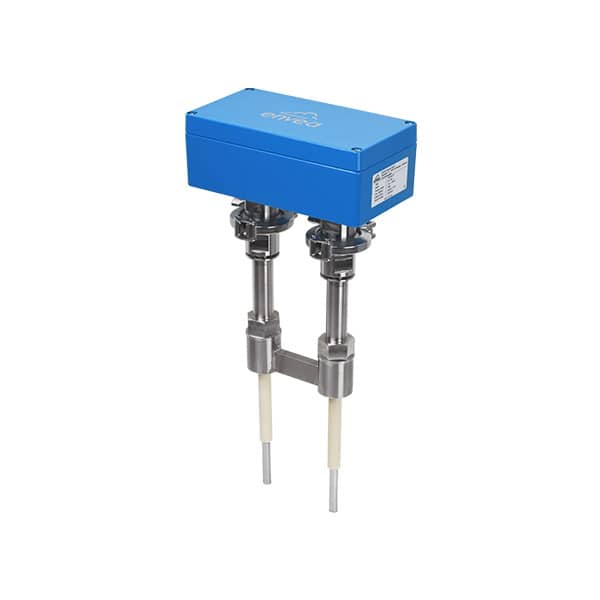 Thanks to the AirFlow P, in this application, the existing optical measurement was replaced, and a permanent and maintenance-free control of the process was implemented.
CUSTOMER BENEFITS
Loadable volume flow measurement despite high dust content in the line
Energy savings by controlling the process
Cost savings due to the elimination of maintenance work on the measurement technology