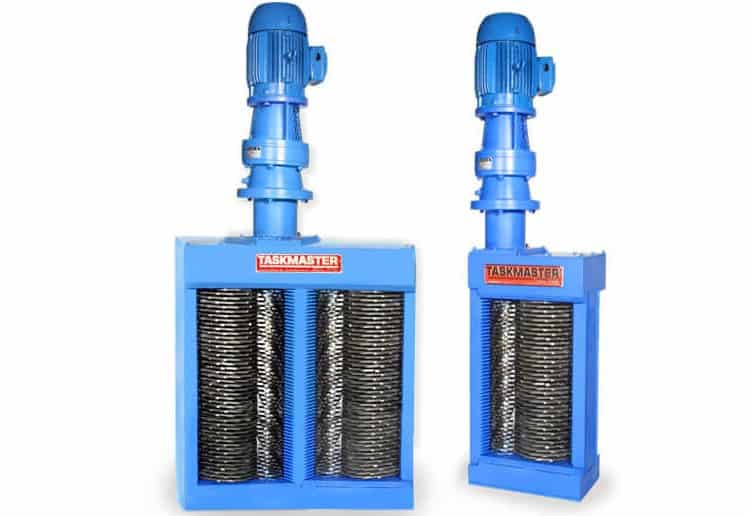 The TASKMASTER® TITAN® is a unique, high-flow channel grinder with a full-cut grinding design. This unit offers optimal protection for pumps, filter presses and other downstream equipment.
The key to the TITAN's performance is its innovative design that features one cutter stack that intermesh with large TITAN disks on a second counter-rotating shaft. These TITAN disks have a much larger diameter than the first stack providing the unit with higher capacity and more cutting surfaces. Yet another benefit of the TASKMASTER TITAN is CUTTER CARTRIDGE® technology. The TASKMASTER TITAN design is ideal for channel applications where high capacity, unsurpassed grinding performance and reliability are paramount.
Configurations The TITAN is available with a variety of optional configurations and is provided with a choice of electric, submersible electric or hydraulic drives. A choice of channel frames is available for narrow or wide channels or wet well installations. The TITAN is also available as a solids shredder and can be provided with a horizontal stand and hopper. When supplied as part of a SPIRALIFT® system, this unit provides an effective fine screening and conditioning system.
This article is published by
Franklin Miller manufactures size reduction processors — crushers,shredders, grinders and screens. Our equipment is suitable for wet ordry industrial applications,wastewater grinding and screeningas well as solid waste reduction. Our equipment is making a difference to plant operations worldwide in such applications as: reducing solids to keep ...