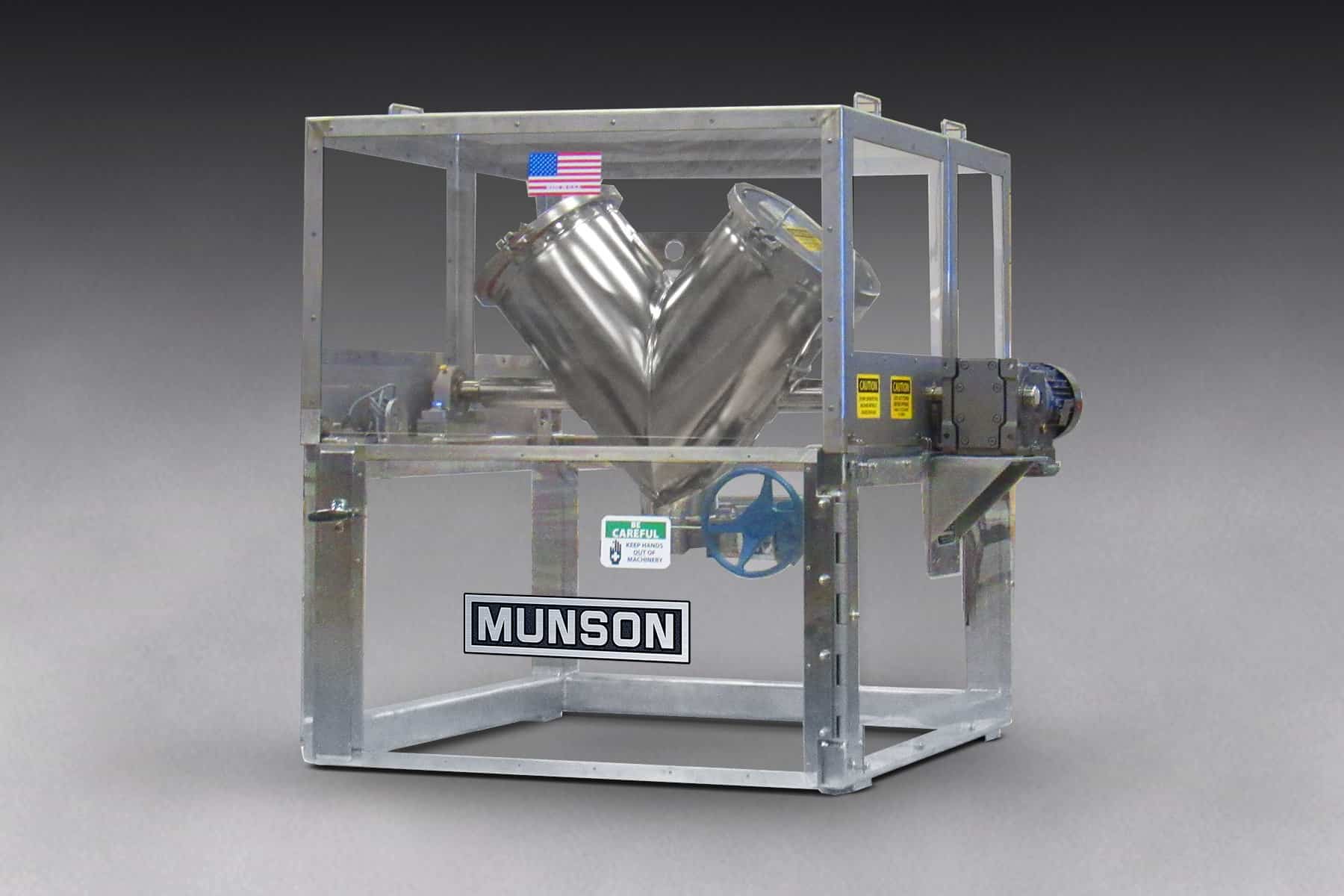 A new one cubic foot (28 L) Vee Cone Blender from Munson Machinery achieves uniform blends of dry bulk solids in 15 to 30 minutes typical, with little or no product degradation.
Suitable for laboratory testing, pilot plants or low volume blending of dry powders and granular materials, the unit delivers equal homogeneity at fill volumes from 100% to 25% of rated capacity.
Smooth internal surfaces free of baffles, shafts and bearings, allow complete discharge through a 6 in. (152 mm) hand-wheel-operated butterfly valve, eliminating material waste. Access to internal surfaces through the discharge valve and twin doors at the ends of the inclined cylinders permits thorough sanitizing in minutes, preventing cross contamination.
Driven by a 1HP (.75 kW) wash-down motor, the Vee Cone chamber rotates at up to 30 RPM, imparting a tumbling action that is more gentle and consumes less energy than ribbon blenders and other agitated machines in which blades, paddles or plows are forced through stationary material.
A safety-interlocked polycarbonate housing protects operators from the rotating vessel.
An optional intensifier bar can break up soft agglomerates, and be equipped with spray ports to distribute liquid additions throughout the batch.
Designated model VB-1-S316, the blender is constructed of 316 stainless steel and is available finished to food, dairy, pharmaceutical and industrial standards.
Also offered by the company are Vee Cone Blenders in capacities from 0.25 to 200 cu ft (8 to 5,663 L), as well as, Rotary Batch Mixers, Ribbon/Paddle/Plow Blenders, Fluidized Bed Mixers, Rotary Continuous Mixers and Variable Intensity Blenders. Size reduction machinery includes Pin Mills, Screen Classifying Cutters, Attrition Mills, Lump Breakers, Rotary Knife Cutters, Hammer Mills and Shredders.
For information contact Munson Machinery Company, Inc., 800-944-6644, info@munsonmachinery.com, www.munsonmachinery.com
This article is published by
Munson Machinery Company is a world-leading manufacturer of mixing, blending and size reduction equipment for bulk food, dairy, nutritional, pharmaceutical, and general chemical products. Established in 1823, Munson engineers each machine to suit individual batch or continuous processing requirements, and offers unparalleled experience in solving ...