Gentle and Safe Transport of Toxic NMC Powders for Battery Production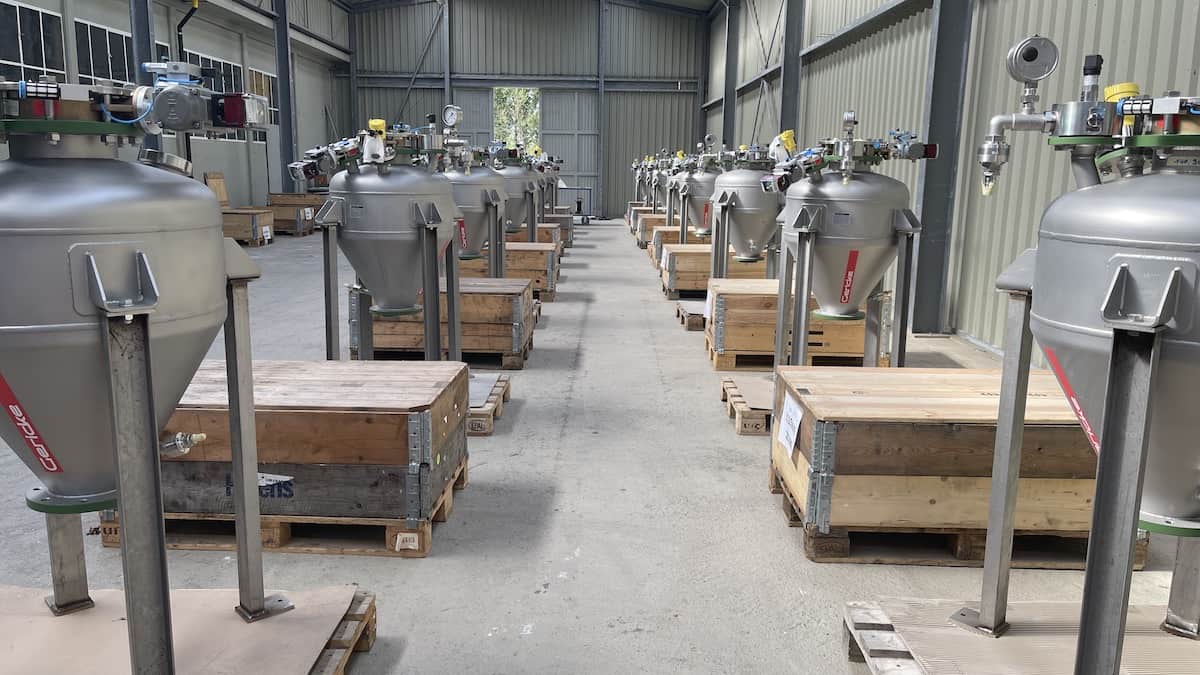 Gericke has delivered multiple dense phase pneumatic transport systems for the gentle and safe transport of fine toxic NMC powders used for the battery production.
For the production of rechargeable batteries cathode material, typically fine lithium nickel manganese cobalt oxide (NMC) powders are utilized. For a global chemical company Gericke delivered multiple pneumatic conveying systems to unload the powders from IBC and to convey to further production processes placed up to 50m away from the unloading point.
NMC powder usually has a high bulk density larger than 1.5 kg/l and are considered abrasive. Due to the abrasive character a low velocity dense phase conveying system was chosen against a lean phase conveying system to minimise wear effects in the conveying line. With the Gericke PulseFlow ® PTA conveying system a pressure vessel is used for transporting the powders as slowly moving product plugs.
No contamination coming from metallic wear is accepted in the powder because it could cause later a short circuit in the battery. Therefore, the complete conveying system (pressure vessel, its accessories and pipeline) was equipped with different kind of wear protection coating.
The powders are very sensitive to moisture and thus dried air must be utilised for preventing the powders to form lumps. With the Gericke PulseFlow ® PTA system a high solids loading can be achieved, which minimises the consumption of pressurised gas and finally reduces the energy consumption for the production of compressed and dried air. The pressure vessel and its elements are gas and dust tight and monitored regularly. Therefore, the environment and operators are protected against the carcinogenic and toxic nature of the NMC powder allowing a safe and clean workplace.
This article is published by
Gericke Feeding, Mixing, Conveying, Size Control Technology. High-class workmanship for a world of industry. Gericke supplies conveying, sifting, high-precision feeding, and mixing solutions that handle a broad range of ingredients such as pellets, powders, floodable powders and fibreglass for food, chemical, industrial, and pharmaceutical industries.
Gericke process ...