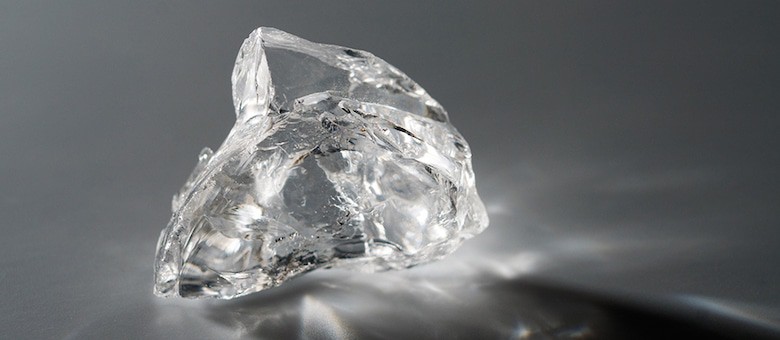 Glass can be found in almost all areas of daily life. Starting in the construction industry, through telecommunications, household, food, automotive, and aircraft construction to optics.
The ever-increasing demands on technical glass can only be met by using ever more precise basic materials such as quartz sand and soda. But also a variety of glass products such as glass wool, glass balls, or other waste glass only become a saleable product through classification. RHEWUM screening machines are also used in the processing of glass.
Glass production
The technique of glass production has been known for over 6,000 years. It has been continuously refined until today. Since then, glass has been used in a wide range of applications and has become a versatile material. In general, every glass contains one or more glass-forming oxides. The most commonly used are silicon dioxide (SiO2), i.e. quartz sand, but also boron trioxide and phosphorus pentoxide.
Classification in basic industries
The basic materials required for glass production, such as quartz sand, soda ash, and potassium carbonate, must be available in sufficiently fine form before processing in order to achieve a homogeneous end product. Special screening machines for dry or wet classification have become established.
Glass sand preparation
The worldwide quartz sand reserves are stated as "practically unlimited", although not all qualities are suitable as glass sand. Very large quartz deposits are found in large parts of Europe. World production in 2003 was 110.4 million tons. In 2003, Germany exported 7.66 million tons of quartz sand abroad – with an internal consumption of 3.74 million tons. The silica sand is mined both wet and dry and then transported to the appropriate processing plant. Further physical and chemical process steps follow, depending on the composition of the raw material. If large quantities of high-quality sands are to be produced, special attention is paid to the absence of spattering (coarse grains in the fine material) with a high degree of fine material separation.
Wet sieving
If the sand is extracted wet, wet classification is a suitable further process step. The aim is to achieve a spatter grain-free wet screening at separations of less than 1.0 mm with high feed quantities and optimum fine material yield. For a long time, this could only be achieved by dry protective screening. With the double frequency screen with additional irrigation, this can now also be achieved in the wet area. Nowadays it is very important to work as resource-saving as possible, i.e. to keep the freshwater consumption as low as possible. The RHEWUM DFN technology makes an essential contribution here as it can be operated primarily with recirculated water. The problem of classical wet screening is that after the suspension hits the separating fabric the liquid flows off very fast. This results in the formation of a tough screen cake which is difficult to convey. Hardly any fines are separated without the addition of further liquid. Especially with grain sizes < 1 mm, however, large quantities of water are required for screening to take place at all. In addition, the transport of the dewatered screen cake places a heavy strain on or wears out the screen mesh.
With conventional wet screening, the problem of rapid dewatering is solved with additional spraying. The jet water flows off largely unused. For spraying with pressures of up to 6 bar, expensive freshwater must be used, otherwise, the nozzles will clog or wear out quickly. With the RHEWUM DFN technology, several longitudinally tensioned screen mats are arranged one behind the other. In between, there are areas where the dewatered overflow is mixed with water again. In connection with the proven double frequency drive a good screening with low water consumption, low wear and at the same time, good dehumidification of the overflow is achieved.
Soda production
Soda ash is needed to lower the melting point of glass. In the classification of heavy soda, a coarse cut is usually set at 1.0 or 1.18 mm and a fine cut at 106 or 150 μm. The high product temperatures of up to 160 °C often place a great strain on machine components. This task is handled with two different concepts. In the first approach, coarse separation takes place on conventional vibrating screens – dust is then removed on the fluidized-bed cooler by means of increased extraction capacity. This approach, however, means a considerable loss of product in the fine material, so that the extracted material has to be re-screened afterward. In addition, relatively large filter surfaces are required and not inconsiderable energy losses occur.
The other approach is to implement this classification task with two screen decks in one process step. Be it with a double-deck screen or two-deck decks connected in series. The second solution gives the best screening results. Relief decks allow more compact screen units, as the load on the fine deck can be reduced considerably. Directly excited screening machines of RHEWUM type WA and WAU have proved to be very successful in many respects as the static screen housing allows an installation even in high buildings. Usual product requirements of 1 % coarse material and max. 10 % fine material in the product and more than 85 % nominal grain output can be achieved without difficulties. And this with a specific energy consumption of 0.14 kWh/t.
Recycled waste glass can be used as an additive for glass production as well as processed into other high-quality products. These include, for example, insulation and insulating materials or even microbeads.
Glass microbeads
One area of the recycling of used glass is microbeads. For this purpose, monochrome glass is first broken and then classified into different fractions. Here, either multi-deck vibration screens or directly excited screening machines are used. The fractions produced then pass through a furnace and thus obtain their spherical shape.
While relatively low demands are placed on the classified cullet with regard to the defective grain values, those placed on the microbeads are very high. A large number of very narrow fractions must be produced with the lowest defective grain values and maximum nominal grain output. In this field, the multi-deck screening machine can offer the best results. Up to 12 fractions can be produced in one machine. Thanks to the low conveying speed and effective screen cloth cleaning by micro-throwing principle the horizontal screen decks allow nominal grain outputs of 95 % and more. Modular sizes from 0.7 to 5.6 m2 per screen deck and up to 23 screen decks allow this machine to be quickly adapted to changing requirements. Screening machines with a screening area of up to 123 m2 can be assembled. On an industrial scale, glass beads have been used to achieve separation cuts up to 56 μm. Technically feasible are even separations up to 25 μm, without any changes to the screening machine. Microbeads of glass are used for road markings, steel means for mechanical engineering, in aviation, or also in the automotive industry.
Expanded glass
Another product made from recycled glass is expanded glass granulate. The original waste product is cleaned, sorted, classified, and further processed. Following a further grinding process, the glass powder is provided with additives, granulated, expanded, and fired. Thanks to the low bulk density of 0.33 to 0.15 t/m3, the mineral origin and the resulting positive properties such as breathability, moisture resistance, thermal insulation, and freedom from pollutants/allergens, a wide range of applications are possible. Due to the required continuous screening quality for the following process steps, directly excited screening machines of type RHEWUM WA or WAU with static screen housing are often used for screening the raw material (green grain). They guarantee a blockage-free operation at minimum operating costs. The separation cuts here range from 5 mm to about 100 μm. The blown material is then classified into a variety of very clean grain bands by multi-deck screening machines. Due to the abrasive properties of expanded glass granulate, a throw screening machine is recommended.
Machine design
Due to the ever-increasing demands on classification, tests are of great importance for meaningful information on incorrect grain values and product yield. For this purpose, RHEWUM has a technical center in which all-important process steps can be carried out to determine the appropriate classification method. As can be seen from a large number of classification tasks it is essential that different suitable classification technologies are available. The application of only one technology cannot do justice to this and does not deliver products of sufficient quality.
This article is published by
RHEWUM is an independent family owned company which was founded in 1927 as "Rheinische Werkzeug- und Maschinenfabrik". RHEWUM have been developing and manufacturing screening machines and vibrating feeders since the beginning of the 1950's.
RHEWUM screening and classifying technology
These cover the entire field of dry, wet and analysing ...