UK's National Centre for Additive Manufacturing (NCAM) Reduces Sieving Time By 75%
NCAM, part of the UK's Manufacturing Technology Centre (MTC), strives to improve reliability, implement automation and meet safety requirements relating to AM powder management.
"The Russell AMPro Sieve Station is incredibly intuitive to use, conveying and sieving into a compact unit."
Vince Sparrow, Team Leader of Additive Operations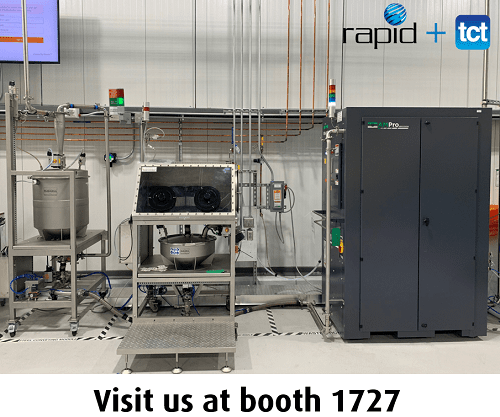 Attending Rapid + TCT? Visit us at booth 1727 to discuss your powder recovery requirements
Russell Finex will be joining leading technology suppliers at RAPID + TCT 2022, known worldwide as North America's most important and largest additive manufacturing event.
Taking place in Detroit, Michigan from May 17-19 Russell Finex will be showcasing their innovative separation solutions including the award-winning Russell AMPro® Sieve Station.
We look forward to seeing you at RAPID + TCT 2022.
This article is published by
Russell Finex are global leaders in sieving, separation, and filtration technology, designing and manufacturing innovative vibratory screeners, separators, ultrasonic mesh deblinding systems and self-cleaning in-line filters for over 85 years. With "Customer Trust, a Russell Must" as its ethos, Russell Finex can assure and enhance the reputation ...