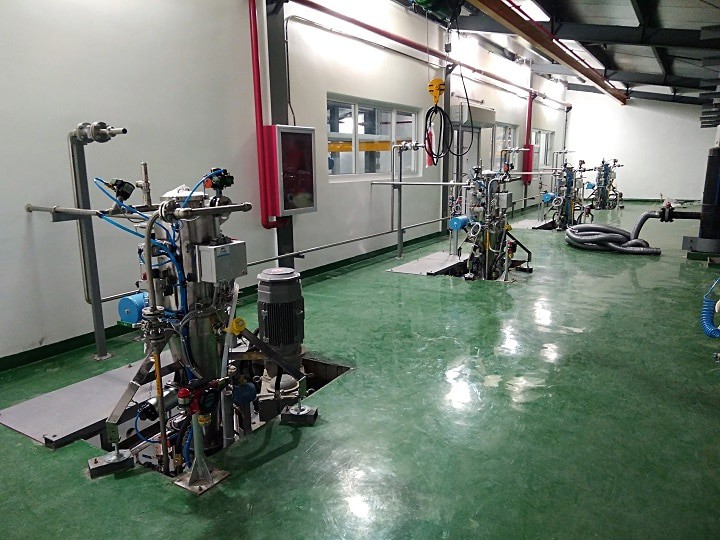 BRÉCÉ - High performance pneumatic vacuum conveying with a weighted container for incorporation in pressurized reactors. The installation on the
chemical site
of 3 pneumatic conveying lines for the supply of a total of 14 lithium fluoride reactors was entirely designed and manufactured by the Palamatic Process design office.
The line consists of a weighted container emptying system IbcFlow®01 that feeds a pneumatic vacuum conveying with deported filter. The container is weighted by a high-precision scale that informs the PLC of the quantities introduced into each of the reactors. A set of switches diverter valves on the piping ensures the automatic connection between the weighing station and the reactor to feed. The used vacuum conveying technology permits the conveying of powders with a high "clogging" property. Indeed, the installation of separator cyclones on reactor heads offers strong interests from the point of view of Atex safety and functional safety.
The pneumatic conveying consists of a primary separation cyclone to collect/recycle the powder in the conveying air stream, then a cyclofilter to collect the air charged with fines less than 2%.
The cyclofilter is mounted on the cyclone separator so that the fines can be reintroduced into the process by gravity. There is no material waste or powder recycling to be carried out.
The reactor is loaded with nitrogen for inerting and to avoid oxidation of the bulk material.
An isolation airlock positioned between the pneumatic conveying and the reactor ensures that the shut-off valves are sealed so that solvents in the reactor cannot flow up into the vacuum circuit. The system flow rate of 2.5 t./h. ensures the necessary process times.
The automatic control system with its supervision ensures the control and traceability of production batches as well as functional loading cycles.
Contact our powder process experts for your powder handling projects with high technical constraints!
This article is published by
PALAMATIC PROCESS is a company specialized on powder and bulk handling solutions. With more than 2,000 installations across the world and more than 25 years of experience, PALAMATIC PROCESS is a company with a strong international orientation. We pay special attention to the needs and expectations of our customers to design customized machines meeting ...