The FLO-THRU low-profile, high-capacity screener from Kason significantly reduces height requirements as compared to conventional vibratory screeners, making the design ideal for height-restricted installations.
The screener can be equipped with an optional air-lift device for rapid disassembly, cleaning, inspection, and screen changes. Its low-profile design is due to employing two imbalanced-weight gyrating motors mounted on opposing exterior sidewalls of the unit rather than a single motor positioned beneath the screening chamber. The FLO-THRU's profile is half the height of conventional vibratory screeners and therefore lessens the height that operators, for bag dump stations, have to lift heavy bags of ingredients.
The FLO-THRU's screens can be easily changed, its internal parts cleaned in washdown applications, or inspected with a quick-disconnect clamp ring assembly that allows for screen frame removal. The low-profile screener and air-lift devices are both Kason innovations available in diameters ranging from 18 to 84 inches, with the ability to manufacture comply with the most stringent domestic and international sanitary standards, such as 3-A, FDA, and BISSC.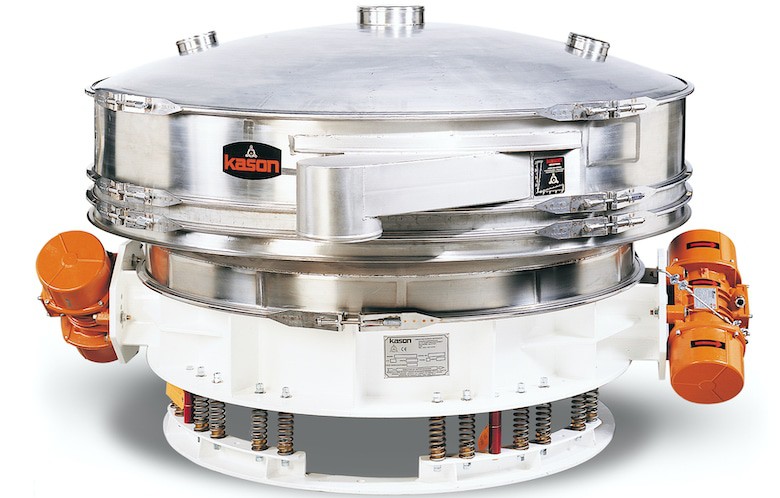 Features and options available for the low-profile FLO-THRU Vibroscreen include:
Clamshell quick screen change system
AIR-LIFT quick screen change feature
Sanitary polish
Clean-In-Place (CIP) design, construction, and finish
Ball Tray and Kleen Screen Ring Assembly anti-blinding devices
Ultrasonic anti-blinding device for fine screen meshes
Wiper blade assembly
See-through dust cover
ATEX and UL explosion-proof compliance
In addition to food production applications, Kason's FLO-THRU units are widely utilized within other industries such as pharmaceuticals, chemicals, plastics, minerals, and more, for screening dry bulk materials as well as solids-laden slurries.