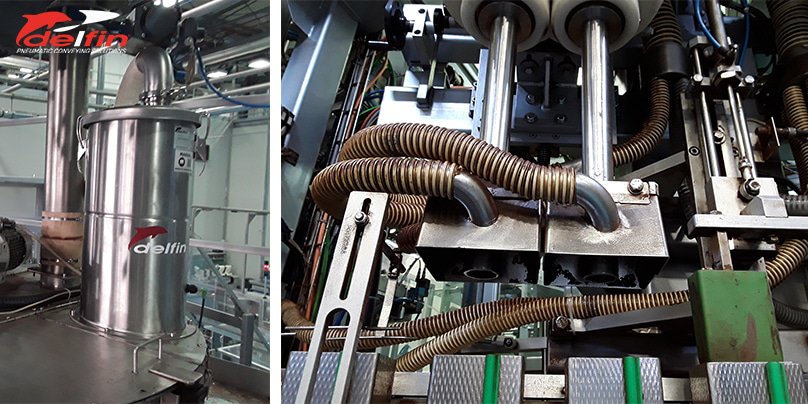 During production and packaging processes in roasting, coffee handling is one of the most important and tricky phases and involves coffee in all its shapes: green/raw, toasted or ground coffee.
The conveying system used to move coffee from a production line to the next must guarantee performance in terms of quantity, preservation, efficiency and hygiene. Moreover, the conveying system must be chosen wisely, since the final product features must be always fulfilled.
Why choose a pneumatic conveyor?
Pneumatic conveyor surely is the most adaptable, cheap and hygienic solution for handling coffee in different shapes (not just coffee but, for example, also food powders) inside a production department. This system allows to automatize and easily connect different process machinery by increasing plant productivity by up to 30%.
Compared to mechanical conveyors, pneumatic conveyors guarantee:
Product preservation by avoiding grain damages
No organoleptic changes of the conveyed product
More room available inside the production area
High flexibility in terms of use
Minimum maintenance costs
Coffee handling with pneumatic conveyor: Thick or diluted phase?
A pneumatic conveyor can be programmed on a thick or diluted phase, according to the material to convey and the stage of the production process.
Pneumatic conveyor in thick phase is the most suitable solution to convey at a medium-distance ground coffee, coffee in beans for grinding or instant coffee.
Pneumatic conveyor in diluted phase is the most suitable solution to delicately convey the product: in fact, the product floats inside piping and so its integrity is preserved.
The most required solutions for product handling inside roasting are: CONVEYING OF RAW COFFEE BEANS TO THE ROASTER
Raw coffee beans must be quickly conveyed in large quantities to the roaster. Nevertheless, their integrity must be preserved for the roasting process, which is fundamental to guarantee the aroma and taste of the final product, regardless of its shape.
In this case, the conveyor must handle beans quickly in order to optimize the production performance line while boosting the roasted quantity of coffee per hour.
Meanwhile, raw coffee waste is drastically reduced to minimum levels, since any possible leakage from bags inside the department is eradicated.
Grinder filling
Coffee beans grinding requires the constant and efficient feeding of the machinery, while guaranteeing the aroma preservation and the organoleptic features of the product.
The conveyor must be a hundred percent reliable in continuous work.
Feeding the coffee packaging machinery
In order to maximise the productivity of the plant, the packaging machinery must always be fed with large quantities of either ground or bean coffee.
In this case, the necessities related to feeding the machinery depend on the type product, so as to preserve its features:
bean coffee must be delicately conveyed to the packaging machinery, so as to preserve its integrity;
ground coffee can be uploaded on the machinery by means of a fast conveyor, but still preserving its organoleptic features obtained by the roasting process
instant coffee will be uploaded with pneumatic conveyors (thick phase) in order to prevent any possibility of demixing the product, and therefore preserving its quality
Big-bag loading and storage silos
During coffee processing, it is frequently necessary to stock the product. In this case, pneumatic conveyors can pick up the product directly from the machinery and then automatically convey it to the storage silos or to the Big Bag.
Delfin can also provide the material to more than a single storage point, but still starting from only one prick-up point.
Coffee conveying systems in Delfin
Delfin offers the largest range of pneumatic conveyors on the market: electric engines or pneumatic engines, our loading capacity can reach up to 3.000 kg/h.
MOTOR HEAD UNITS
Single-phase or three-phase electric engine (from 1 up to 17 kW)
Compressed air with multi-venturi system (from 4 up to 15 venturi)
FILTER UNITS
Polyester, certified for food contact
AISI316 Stainless Steel
Automatic systems for filter cleaning
LOADING UNITS
Suction inlet : from 40 mm up to 100 mm
Loading capacity : from 8 mm up to 80 mm
DISCHARGE UNITS
From 100 mm up to 250 mm
Continuous or intermittent discharge
Thanks to a dedicated team, Delfin can provide customized solutions in order to maximise the productivity of your roaster.
Please, contact us to ask for an inspection or free advice: delfin@delfinvacuums.it
This article is published by
Delfin distributes its industrial vacuums worldwide, through a network of subsidiaries and sales partnerships with major players in the local market. Delfin was founded over twenty years ago by the passion of its founder, Antonino Siclari, for the industrial vacuum sector. Since then he has never stopped working to offer its customers innovative ...