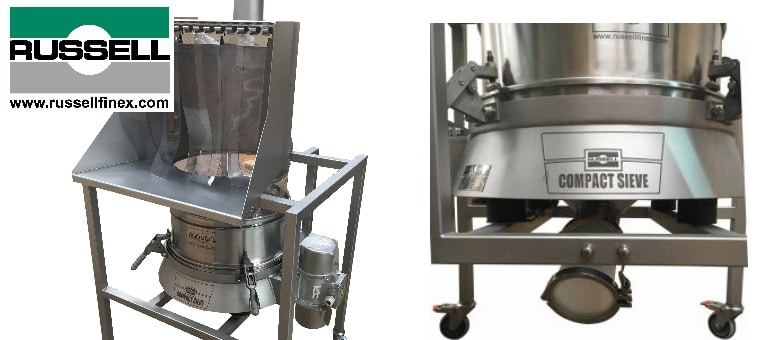 Compact check-screening machine designed for low level manual bag emptying of dusty powders.
With increasingly strict Manual Handling Operations Regulations in place to protect food processing operatives, it is important for manufacturers to adopt machinery that meets high production demands without compromising operator safety. Pressure is also on companies to minimize the risk of dust and fume inhalation. Manual handling solutions are available to assist the transport, unloading and processing of industrial food sacks and contents, and product containment and ventilation equipment can be installed to further protect operators.
Raw materials and ingredients such as flour, sugar, milk powder, spices and flavorings are often supplied in bulk bags, sacks and pouches. These industrial bags are too heavy to repetitively lift and unload without support. Furthermore, when bags are unloaded into equipment such as industrial sieves or hoppers, dust is often emitted – potentially hazardous if inhaled repetitively. One food manufacturer seeking a solution to these hazards contacted Russell Finex for an operator-friendly bag tipping sieve.
Offering a wide range of cooked, fresh and dried meat products as well as sauces and oils, this food manufacturer identified the powder screening stage as an area for improvement. Flavorings and food additive powders supplied in large sacks are unloaded and check-screened before use in food processing. The company sought a high-capacity industrial sieve for screening food powders, with a bulk bag unloading station and dust containment solution to protect its operators. In addition, the system needed to integrate within their current production line without interfering with surrounding systems or downstream equipment.
Following consultation with Russell Finex, the Russell Compact 3in1 Sieve™ proved the ideal solution. This sanitary bag dump station with integrated dust extraction system has been specifically designed to safety sieve food ingredients through low-level bag emptying. A manual bag dump station is integrated to allow safe and easy bulk bag unloading. To further protect operators, dust control curtains were fitted to the dust hood. These PVC strip curtains provide an added dust control measure – alongside an optional dust extraction system – to safeguard operators and the surrounding environment.
Furthermore, to allow easy integration into the existing production line, the product outlet was moved from directly below the mesh screen to the side of the machine. This allowed the safety sieve to be installed in line with the existing downstream equipment, without compromising throughput.
As well as the manual bag-tip station, the Russell Compact 3in1 Sieve™ benefits from other advancements. As part of the Russell Compact Sieve® range, high-performance screening is guaranteed, ensuring the quality of food ingredients by removing oversize contamination at increased flow rates. These compact check-screening machines are available in all-stainless-steel, and are quick and easy to disassemble and clean without the need for tools. As standard, the Russell Compact 3in1 Sieve™ is supplied with a magnetic separator to remove ferrous contamination from food ingredients. This fully stainless-steel magnetic grid is a further quality-check procedure, designed to provide the ultimate solution for controlling ferrous contamination when check-screening dry powders.
Established in 1934, Russell Finex has 85 years' experience serving a variety of industries, including food and beverages, pharmaceuticals, chemicals, coatings, ceramics, metal powders, and water processing. Contact Russell Finex today to find out how its separation equipment can optimize your new or existing processing line.
Click here for related articles online
Sign up for Packaging & Bagging E-Updates
Recent Bagging and Packaging e-newsletters
Read our last "Bagging and Packaging" e-newsletter campaigns here:
Worldwide leaders in fine mesh separation technology, Russell Finex have been designing and manufacturing vibratory screeners, separators, ultrasonic mesh deblinding systems and self-cleaning in-line filters ...