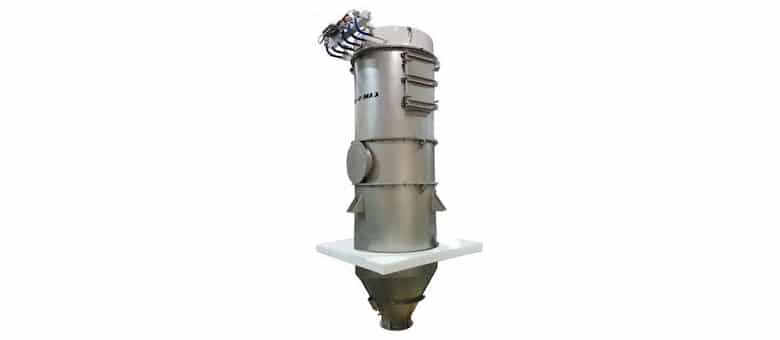 VAC-U-MAX general purpose and sanitary food grade Gain-In-Weight (GIW) Batching Systems transfer ingredients by weight.
As product enters the receiver, Gain-In-Weight is recorded via load cells. When preset weights are reached, metering of product is slowed to a dribble feed and system stopped when target weight is reached.
VAC-U-MAX GIW Batching Systems are designed for each application parameter, batching and transferring up to and over 11,000 lbs/hr (5,000 kg/hr), or 1100 lbs (500 kg) in 6 minutes.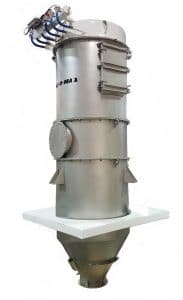 The 48″ (123 cm) diameter VAC-U-MAX Vacuum Receiver is designed with weigh-frames that incorporate load cells, flame-less venting, and static bonding for combustible dust protection. Systems discharge pre-weighed batches to process below. Product contact areas are designed in 304 stainless steel.
VAC-U-MAX Vacuum Receivers feature pulse filter cleaning, aeration and explosion mitigation. Typical applications include conveying product from silos to Vacuum Receiver where product is weighed, batched and discharged to mixers, blenders or other process vessels below.
For more information or to discuss an application, fill out an RFQ at www.vac-u-max.com.
Click here for more information Gain-In-Weight (GIW) Batching Systems
Subscribe to our E-Newsletters
Delivering More
About VAC-U-MAX:
VAC-U-MAX specializes in the design and manufacture of pneumatic conveying components, systems, controls, and support equipment for vacuum conveying, batching, and weighing of bulk materials. With a VAC-U-MAX pneumatic conveying system on site, bulk materials move gently and quickly from point to ...