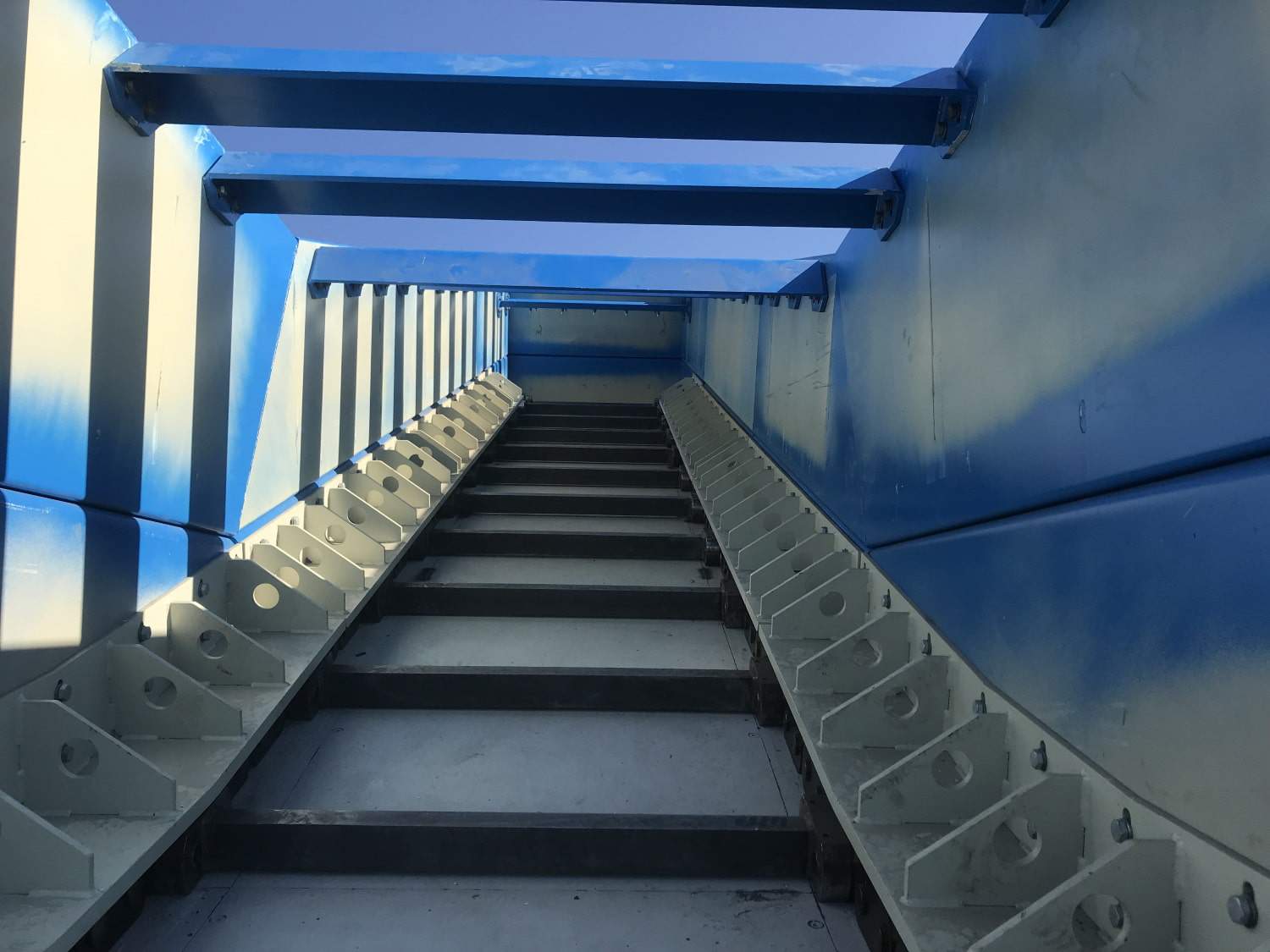 With this newsletter, we'd like to outline the design factors of our dozer feeder, heavy-duty equipment for stockpilers storage and reclaim.
With this newsletter, we'd like to outline the design factors of our dozer feeder, heavy-duty equipment for stockpilers storage and reclaim. Our DF feeder offers high and reliable performance with modular construction for a short installation time and can be configured to meet any needs.
The design without a hopper allows the material to be moved directly onto the conveyor section. The material forms its own storage, eliminating expensive fabricated upper hoppers and structures. The horizontal part is designed to be submerged by the stockpilers and the front loader can run over the structure without any damages.
The idle head is equipped with a chain tensioning system, which permits sledges to move within a predetermined range. The tensioning system can be managed also if the head is completely submerged because the setting can be done from the free area after the metallic walls, which helps to hold the material. The metallic wing walls delimit the receiving and the reclaiming parts which have also the function of bearing the pile thrust and ensuring material extraction.
In these walls, there is a manual layer limiter to be set during the commissioning phase. In case of material with a big grain size, a one roller crusher can be installed in this position in order to reduce the grain size. The conveying system is composed of two strong pin and bush chains linked by bolted scrapers in charge of carrying forward a certain amount of material: extraction happens on the chain top branch, where material lies onto anti-wear shields.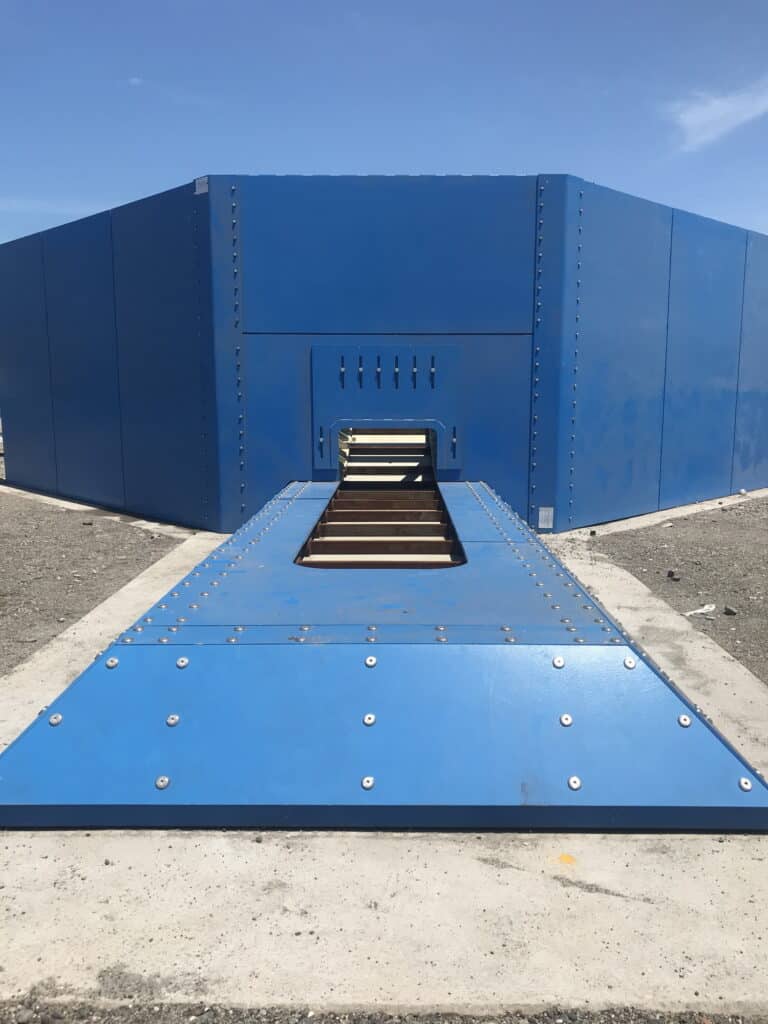 Just to give you an idea of the strongness of the scrapers, the weight of one scraper for the model DF 1500 (1500 mm nominal width of the feeder) has a weight of 50 kg!! Several reclaiming casings convey the extracted material onto a sloped path to reach a downstream machine, usually a belt conveyor which collects material from multiple reclaimers. The drive head is equipped with a reduction gear-box, torque limiting device, electric motor and is supplied with VFD to match changing requirements.
It can move a large amount of material up to 2000 tons per hour. Idle and drive wheels are in sectors for quick and easy maintenance. The speed of the chain is low (normally between 0.05 and 0.3 m/s), for this reason, the lifetime of chain and scrapers is long and there is no need for a dedusting system. The feeder does not need dedicated costly civil works and site preparation and what is important is that it is mobile: if your layout will change after time, you can easily move the feeder in a different position.
A single unit can be used to feed a belt conveyor, but if your conveyor system has a higher capacity, you can add additional feeders to maximize the belt conveyor capacity. In the case of multi-material handling, you can reclaim and blend different materials onto the main conveyor belt, utilizing several dozer feeders, each one extracting its own material from its stockpilers. Setting the speed of each feeder, you can compose the recipe according to the mix of materials you need.
Main Key benefits:
Ready for any type of material
Heavy-duty design for low run and maintenance costs
No needs for dedicated and expensive civil works
No needs of dedusting system
Can be easily moved following your future projects
Suitable for different industries:
Mining and Minerals
Power plants
Cement and Lime factories
This article is published by
We provide equipment for bulk material handling. Thanks to its extensive experience and product range, the Gambarotta Group aims to provide solutions to any need regarding mechanical hauling of loose bulk material in the following sectors:
Cement and gypsum industry (conveyors, bucket elevators, screw conveyors, feeders)
Metallurgical ...