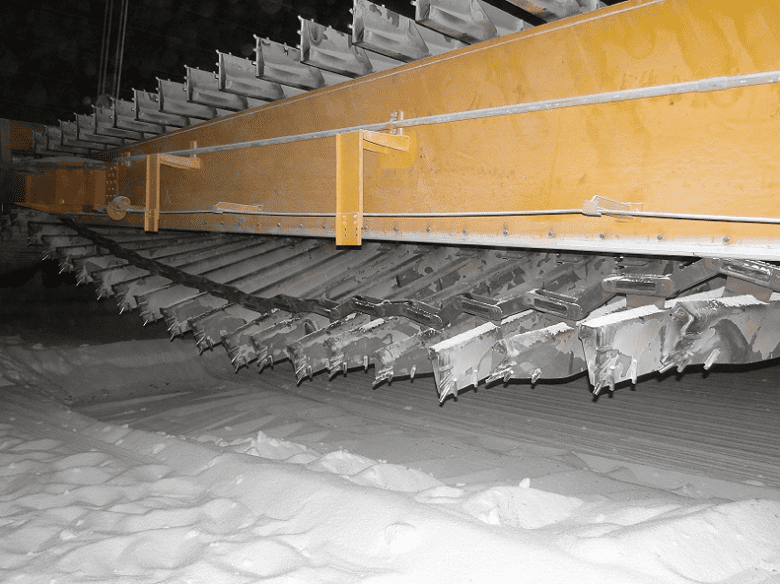 ILLFURTH - AMECO Group has since 1932 designed, supplied, commissioned, and helped maintain more than 380 bulk handlines machines around the world, with some of them have been running smoothly since 1960! Based on our wealth of experiences, here are our seven recommendations from our team of technical experts on how to improve the performance of stackers and reclaimers by extend lifespan, reduce OPEX, and avoid business interruptions.
Following these seven recommendations, along with AMECO technical guidelines, can help you avoid sudden failure of mechanical components, which can lead to severe damages and unnecessary and costly downtimes. Moreover, it can help extend the lifetime of the steel structure up to double its original lifespan!
Regularly remove product spillage on the equipment
Stackers and reclaimers themselves often operate in very harsh environments, which makes regular maintenance critical to ensure optimal performance and high safety levels. Stacking and reclaiming bulk materials also creates much dust, which can lead to significant corrosion on the steel structure.
Product spillage on the machine can accelerate its corrosion and damage parts as spillage clogs machine space and increases operating humidity and temperature. Thorough cleaning shall be performed at least every five years with corrosion check and steel stress measurements for the stacker drive, stacker slewing drive, and slewing bearing. In marine environments, we recommend doing the same every year.
Implement the correct automation logic of the conveying system
Sub-optimal automation logic of the conveying system can cause product spillage at installations where the product drops from above, such as circular storage stacker or the feeding conveyor of a shiploader.
When there are several conveyors which feed into one after the other – conveyor #1 pours in #2, conveyor #2 flows in #3, etc. the right logic to implement is to make the #1 first stop then #2 then #3. If the logic stops #3 first, the #2 continues to fill it and then overflows, causing spillage.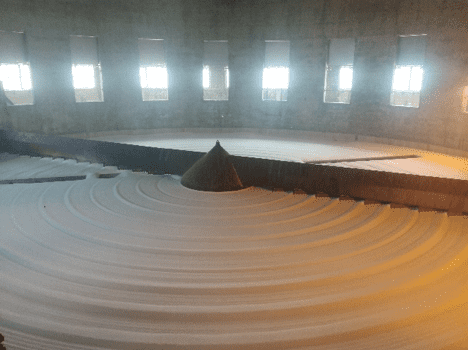 Closely monitor and adjust the lubrication system
AMECO always makes sure that the lubrication system is set up and tested according to client specifications during the commissioning phase. However, over the lifespan of the machine, the system itself can be affected by operational conditions outside of our control leading to the system running sub-optimally.
Here are the 4 actions to make sure your machine remains properly lubricated:
Check every month for unusual oil consumption or high temperature

Especially for stacker drive, stacker slewing drive, or slewing bearing – this could be due to a large amount of dust and/or an inadequate adjustment of the stacker belt or chain.

Analyze the grease quality for critical items such as slewing rings.

AMECO will test your samples free of charge.

Always fill the grease reservoir using a grease gun to avoid air bubbles

That can damage the pump and get stuck in the lubrification pipes

Adjust the flow of grease to prevent over-greasing

Use the right settings for critical mechanical components
There is one thing that our 80+ years of experience have taught us is that some issues can be easily avoided by following the right guidelines!
Chains should be achieving the expected 5 to 7 years lifespan (depending on the operation cycle) so here are four recommendations to ensure it happens:
Check regularly chain tension: an insufficiently tightened chain is wears out two times faster è Ask us about our continuous chain tension measuring device that helps facilitate the tightening of the chain on both sides of the reclaimer.
Make sure the chain's low-tension sensor is working correctly with PLC showing the proper alarm both on the HMI and on the plant monitoring system.
Buy high-quality chain which is more expensive but lasts up to three times longer è Ask us how we can get you the right ones
Check if the stacker belt gearbox or chain drive gearbox consumes more oil than necessary, which is due to an inadequate adjustment of the stacker belt or chain.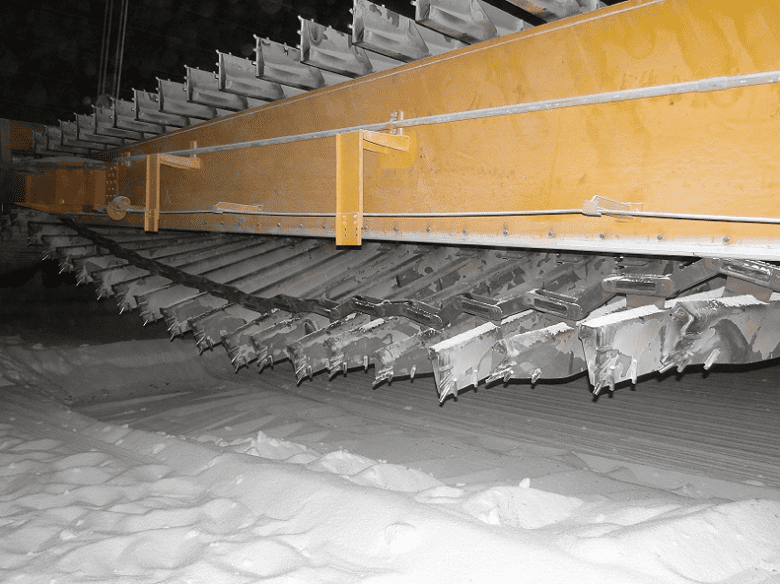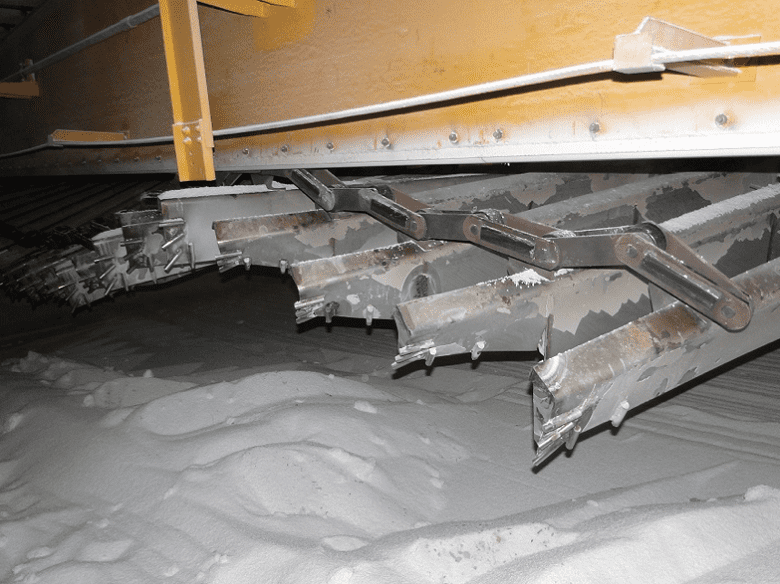 A slewing ring is not perfectly circular; it has a slight egg-like shape coming from its manufacturing process. The latter introduces a minor weakness point on the ring. Here are two recommendations to avoid damaging the ring over time:
The drive pinion shall be appropriately set over the operating circumference of the slewing gear and not only on one point.
If possible, the weak point of the ring must be located outside the operating zone of the slewing ring.
Condition of idle and drive wheels are a good indicator of the machine operating under the right guidelines: wheels worn out unevenly are early signs that rails are outside operating tolerances or that anti-skewing device is not working correctly.
Anti-skewing devices for portal and semi-portals reclaimers are critical to helping avoid the portal structure from being twisted. These devices protect slewing rings on the articulation between the main arm with the machinery room as well as coupling between intothe main arm and secondary arm. Here are three recommendations to make sure the anti-skewing device is working correctly:
Make sure the slew bearing does not get stuck due to the deformation of the portal structure on the traveling truck.
Make sure the control loop is adjusting the traveling speed properly.
Control the wear of the thrust rollers. It can be a sign that the anti-skewing device is not working correctly.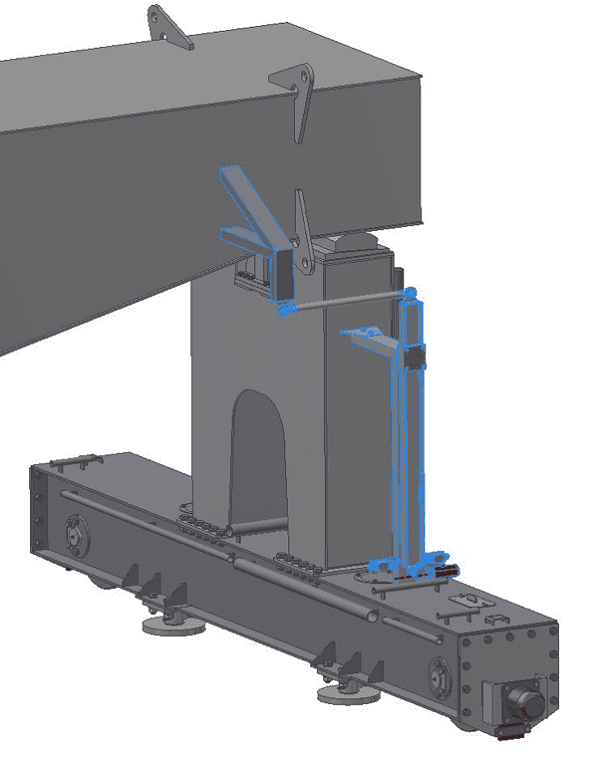 A load cell detects hoist cable overload and hoist cable slack of the reclaimer arm. It allows avoiding lifting the reclaiming arm if there is too much load on it, e.g. if the arm gets buried under the product, for example. If the load cell shows cable slack, this means the arm is resting on the ground or the pile. Thus, the slewing motion of the arm shall be forbidden. Do not force the load cell alarm signal with the PLC as it would lead to significant structural damages (see below)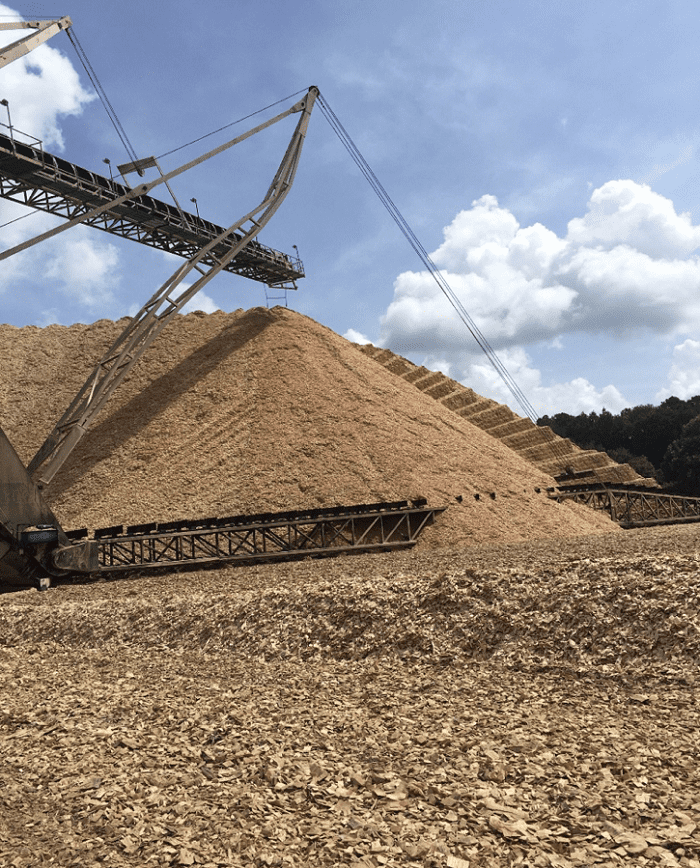 Last but not least, in some cases, parts need replacements, so here are two recommendations on how to ensure long-lasting performance and shorter downtimes when you source spare parts:
Source parts directly from AMECO Group
Too often, customers reach out to AMECO experiencing issues with spare parts after they bought them from a third-party. While it can be more convenient at first, customers often come to realize months or years later that these off-the-shelf parts don't have the same specifications as the one specified by AMECO Group.
Three reasons why sourcing parts from AMECO Group is the best approach for our customers
We believe it is the right thing to do for our customers:

we want our machines to work the best over time as we design machines for your exact needs using the right parts for the job to ensure optimal performance.

Our customers get competitive and transparent pricing for these parts:

As a heavy bulk equipment manufacturer, AMECO Group buys a substantial number of various components for our machines, so you benefit from our purchasing power.

Our customers benefit from the feedback from all AMECO group customers:

we continually strive to offer the latest state-of-the-art spare parts incorporating the newest technologies to solve your real-world challenges.
Have these four types of spare parts in your emergency kit
Don't wait for a problem to happen. Be ready to resolve them by having an emergency spare parts kit always available on-site, i.e., gearboxes and slewing ring are prone to long lead times, especially if you need to order them last minute. Based on our experiences, here are the four main types of spare parts we recommend you need to have onsite to avoid the risk of extended business disruption: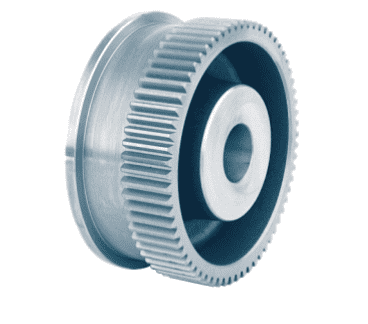 This article is published by
Since 1932, AMECO has offered a full line of Stackers, Reclaimers, Shiploaders and Blending systems for handling all types of bulk material. AMECO has extensive references on every continent in the Chemical, Petro-Chemical, Mining, Pulp and Paper, Cement, Power Generation and Co-Generation Industries.