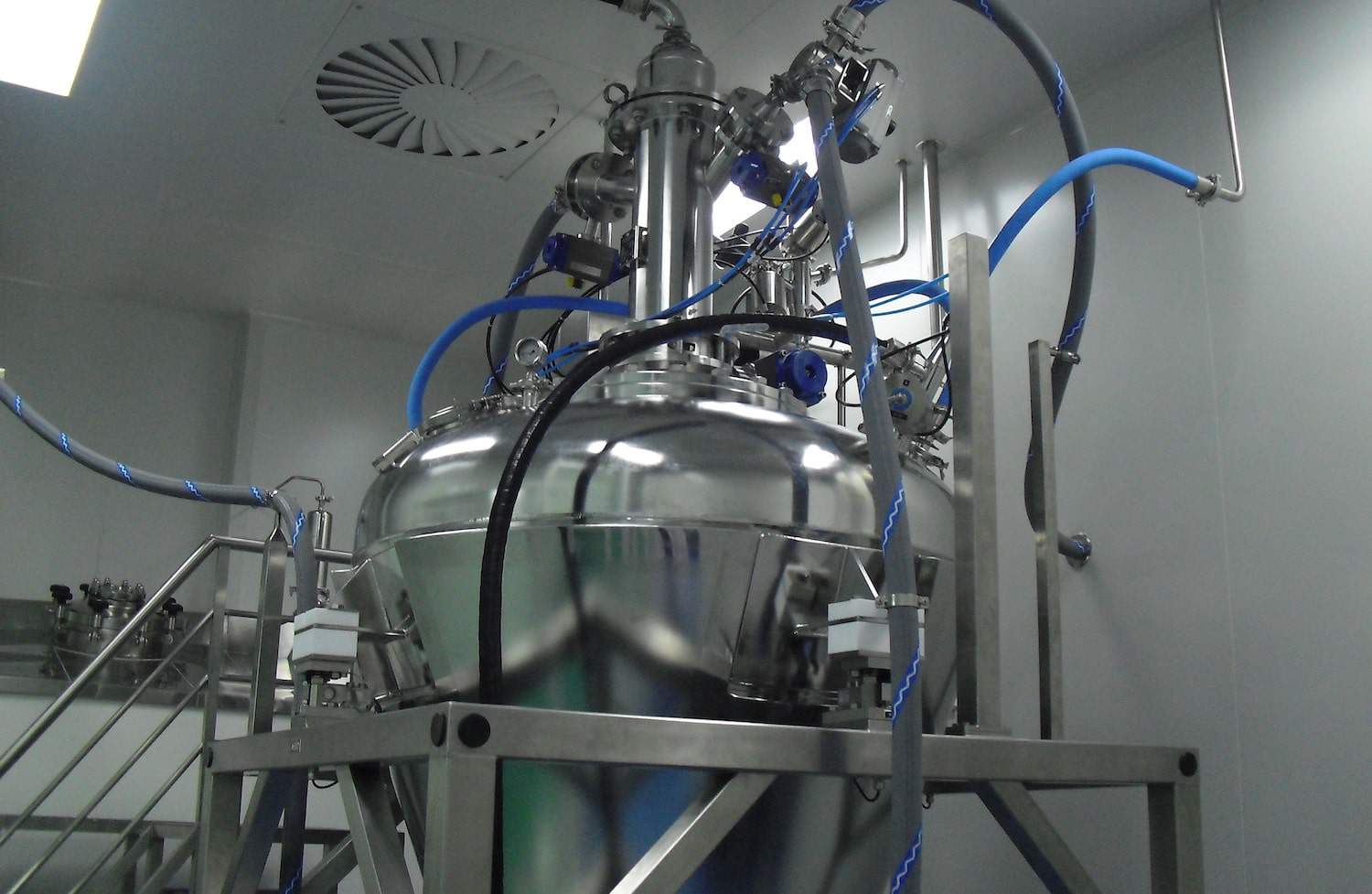 Dec Group presents PTS Batchmixer® technology – combining diffusive, shear and convective mixing mechanisms – helping pharmaceutical manufacturing companies to overcome numerous challenges when handling (toxic/sterile) powder mixing operations where any contamination of active pharmaceutical ingredients should be avoided by all means and highly contained conditions must be guaranteed for operator safety.
High Safety and Efficient Control of Diverse Powders
Dec Group has developed a patented technology to mix powders with different characteristics (with large differences in ratio 1/10'000) in a fully contained environment without using any rotating or moving parts. This is unique in that two jets of powder meet and pre-blend in the PTS body before being discharged over a deflector for circulation with limited speed in the main container to ensure intact particles. The process can be run under inert conditions to eliminate any potential risks related to oxygen sensitive explosive powders.
Powder Transferring Flexibility
Another fact which differentiates PTS Batchmixer® from conventional mixers consists of its flexible powder transferring methods. Powders can be automatically extracted from different containers – drums, bags, silos – or directly from process equipment like a granulator. At the end of the mixing process, the system can be completely emptied and the blend can be automatically transferred to the next stage in production. This is important as seamless integration minimizes downtime in manufacturing.
With applications from 2 to 6000 liters, the system allows the operator to vary product volumes from 10-100%.
Other unique features and options include:
Full discharge
Introduction of additives without process interruption
No modification of product characteristics
Emptying by gravity or active transfer
cGMP/ATEX compliant design
Minimal maintenance & Cleans in place (CIP/SIP)
Automatic sampling procedures
Load cells
Hygienic, sterile unit
Mobile unit
Discharge device for non-free flowing powders
Integrated Solutions
In a recent project, Dec Group designed a highly contained fully integrated isolator solution where PTS Batchmixer® operates in two process steps starting with the homogenization of product out of trays. These are introduced into the isolator through the wall from an adjacent process room. After the milling process, the product is then automatically transferred into the mixing system from where 2 to10 gram samples can be collected under fully contained and controlled conditions.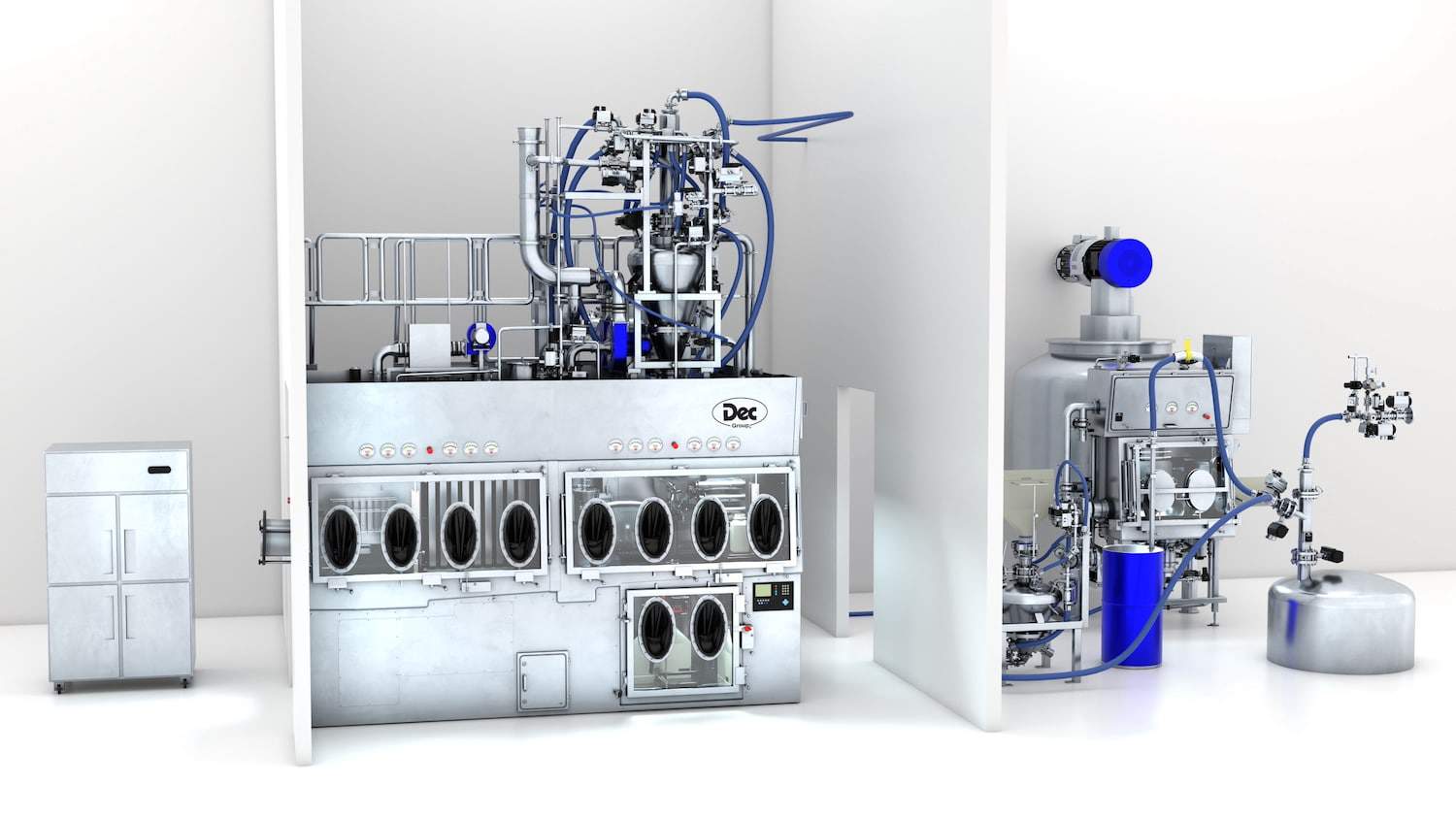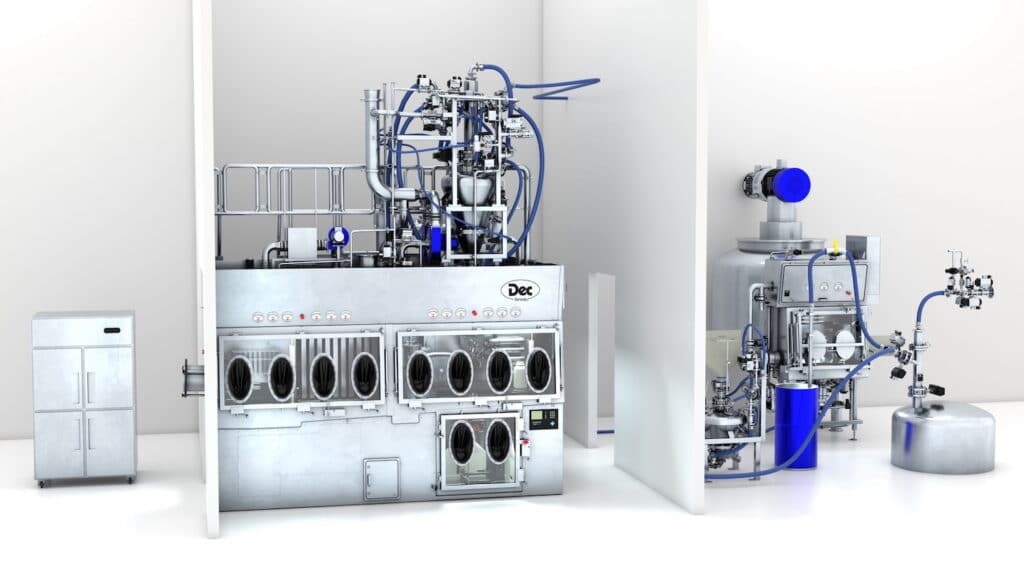 It is finally filled into bottles in the pack-off and discharge isolator chamber. In the lower pack-off chamber powder is filled into bags by using an EZI-Dock containment valve system, one of the ingredients to feed the reactor. PTS Batchmixer® is used once again after the treatment in the reactor and the milling process homogenizing the material released through the filter dryer discharge isolator. At this stage, the product is
delivered in trays to be able to be moisturized in the isolator's conditioning chamber before undergoing ultimate homogenization. The product is finally accurately dispensed into 1 kg containers with an accuracy of +/- 1 g.
This facility has been designed to be cleaned in place and to achieve a very low Occupational Exposure Limit (OEL < 400 ng/m3).
This article is published by
Dec Group, headquartered in Switzerland, is a leading global provider of powder handling and process containment systems.
Their products offer a high level of safety for both operator and product. Their advanced system concepts, from the standard powder transfer system to highly complex ...