As opposed to 'dumping' devices, the inverter provides for a closed and controlled transfer. METO drum inverters are specifically designed for use in "clean" areas as typically found in pharmaceutical and nutritional manufacturing.
METO Systems' stainless-steel drum inverters, when used with our discharge cones and discharge control valves, offer the most reliable way to control the rate and pace at which powder is released and directed to specific ports. The cone and valve assembly also can be easily integrated into dust control and containment systems.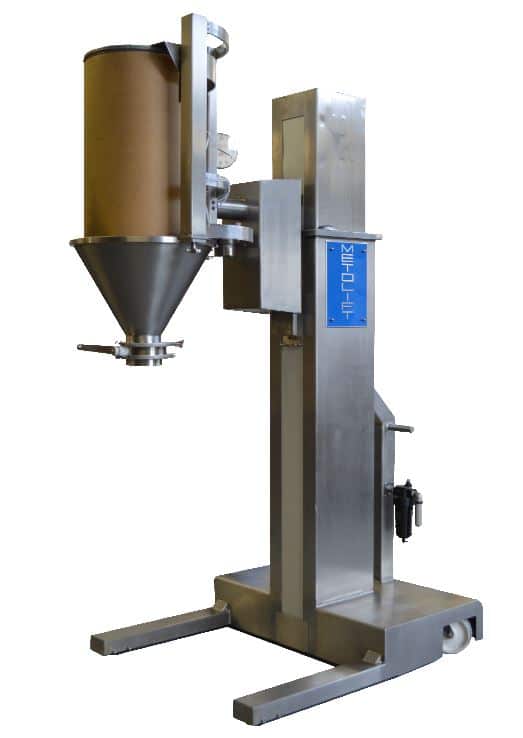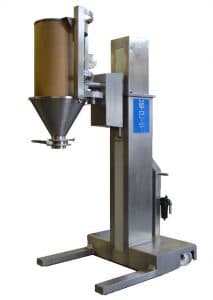 Our units are constructed of 304 Stainless steel with less than 32 Ra surface finish, and 316 L stainless for product contact surfaces. Our inverters can come in either a fixed base or a mobile base. Fixed base units have options for manual or powered swivel, and the mobile base has options for a standard column or telescoping columns if extended heights are needed while still being able to move the unit in between doorways. Utility options include fully pneumatic units and electric units, all dependent on customer needs and hazardous area requirements. These units come with simple push-button controls mounted on the columns and fail-safes to ensure operator safety. The simplicity of the design allows for minimal maintenance while still providing quality performance. A product that is discharged from our drum inverters can flow through many outlet control options including rotary valves, butterfly valves, and iris valves all capable of being manually actuated, pneumatically actuated, or electrically actuated to ensure precise flow control.
We pride ourselves in being able to make each unit specifically designed to meet our customer's needs. We will work with you to determine the design criteria, generate models, build to spec, and ensure proper installation and start-up is performed. After which our preventative maintenance program will allow us to make sure our units stay operating at full performance, and a customized part replacement plan will be generated for you so that if a part needs replacing you don't have to lose production time due to our lifts.