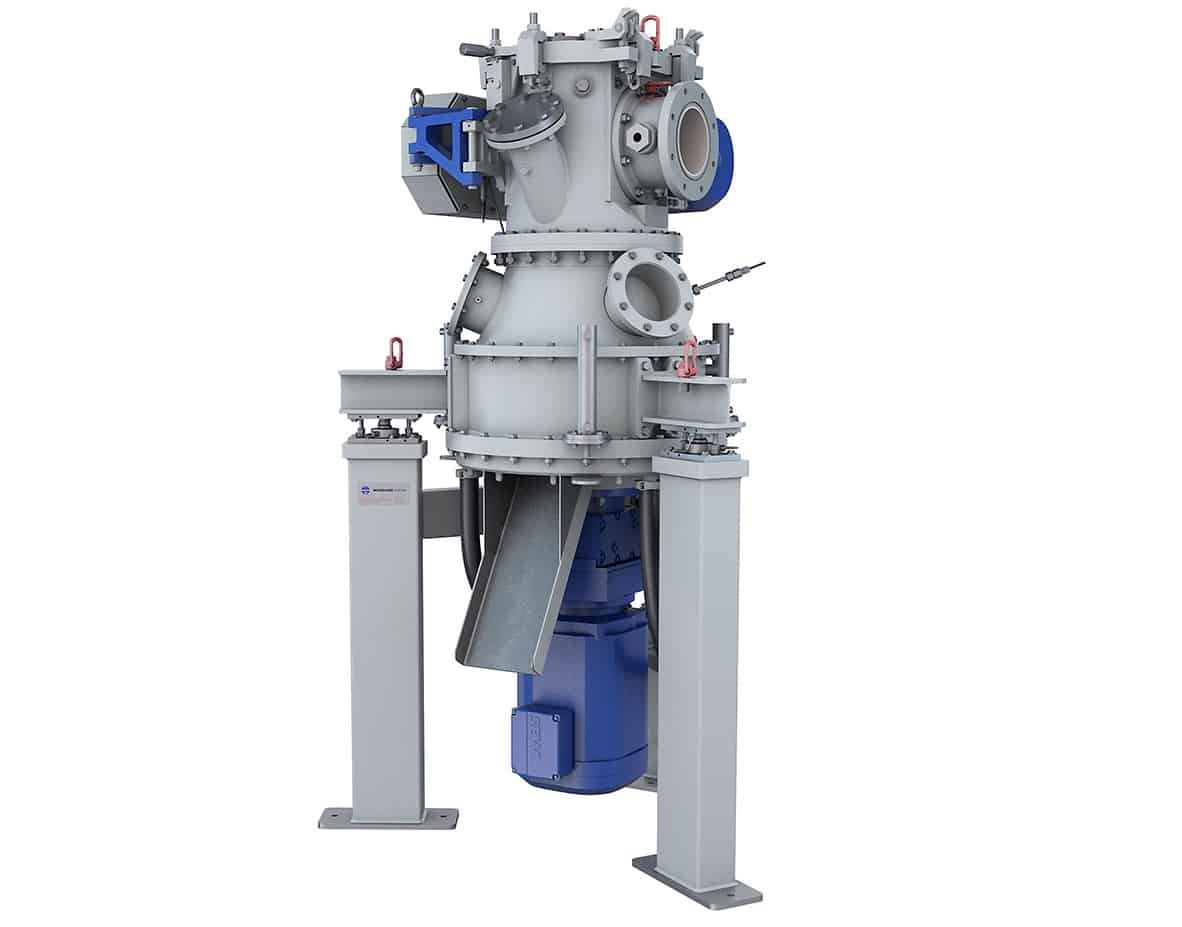 In order to achieve ultra-fine grain sizes, a large amount of energy is usually required. Hosokawa Alpine kept this aspect in mind when developing the PULVIS and the new PULVIS PRO and, with the combination of a vertical agitated media mill and a high-performance classifier, presents an energy-efficient combination for maximum fineness.
"Energy-efficient technologies are an indispensable part of modern production these days. It was therefore particularly important to us to reduce the specific energy consumption for our customers with the PULVIS and the PULVIS PRO. The high grinding efficiency has enabled us to reduce it by over 80 per cent", explains Paul Woodward, Operations Director Minerals & Metals Division at Hosokawa Alpine. The desired fineness goes down to a particle size of d97 < 1 μm and can be conveniently set via the classifier speed. This allows higher finenesses to be achieved than with jet milling. At the same time, access for cleaning and maintenance is optimised, which is why the PULIVS is also well suited for frequent product changes.
Additional advantages with the PULVIS PRO
On the PULVIS PRO, access to the grinding chamber and separator wheel has been enlarged, allowing even better cleaning. For ultra-fine grinding of hard, temperature-insensitive products such as ceramic materials, glass, battery components or inorganic pigments, it is even possible to use additives. The PULVIS PRO is also optimally equipped for abrasive products, as the wear protection in ceramic design can be replaced by bolted wear segments on the grinding chamber floor. The series can be designed from laboratory to production scale and is impressive in every size with its compact and space-saving design.
Sophisticated design for smooth processes
On the PULVIS, the grinding zone is located in the lower part of the machine. Feed material is ground by agitated media that combine impact grinding and attrition. The gas flow injected from the bottom side transports and cools the particles on their way through the grinding media. Ground particles are conveyed by air, passing through the grinding chamber to the classifier in the upper part of the mill. The classifier separates the required fine product from coarse particles. The coarse particles are rejected by the separator wheel, return to the grinding zone and are ground again.
This article is published by
Innovative technologies for powder production and powder processing as well as blown film extrusion: These are the core strengths of Hosokawa Alpine AG, one of the world's leading machine and plant manufacturers. The company is headquartered in Augsburg, Bavaria, with a branch in Leingarten, Baden-Württemberg. Together with several subsidiaries in ...