To achieve this, the product must be sterilized. The conventional procedure to prevent contamination is to heat and form feed using press or expander technology. But these process steps have a detrimental effect on feed quality, which in turn negatively affects digestion and animal behavior.
To prevent bacterial contamination such as salmonella and optimize the homogeneity of their poultry feed, Egli Mühlen invested in a Pegasus® mixer with Dinnissen's Thermidor® system. In this customer story, you'll read:
How the Thermidor® system reduces the population of microbes by 99.999% without segregation.
How Egli Mühlen ensured a significant improvement in product quality with Dinnissen's machines.
Why 90% of Egli Mühlen's poultry customers have already switched to the improved animal feed.
Mr. Kurt Egli, former executive of Egli Mühlen, on the cooperation with Dinnissen:
"Our company is characterized by highly-efficient working methods and automated production lines. This allows us to produce a lot with relatively few employees. Therefore, it is important that our machines and systems are reliable and of high quality. So when we invest in new equipment, these are the most important criteria."
Thermidor® system prevents contamination
"In 2018, the Pegasus® mixer with the integrated Thermidor® system was installed in our plant. This system heats our product through the injection of steam, eliminating microbes such as Enterobacteriaceae (Salmonella). The system cools and dries the mixtures while they are still being mixed. In addition, the system allows liquids and powders to be dosed and added. This enables us to produce laying hen feed with the following properties:
Nutrients such as fibers retain their natural structure, resulting in dry defecation
Optimal physical feed structure, resulting in calm animals
Excellent product homogeneity
Salmonella-free feed, guaranteed
This offers many advantages for our customers. Their animals have optimal feathering, and they are clean and calm. And the dry manure leads to better air in the barn. Which improves conditions for our customers' animals and employees."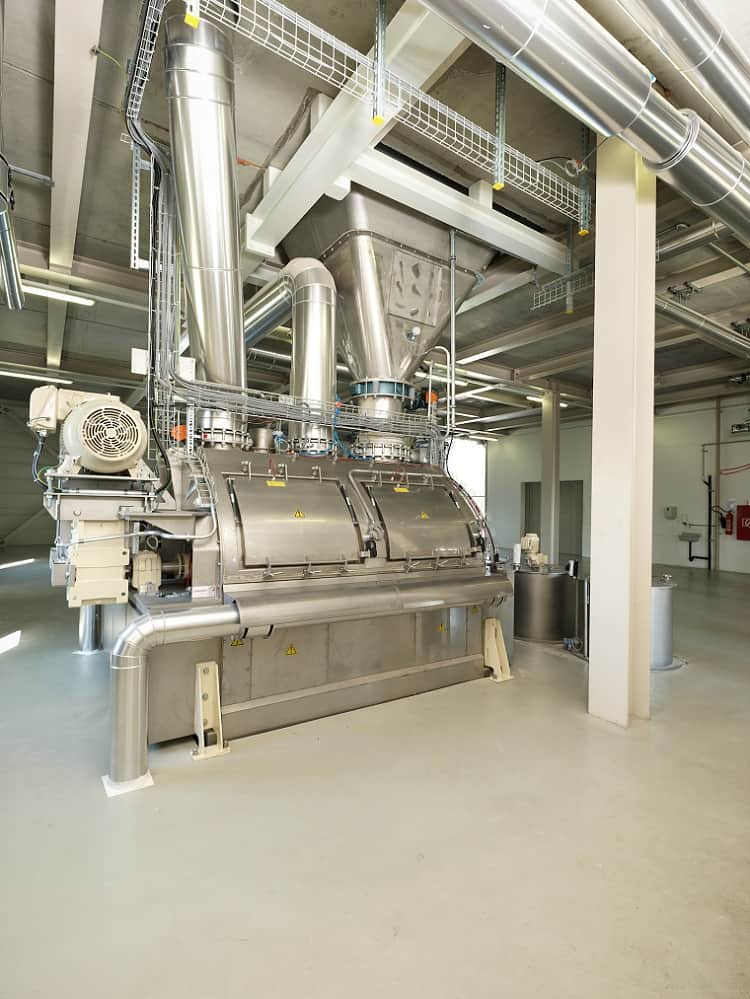 How the Thermidor® System Works
In various industries, including feed, product hygiene is crucial. It is necessary to prevent the contamination of products by, for example, salmonella. For this purpose, Dinnissen has developed the Thermidor® system. The system works based on thermal treatment of the product, without affecting homogeneity. The product is sterilized by heating with steam.
Steam is added during the mixing process so that the temperature transfer between the steam and the product is optimal when both components are in motion. This results in a highly efficient heating process, where the entire batch is heated to a specific temperature in a preset time. This natural method of sterilization is widely considered the best way to prevent product contamination. In this, the Thermidor® system is very effective; it reduces the population of microbes by 99.999% without segregation occurring. After heating, the product is dried using air and cooled to its initial temperature. To prevent recontamination, clean air supplied from a high-efficiency particulate air (HEPA) filtration system is used.
Because the product is heated and cooled during the mixing process, a consistent and homogeneous output occurs without de-mixing. In addition, this sequence of heating and cooling provides the ability to add and dose heat-sensitive powder components and liquids to finish the product. The process also hardens the structure of the product and reduces viscosity, significantly improving product flow.
We solved problems with long cooling and drying times
"During the heating process, the product absorbs the heat from the steam, after which the product is dried with air and cooled to the initial temperature in the cooling section. However, it soon became clear that the system's cooling and drying process took much more time and energy than expected. Henk Kuijpers, director of Dinnissen, guaranteed that the problem would be solved. And from that moment on, Dinnissen went to great lengths. Our team of technicians and a very good engineer from Dinnissen worked closely together. We decided to break the machine down into its key components and to redesign specific aspects. This process took a long time, but the end result -a highly efficient system- was definitely worth it. Dinnissen made every effort and that impressed me. And you often see that when you solve problems together, you create a special bond. It is because Dinnissen was so committed to creating the best solution, that I am willing to collaborate on this article."
Customers of Egli Mühlen are raving about new feed quality
"The result is a flawlessly operating production line which is unique in Switzerland, and probably even in Europe. Thanks to the Thermidor® system, our feed now contains all the desired nutrients, has a dry coating and is completely homogeneous. No de-mixing occurs. As a result, the demand for our products has increased significantly. In fact, 90% of our customers with laying hens have already switched to the new feed produced using the Pegasus® mixer and the Thermidor® system. These customers praise the product because it contains significantly more natural nutrients."
Why we chose Dinnissen
"Our first contact with Dinnissen was in 2004 when we expanded our production line with two enzyme coaters from Dinnissen. Dinnissen's people and machines impressed us tremendously during this process. In 2015, when we were looking for a solution to sterilize our poultry feed, there were two machine manufacturers to choose from. One of them was Dinnissen. Because of our positive experience with Dinnissen and their experience in this field, we chose to work with Dinnissen once again."
Perfectly functioning plant requires less energy
"We are very satisfied with the current production line and machinery from Dinnissen, as the objectives we set for this investment have been achieved. The line is operating without any issues and there is less energy required to keep the line running. Our employees enjoy working with the new machinery. Of course, there are always small things that can be improved, but in general the Pegasus® mixer and the Thermidor® system work perfectly. These Dinnissen machines enable us to make high-quality, hygienic feed."
Mr. Kurt Egli, former Managing Director of Egli Mühlen
"90% of our customers with laying hens have already switched to the new feed produced using the Pegasus® mixer and the Thermidor® system."
"Thanks to the Thermidor® system, our feed now contains all the desired nutrients, has a dry coating and is completely homogeneous. No de-mixing occurs."
"Dinnissen is only satisfied when the customer is 100% satisfied."