One of our most powerful magnet designs is now also available in a dairy-grade option: the Spherical Pneumatic Transfer Magnet.
This high-intensity magnetic separator has been a major success in various industries, ranging from meat rendering to bakeries, and is now also becoming rapidly popular in the dairy industry. Designed for high-velocity pneumatic transfers, these magnets are equipped to handle the tough, dry ingredient applications. The Spherical is now available fully welded, creating a hygienic one-piece design for sanitary applications.
The Spherical Pneumatic Magnet was originally designed for an Australian mill, where blockage issues were a common problem. Due to the challenging nature of a pneumatic blowline, the client needed a magnetic separator which would last and have the ability to collect and retain the magnetic fragments from the product.
The Spherical Magnet performed exceptionally well in the challenging application.
Watch our technician, Calvin, showing this 20+ year old Spherical Magnet which is still going strong! Over 20 years later, this magnet is still over 10,000 gauss, and on supply, the Spherical Magnets can be up to 15,000 gauss!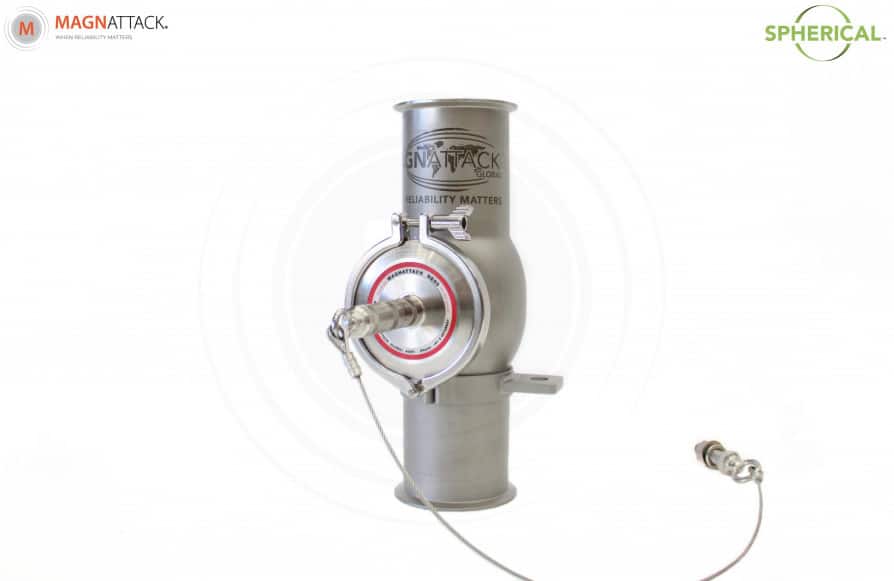 These magnets reduce the risk to final product security by effectively retaining metal fragments sized from large slivers down to very fine rust and magnetic dust, against high-velocity flows. The Spherical Magnetic Separator was extensively inspected by the Centre for Bulk Solids, a world-renowned bulk solids consultation and trial facility, and results showed little to nil impact on bulk density.
The benefit of the leading edge of the cone on the Spherical Magnet creates a stable flow path which optimizes retention of magnetic contamination in the low-pressure zone.
The new dairy-grade design is already a success in multiple manufacturing plants. The magnet can be supplied with a Cleaning Station and Cleaning Brush which are specially designed for the Spherical Pneumatic Magnet.
Key Benefits and Features
Some key benefits and features of Spherical Magnets include:
Effective separation of foreign metal contamination in high-velocity powder applications without experiencing bulk density changes and pressure loss
Aerodynamic design prevents blockage of product and minimizes product particle breakdown.
Internals of housing are self-cleaning due to the aerodynamic design with no internal ledges
Provides a very reliable indication and protection against incoming metal contamination
Optimum product stream coverage enabling highly efficient separation of weak to highly magnetic fragments
Reduced risk of re-contamination. Due to the engineered spherical shape of the magnet, the captured material will tend to move around, by the flow of the product, to accumulate in the low-velocity region behind or around the back of the Sphere. This will increase the capability of the magnet to retain metal fragments and minimize cleaning frequency. In comparison, Bullet Magnets have a flat base or flat raised poles which often do not hold tightly enough to weakly magnetic fragments, therefore risk being dislodged and re-entering the product flow
Dura-Slik® Abrasion Reduction Technology – this is an FDA-approved anti-stick surface treatment which helps reduce surface tension with sticky powders. It also provides barrier protection against galvanic surface reaction in more corrosive environments
RE80® Magnet Technology – only the highest specification raw materials are used, and all components are manufactured to the highest tolerances to resist the onset of demagnetization
11-15,000 gauss strength available depending on design and specification. (In comparison, most bullet and plate systems don't exceed 7-8,000 gauss)
Where to install Spherical Magnets
These magnetic separators can be installed in a range of locations:
Incoming ingredients
Prior to metal detectors
Prior to critical processing equipment
Prior to bagging operations, bulk out loading, or direct filling of trucks (e.g. flour trucks)
Dilute/lean and dense phase applications of 3″ – 8″ (75mm – 200mm) in size.
Suitable for high velocity and large volume vertical installations in blow, vacuum, gravity, & pneumatic transfer lines
The Spherical Pneumatic Magnet is designed in conformance to HACCP International Food Safety Standard 0909MAGSEP 1-2010 for peace of mind and assurance of quality. The Spherical Magnet is also FDA, CE and USDA-Accepted.
This article is published by
Magnetic Separation Equipment for Food Safety & Foreign Metal Fragment Control
Magnattack Global specialise in the manufacture of magnetic separation equipment, designed to increase foreign metal fragment control and reduce risks such as product recalls, brand reputation damage, and consumer health and safety threats. For half a century, ...