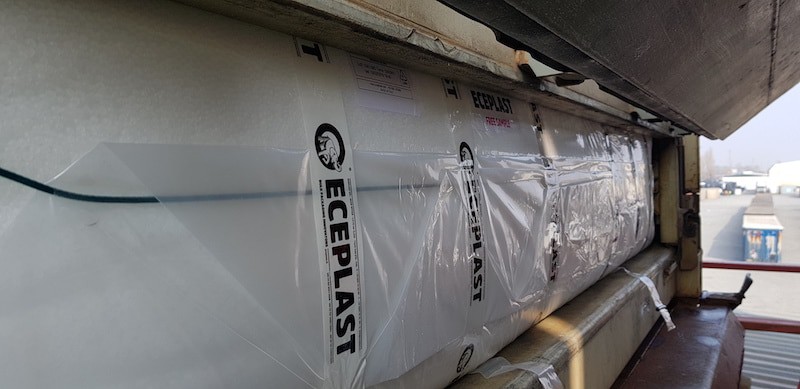 During the next Transport Logistics in Munich, 4-7 June 2019, Eceplast will unveil container liner bags that never have to be thrown away.
The company, established in Italy in 1995, is a world class manufacturer of liner bags for container and other industrial packaging materials for bulk and bulky goods, mainly serving the chemical and automotive industries.
The main goal is to offer customers a conscious choice to be environmentally responsible while remaining economically competitive.
Even at the start-up phase, when the commitment to sustainability did not yet have a name, all Eceplast's efforts and actions were already in line with the passion and vision for a better and more sustainable society.
The company is proud to be an active player in the circular economy, keeping the same perspective, while continuing its journey: optimising each phase of the production process, selecting and adopting the best available raw materials, driven by efficiency, durability and recyclability of our products considering their whole life cycle.
Today, Eceplast is focused on redefining packaging again, for greater sustainability. Working in this field, the goal is to produce sustainable packaging solutions not yet imagined.
The process starts with Eceplast's own products and processes, along with an ongoing commitment to reducing the environmental footprint globally.
For this reason, rethinking about the use of its products, Eceplast now offers the first fully recyclable liner bag. Composed of a single material, 100 percent LDPE (low-density polyethylene), once used it should not be broken down to divide the materials, but simply compacted and collected.
This allows for the saving of all the waste polyethylene, ready to be re-granulated and reused for new packaging.
Customers can manage this activity on their own or entrust it to Eceplast which, thinking also of client needs, has created a network of partner companies to follow the entire product lifecycle.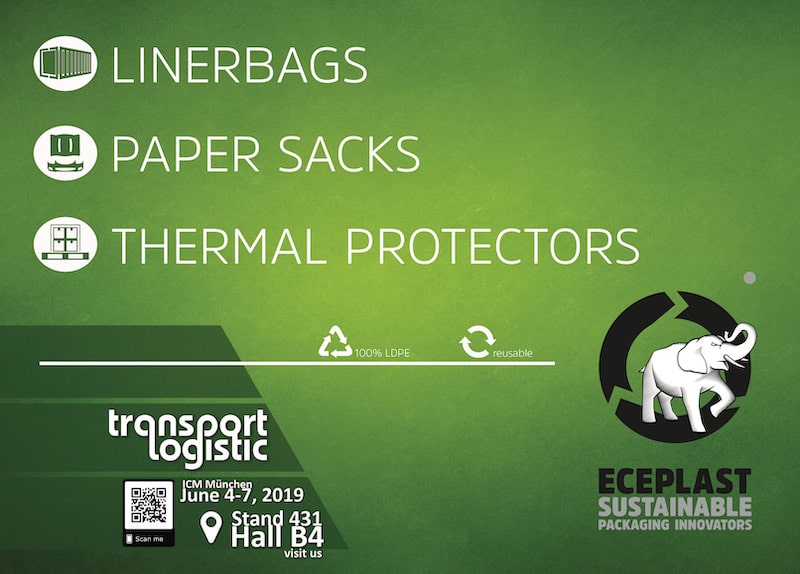 In fact, it is not the material itself that is more or less sustainable but the respect and proper management of its lifecycle. In this way, zero waste production is achieved, protecting the environment and offering a way to reduce packaging costs for companies using these types of products.
In fact, quality and sustainability are inextricably linked and deliver higher efficiency lowering total costs, as Eceplast have shown over the past 25 years.
The company says it is a fact that sustainable innovative solutions optimise the supply chain.
Eceplast recognises that the company's strength lays in the values of the people who built this success over the years: with more than 100 employees and 17,000 sqm of production plant, the 'family' has grown considerably. To produce the hundreds of packaging models, Eceplast uses only renewable energy and ensures the responsibility of our logistics partners, delivering to over 40 countries worldwide.
Nowadays, Eceplast is concentrating all its efforts in designing only sustainable packaging solutions, harmonising the technical and economic needs of its customers with the environment and anticipating the most stringent regulations, as proved by the voluntary pledge to the EU Commission, to collect and recycle the company's complete yearly production within 2025.
Eceplast seeks sustainable packaging solutions that create business efficiencies, or even enable new business models, so as to continue to apply unique material science in collaboration with customers around the world.
In this way, sustainability becomes not just good corporate citizenship, but a better way to do business.
Visit Eceplast @TransportLogistic in Munich, Stand 431 – Hall B4
This article is published by
Young and dynamic Company specialized in the production of PE Liner Bags for Container for the packaging of bulk chemicals and food grade products. Also active in Flexitank for bulk liquid and Multi Layer Paper Bags for Automotive spare parts, with our unique italian plant we represent a real exception, being able to remain European manufcturer and ...