Having set themselves the goal of cost leadership, UPM then picked AZO as a partner, with whom continuous optimisation of processes is possible at any point. UPM is a global business with headquarters in Finland and is made up of six business units: Biorefining (biofuels & cellulose), Energy (hydropower plants), Raflatac (label materials), Specialty Papers & Communication Papers and Plywood. UPM Biocomposites' business is the manufacture of wood-plastic composites. These also include UPM ProFi products. The company is taking the bioindustry and the forestry industry towards a new and sustainable future that is characterised by innovation. The products are manufactured from renewable raw materials and can be recycled.
Requirements
High plant uptime, designed for continuous operation
No restrictions when it comes to automating raw materials
High throughput rate
Robust, high-quality construction
Process and control engineering and after-sales service from a single supplier
The task
UPM Biocomposites in Bruchsal, Germany has specialised in the production of wood-plastic composite products. This is where composites made from purely synthetic polymers and wood-based fibres, which occur as surplus by-products during processing and production of self-adhesive label material, are manufactured under the UPM ProFi brand. This low-maintenance, durable material can be used as decking for patios and balconies as well as for garden paths, yachting marinas and jetties.
AZO was tasked with designing reliable feeding of two mixing lines with bulk and medium components and minor quantities. In addition, the finished compounds had to be conveyed and stored in day bins. They were subsequently fed into several extruder lines from these silos. Currently 15 different basic formulations in six colours are produced on the mixing lines.
"From the outset we wanted a concept for the material flow that would not restrict us in any way. Where we are concerned, this means that we are able to transport all components on all mixing and extrusion lines."

Marc Reich, UPM Biocomposites
AZO's solutions for handling bulk, medium and minor components: AZO FLEXIDOS®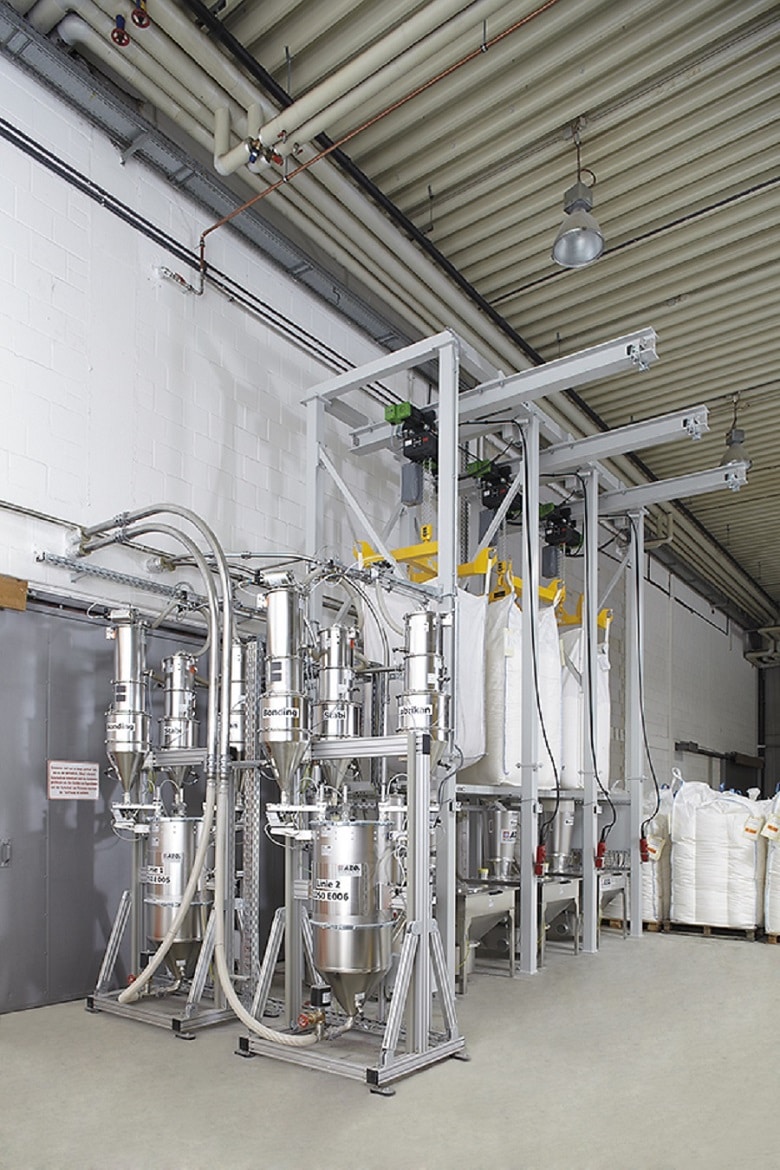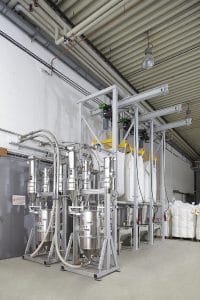 The AZO FLEXIDOS® employed in this plant is extremely versatile. The most popular areas of application are reliable and flexible feeding of extruders and injection moulding machines with new materials, masterbatches, additives and regrind, when requirements are for high-quality products. It is suitable for lower and average rates of throughput.
Pneumatic vacuum conveyors are used to convey medium and minor components to the surge bins for the FLEXIDOS® station. The individual components are metered onto the scales in accordance with the formulation and weighed with a high degree of accuracy. Depending on the use, the main components can be metered in coarse feed, although the remaining components are weighed with gram accuracy and added, depending on the proportion, in coarse and dribble feed.
Advance weighing in the AZO FLEXIDOS® can be carried out in parallel to the weighing of bulk components.
Key advantages
Consistent quality thanks to precise weighing of all components
Traceable formulations with verified composition of the formulation
Unaffected by fluctuations in bulk density
Fully automatic mixer feeding with vacuum weighing systems
Operating principle. Discharge, metering, conveying, combining and weighing – AZO's vacuum weighing systems are true all-rounders.
Both bulk components and also medium and minor components can be delivered to the mixer using the vacuum weighing systems.
In this case, the components are suctioned, in accordance with the formulation, onto conveying scales with an electromechanical weighing device and weighed with a high degree of accuracy. The core element in the system is the multiport valve, which AZO developed. This makes it possible to have several conveying lines converge at one point. Just before the target weight is reached, the clean-air valve is opened, the conveying line is closed and the multiport valve is suctioned out until it is empty. This means that dribbling is the same for all components. Once all the components are in the conveying scales, the batch is discharged into the mixer.
Key advantages
Reliable mixer feeding
Cost-effective automation
Ideal adaptation to meet required throughput rates and accuracy rates
Systems can be adapted to specific mixer lines exceptionally well
Saves on height and space thanks to horizontal material flow
Flexible system solutions
Closed systems