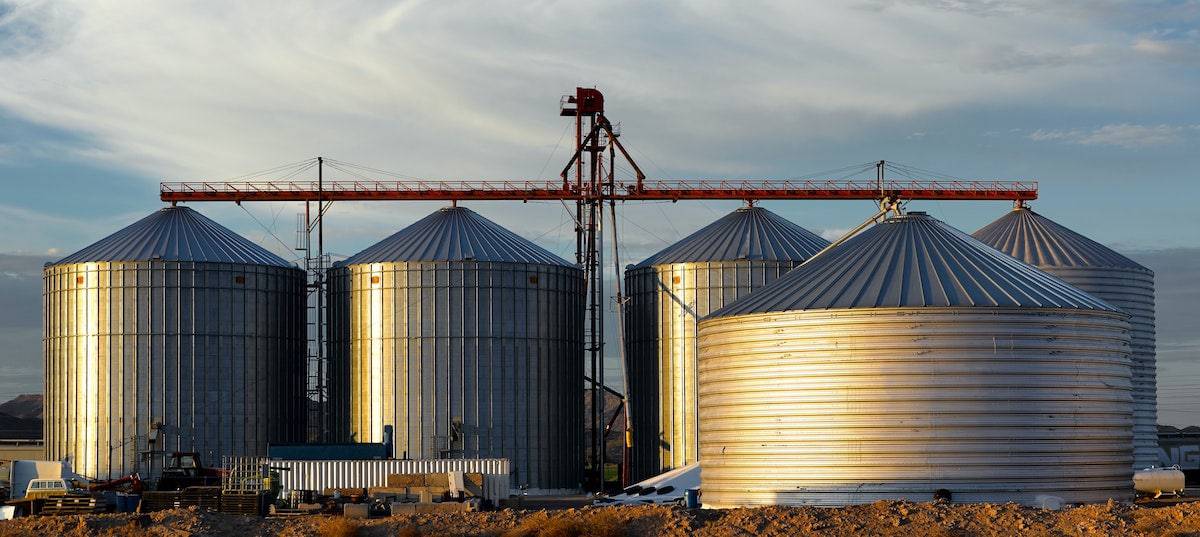 The 2016 revision to NFPA 652 made completing a Dust Hazard Analysis (DHA) mandatory for all businesses creating, handling or transferring explosive dusts.
The deadline for completing a DHA was September 7, 2020. This legal requirement is enforced by OSHA. If you have not yet completed a DHA, you are liable to fines or sanctions from OSHA and other regulatory bodies.
This article summarises what is needed for a DHA, where explosion protection fits into it and how Oseco-Elfab can help you maintain compliance.
WHAT IS A DHA?
NFPA 652 defines a Dust Hazard Analysis (DHA) as 'a systematic review to identify and evaluate the potential fire, flash fire or explosion hazards associated with the presence of one or more combustible particulate solids in a process or facility.' It is only the review must be completed by September 7. Any recommendations coming out of it can be completed after that date. A common recommendation is to verify that existing explosion panels are designed per NFPA 68.
NFPA 68 and explosion protection
NFPA 68 is the US standard on explosion protection by deflagration venting. It covers the design, location, installation, maintenance, and use of devices and systems that vent the combustion gases and pressures resulting from a deflagration within an enclosure so that structural and mechanical damage is minimized. The main requirements relate to documentation, inspection, maintenance, training and record-keeping:
Documentation: NFPA 68 lists 19 documents that you must keep on record
Inspection: Vent closures must be inspected at least annually. The inspection process consists of 16 steps, detailed in NFPA 68.
Maintenance: A maintenance plan must provide for maintenance of the vent closures following an upset, act of nature, or turnaround.
Training: All employees operating, maintaining or supervising facilities must be trained.
Record-keeping: You must keep all records for a minimum of three years.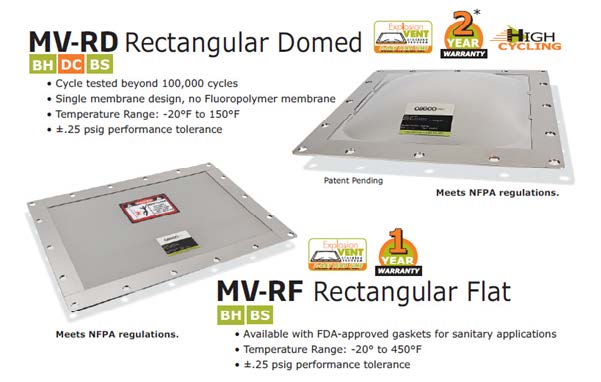 Oseco-Elfab's solutions
Oseco-Elfab's products and services can support you with venting requirements and compliance with NFPA 68:
Explosion panels
The Oseco MV Family of explosion vents offers the industry's best perfor­mance tolerance of +/- .25 psig. Each of these vents meets the requirements of the OSHA Combustible Dust NEP and NFPA 68.
Services
Inventory Management Support: Our Explosion Vent Stocking Program allows customers to receive vents at a reasonable cost when they need them in a hurry.
Expert Engineering Support: Our Technical Support team is there to provide engineering support with the vents, whether that is sizing, guidance per NFPA 68, documentation or pressure management advice.
Our Vent Sizing Worksheet can help you determine the vent that will ensure your safety and protect your equipment. It covers areas such as:

Operating Pressure/ Temperature
Vacuum
Number of cycles per day
Burst Pressure/Temperature
Kst and Pmax
Vent L/D ratio
Vessel Volume
Current vent information if available
For support with dust handling and explosion protection, Oseco-Elfab is available to customers 24/7, 365 days per year. Call Technical Support at 800-395-3475 to receive help with any vent related questions. You may also visit www.oseco.com
This article is published by
As a global manufacturer of rupture discs, explosion vents and associated detection systems Elfab's intelligent pressure relief systems protect people, plant, processes and the environment across the globe. With some of the most technically advanced products on the market Elfab delivers unique design, testing and consultancy services for pressure ...