Coperion K-Tron gravimetric feeders installed more than 10 years ago could benefit from a free, no-obligation modernization review. Many components, especially electronic parts, become obsolete over the years and are no longer available as spare parts. Alternatively, changes in your process or production procedures can also be potential triggers for the modernization of your equipment.
The aim of our modernization packages for feeders is to maximize the productivity, availability, and operational safety of your systems. Modernizing your feeders increases the availability of spare parts considerably. Integrating the latest weighing and control technology into your Coperion K-Tron feeding systems has a direct impact on product quality and extends the life of your equipment.


New Feeder Control Technology Increases Process Efficiency
Improved control algorithms in the new KCM-III provide faster communication with the feeder drive, weighing system, and peripherals, resulting in more precise control of the system. In combination with the latest generation of patented SFT weighing technology, the KCM-III offers a significantly higher weighing resolution than its predecessor model. The result is a better short-term feeding accuracy, as the control system reacts very quickly to changes in the system.
Achieving high gravimetric feeding performance on the process line requires discriminating between weight data and the contaminating effects of inertial forces induced from such ambient influences. Coperion K-Tron's exclusive dynamic digital filtering algorithm continuously identifies and extracts spurious inertial components from the weight measurement, even in severe process environments. Thanks to this digital filter SFT load cells are able to provide accurate, stable, and reliable digital load measurement under a broad range of operating conditions.
All 100% digital SFT load cells are designed to never need in-field calibration. The weight of the feeder is captured, linearized and temperature compensated 450 times per second with zero data loss at the measuring point inside the SFT. At the same time, the 64-bit wide data registers used in the newest software versions provide mathematical data resolution in parts per billion, resulting in significantly higher calculation accuracy and a stable scale resolution of 1:8'000'000 (or 1 part of 8 million) in 20ms.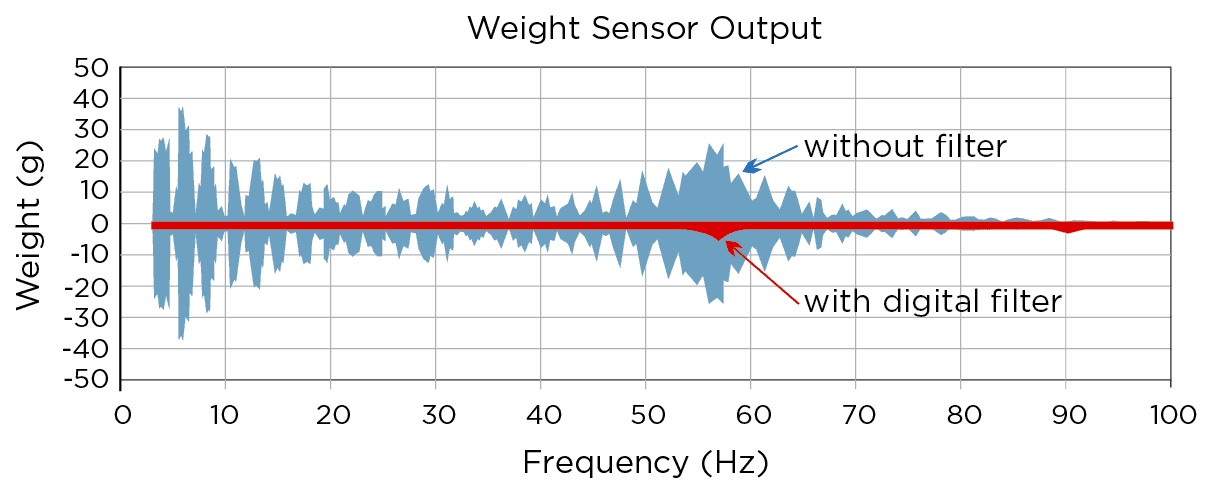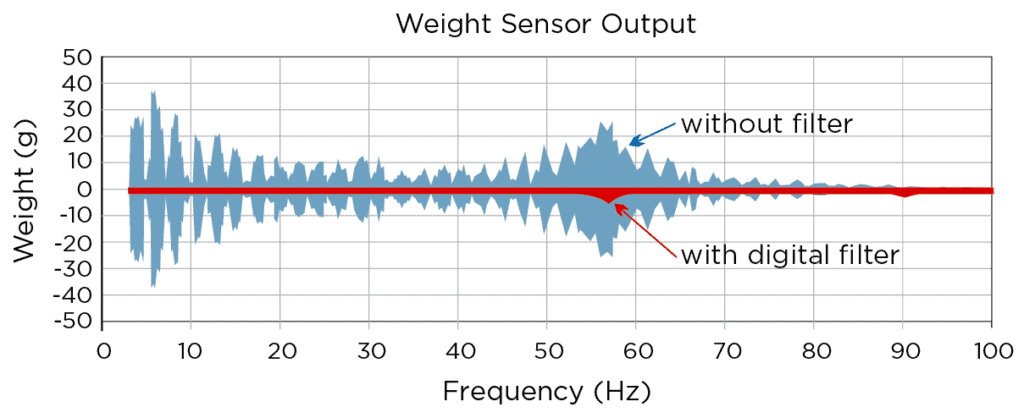 The KCM-III control module combines the motor drive board with the control of the feeder and its peripheral components in one compact unit and is usually mounted directly at the feeder. The new 5-inch LCD screen with an improved user interface has an integrated, context-sensitive help function. The KCM-III has a completely new, powerful CPU with expanded memory to enable the collection of more log and event files, as well as trace and process data. Up to seven days of traceability are standard. Extended traceability is available as part of an optional software package that provides up to 180 days of data storage.
With the new, fast CPU and a wide range of K-Link networking options, both wired and wireless, the new KCM-III has the necessary foundation for future expansions such as preventive maintenance, electronic remote service, Overall Equipment Effectiveness (OEE), outlier detection, machine optimization and much more. It thus plays an important role in optimizing production quality, saving energy, and reducing the maintenance costs of production facilities.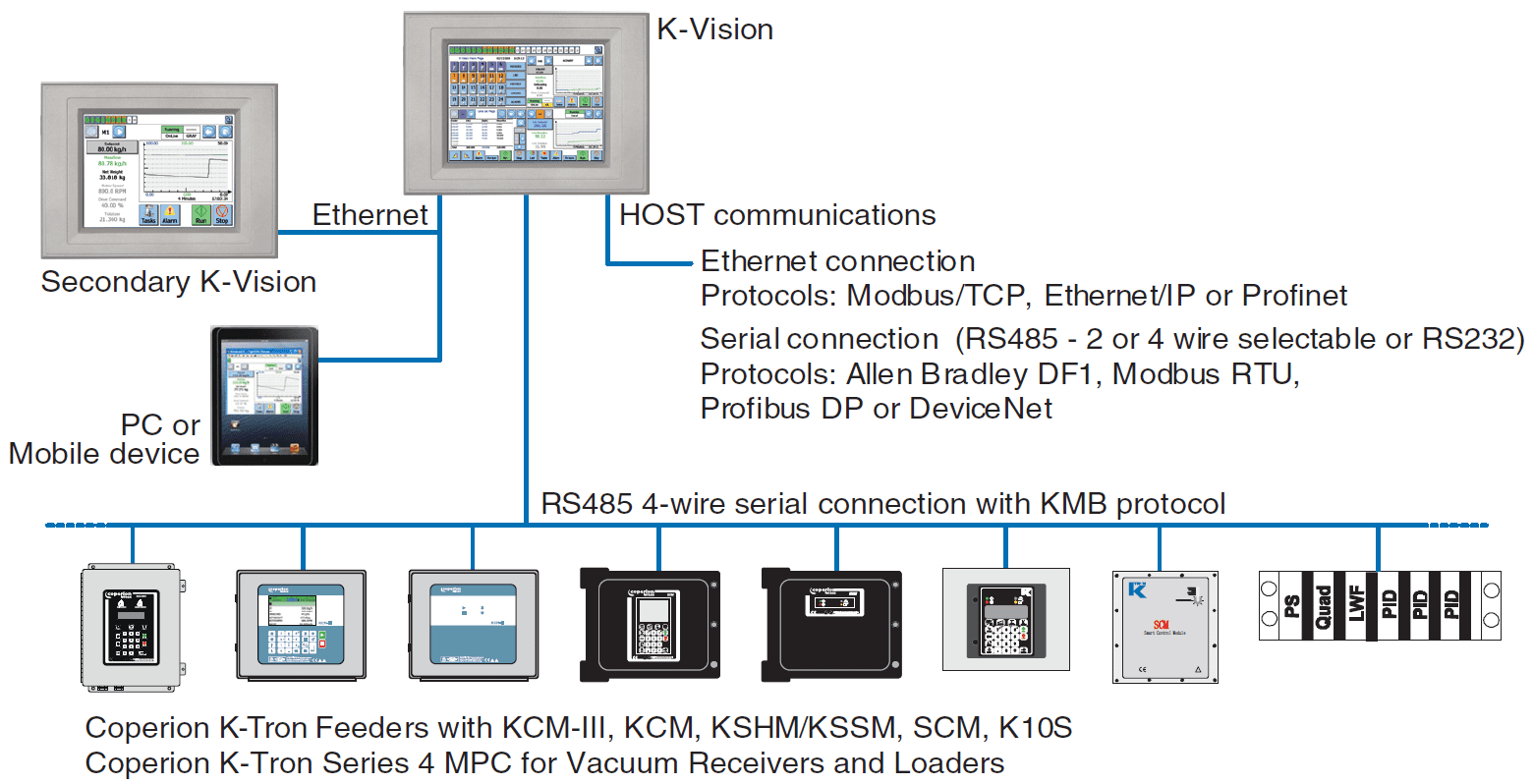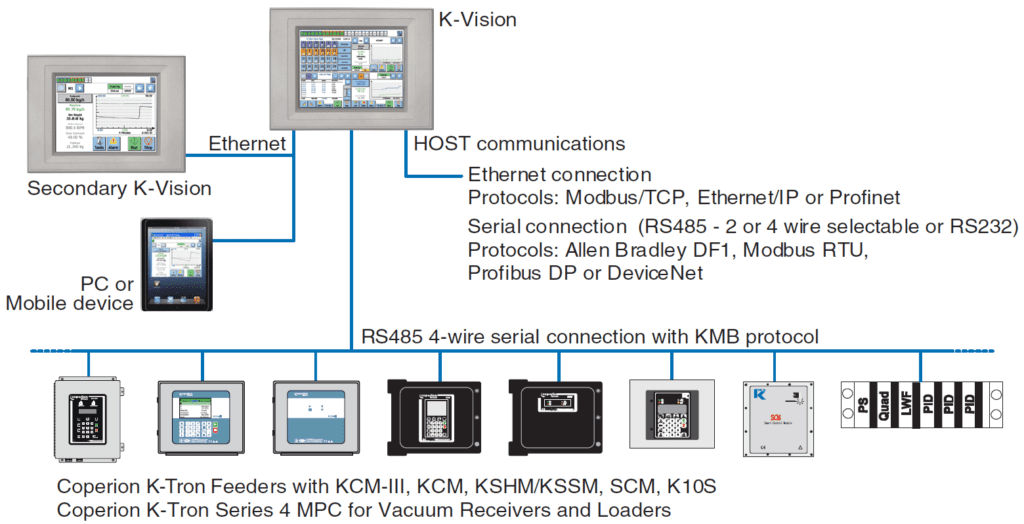 With state-of-the-art technology, your feeders can benefit from the latest developments to perform with maximum accuracy and consistency. In addition, targeted modernization measures can reduce downtime for repairs and service calls to a minimum. Instrument calibration can be eliminated and the system is less sensitive to external disturbances such as environmental vibrations.
Coperion K-Tron offers a variety of standard modernization packages. In addition, we create tailor-made proposals that are individually prepared for your needs. We grant one year warranty on all replaced new parts.