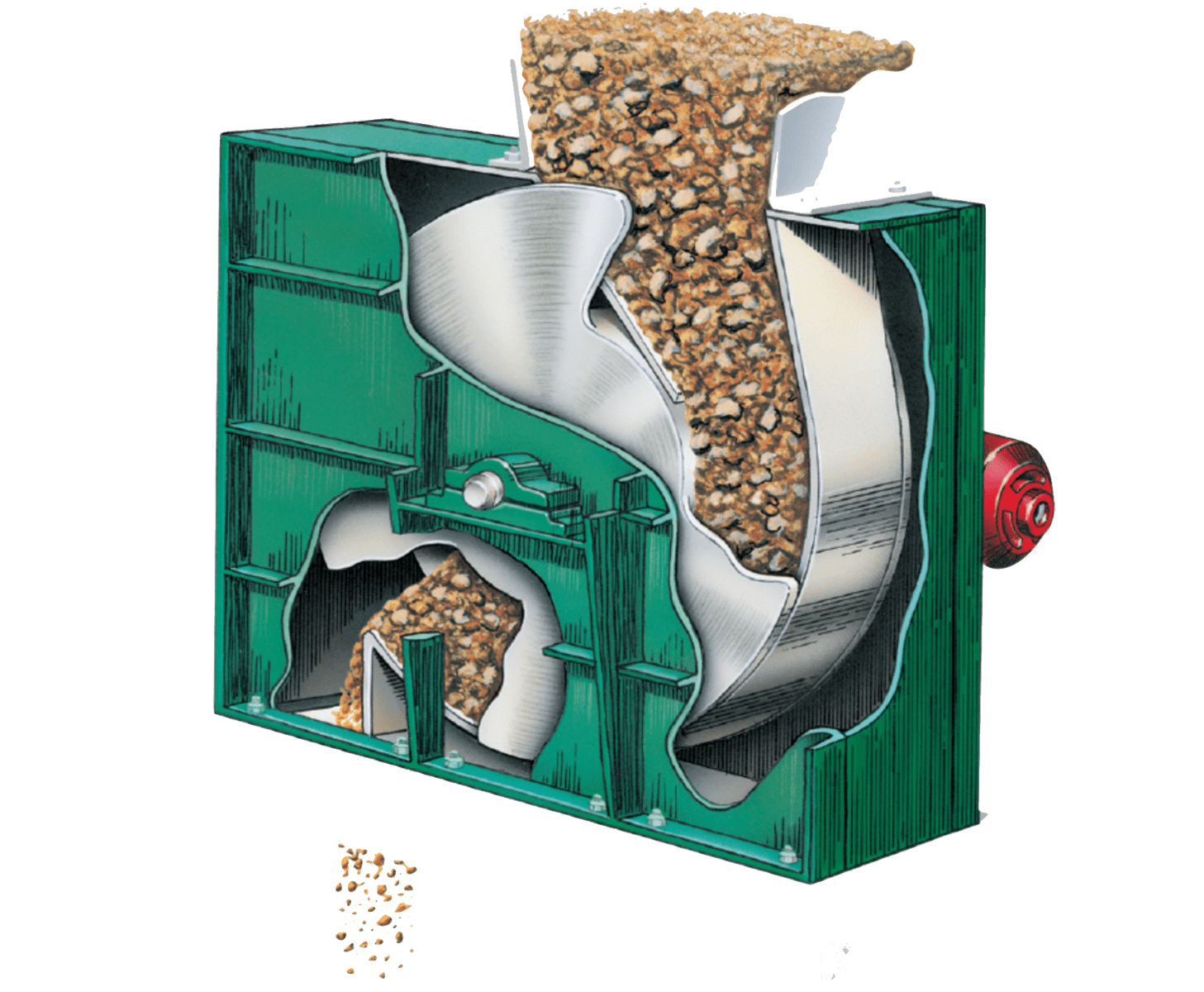 This positive displacement feeder, the first of its kind, is a valuable breakthrough in feeder technology. It's also a striking example of how simplicity of design can yield superior results, both in performance gains and equipment upkeep.
The genius of this concept lies in the way it takes advantage of the bridges that bulk solid materials tend to form. In most equipment material bridging causes problems. With the Posimetric Feeder, controlled bridging, which causes the material to lock up against the outer walls, filling the entire space, and then continuously unlock at the discharge point, is the basis of more uniform, more reliable, and more accurate feeding. Additionally, all that is accomplished with only a single moving part which is nearly free of wear in most applications!
Advantages/Capabilities:
Reliably accurate and exceptionally constant feed rates.
Only a single moving part.
No fugitive dust produced.
Handles bulk solid materials with a broad range of bulk densities – as well as mixed loads – whether wet, dry, lumpy, sticky, abrasive, or granular.
Not subject to feed rate error from varying moisture levels in feed material.
Plugging and downtime are virtually a thing of the past.
Maintenance is almost non-existent – this feeder has no belts and requires almost no attention.
Provides a level of trouble-free operation unknown with ordinary feeders.
Capacities from 3 to 1800 TPH.
Rotation speeds as low as 1/2 to 15 RPM using extremely low horsepower – your material provides most of the power!
Seals against downstream suction or pressure.
Unvarying accuracy – up to 99.5%.
Replaces rotary, table, weigh feeders, and triple-gates with an incredibly uniform feed rate and always delivers a precise amount of material.
Improves plant safety because it's dust free.
Perfect for Coal, Sand, Culm, Roofing Granules, Biomass, Limestone, Crushed Stone, Wood Chips, Shale, Cereal, Grain
The Secret of the Posimetric Feeder's Accurate and Steady Feed Rate
The volume of the material lock-up/transport section between the feed and discharge points, about 180º of arc, is fixed. In effect, this duct section serves as a container of known dimensions even though it is open at each end. This means that each rotation can only carry a fixed amount of material, regardless of moisture content, making it impossible to feed too little material (as a less than full section does not permit lock-up), or too much material (as the volume is confined by the material lock-up). In addition, this lock-up enables the walls of the duct to literally carry the material gently along, so there is no sliding motion of the material relative to the walls, resulting in negligible wear.
This article is published by
With over 10,000 machines in use in 90+ countries, TerraSource Global remains the partner of choice for mining, forest products, and other operations around the world. Our trusted flagship brands (Jeffrey Rader, Pennsylvania Crusher, and Gundlach Crushers) provide customers with high-performance crushing, sizing, feeding, screening, and classifying ...