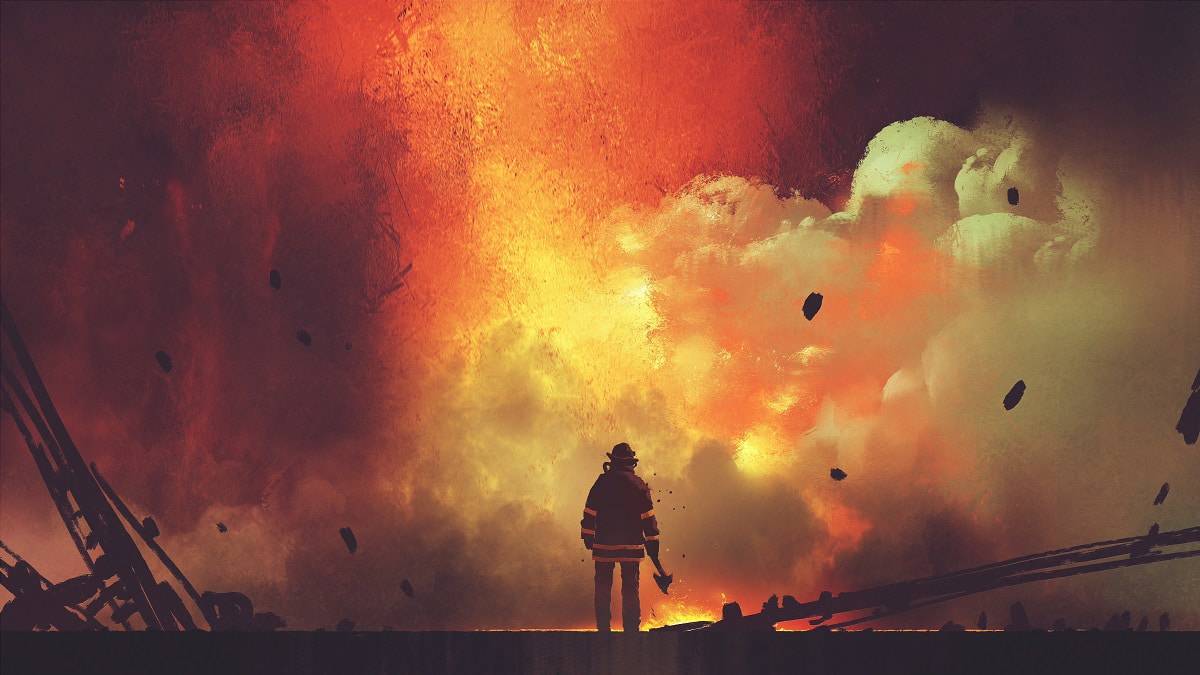 Historically many accidental explosions have been recorded since the early 19th century. Over the years, industries around the globe have become more focussed on preventive actions to reduce the risk of explosions in the processes.
An explosive atmosphere is defined by the IEC (International Electrotechnical Commission) as a "mixture with air, under atmospheric conditions, of flammable substances in the form of gas, vapour, or dust, which, after ignition, permits self-sustaining propagation" – ( https://www.electropedia.org/ )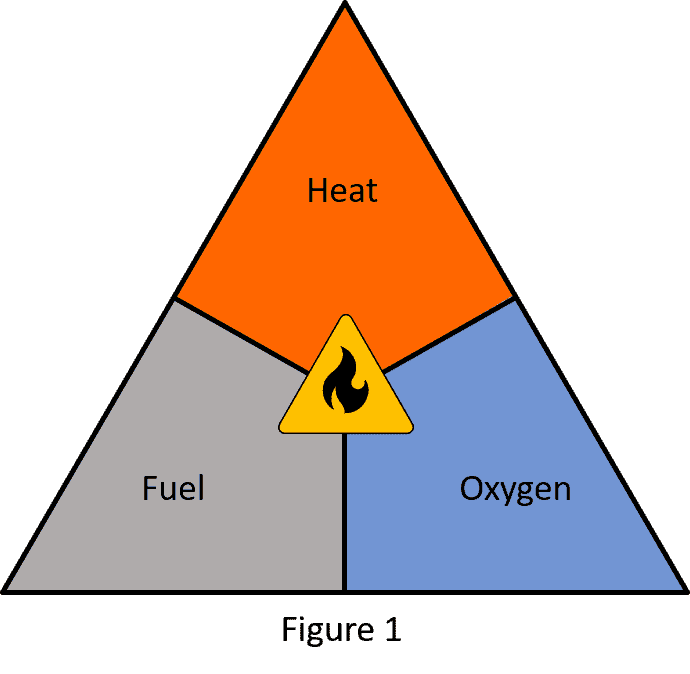 To better explain this definition, it is possible to represent the situation graphically, first starting with the Fire triangle (Figure 1):
Fire can only happen if Heat, Fuel and Oxygen are present simultaneously, and if any of this element is removed, the fire will die down.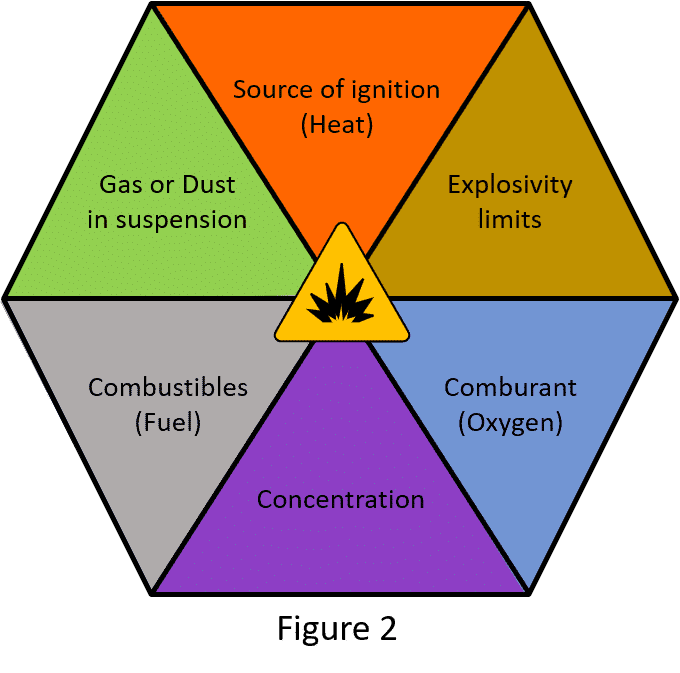 Explosions require three more conditions that can be represented by a hexagon (Figure 2):
Explosions can only happen if all the six components of the hexagon are present; therefore, prevention is hinged on preventing these elements from coming together.
For this reason, the International Electrotechnical Commission (IEC) created a system for certification to standards relating to equipment for use in explosive atmospheres called IECEx system. This system is a collection of approved standards indicating the guidelines for recognizing explosive atmospheres, manufacturing, and installing equipment in the areas mentioned earlier.
Each country implements the globally harmonised IECEx system into law, so some countries may impose more severe controls or slight variations on the conditions the devices must be tested against.
To enable moisture measurement and control in explosive dust environments, respecting the strict requirements imposed by international laws, Hydronix has developed the new Hydro-Mix XT-EX, which is certified: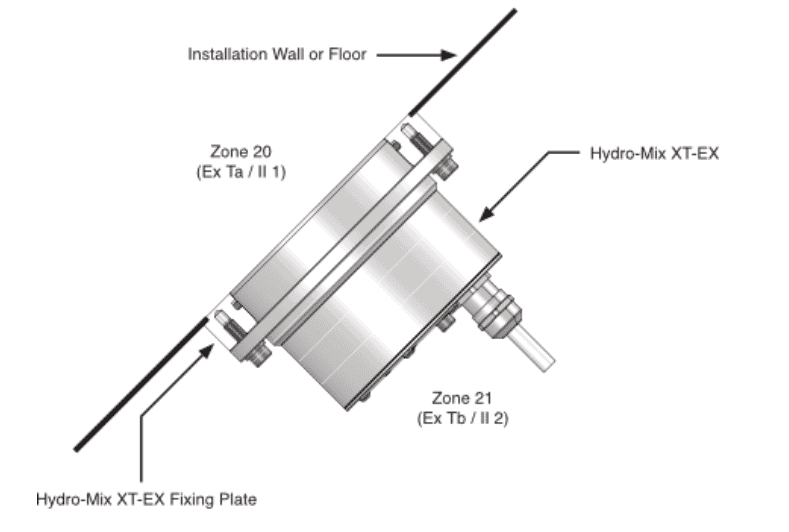 ATEX: Group II Category 1/2D
IECEx: Zone 20/21
ETL: Class II Division 1/2
The Hydro-Mix XT-EX has been designed to measure moisture in flowing bulk solids such as animal feed, grain, rice, pulses and many more. The sensor is easily installed in ducting, conveying and mixing systems (figure 3).
Comprising a single, intelligent unit that contains all on-board functionality, including signal processing and averaging, the Hydro-Mix XT-EX precisely measures the moisture content of material passing over the ceramic faceplate. Remote configuration, calibration, diagnostics and firmware upgrades are simple using Hydronix software. With two analogue outputs and RS485, the sensor offers a high level of connectivity. It is accessed through Ethernet TCP/IP, Ethernet/IP, Web API, PROFIBUS and PROFINET using Hydro-Hub and Hydro-View 5 interfaces.
The unique patented Hydronix digital measurement technology has a linear relationship with moisture, making it superior to nonlinear techniques such as resistive, capacitive, and analogue microwave sensors.
Linear measurement allows for ease of calibration with fewer calibration points required and high accuracy from the wet to dry end of the scale (Figure 4) without loss of sensitivity.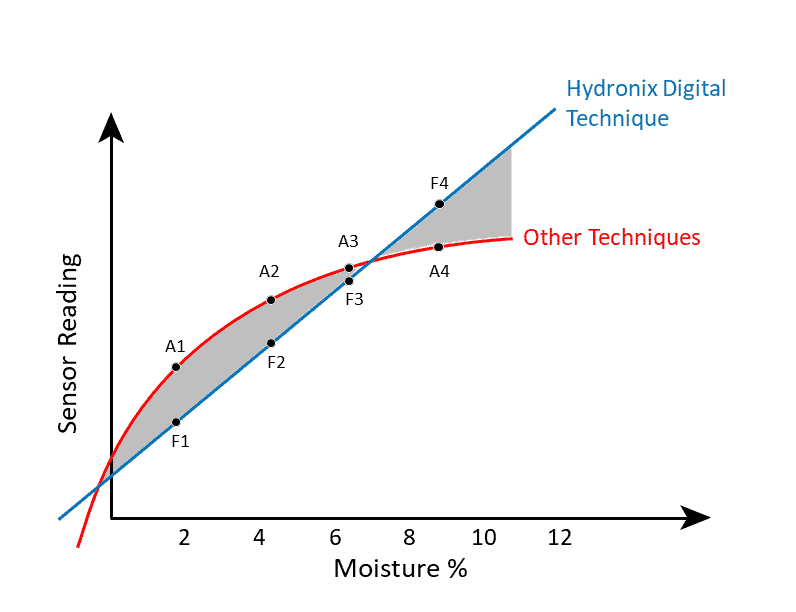 Like every Hydronix sensor, the Hydro-Mix XT-EX is built with premium material and it is extremely reliable and durable. Inline and extremely fast with 25 readings per second, the HMXT-EX allows control of a process in real-time to improve reactivity to changes in the material flow.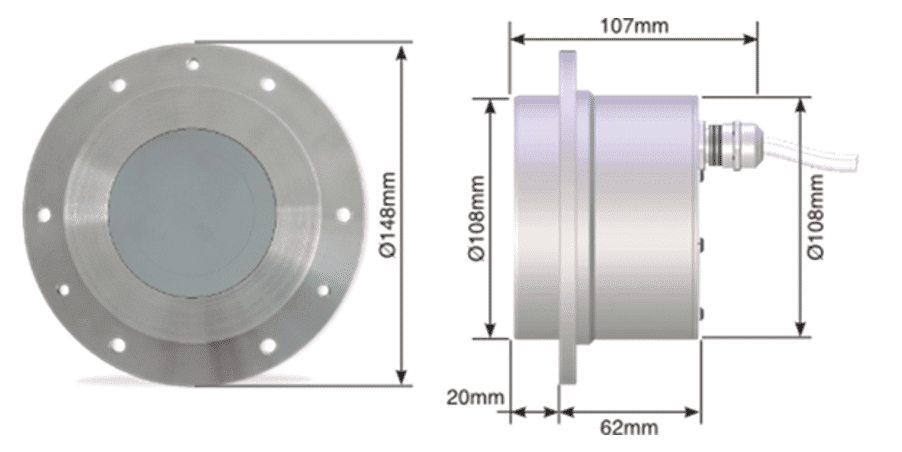 Hydronix is driven by the belief that we help to build a more sustainable future for our children and the generations to come by helping your success.
For these reasons, Hydronix, with its 39 years of passion and expertise, provides the best digital microwave moisture sensor technology.
Hydronix is present in over 80 countries worldwide, providing a network of expert engineers in the field speaking your language.
Author: Alessandro Mario, Technical Sales Engineer
This article is published by
Hydronix is the world's leading manufacturer of digital microwave moisture measurement sensors.
Established in 1982, we have installed over 85,000 sensors across a wide range of industries in over 80 countries worldwide.