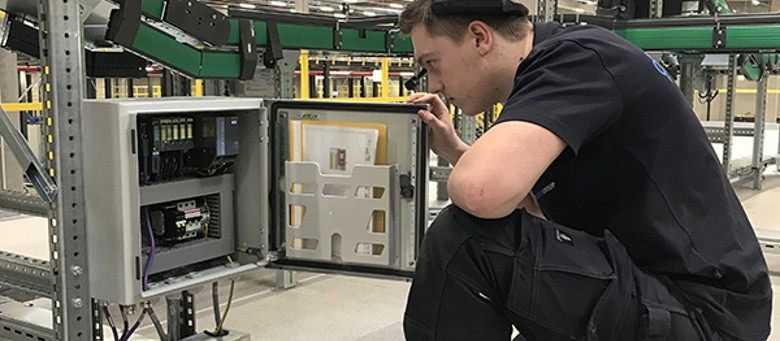 If there is a problem during operation, this may easily result in production bottlenecks. In the worst case, this results in delays in day-to-day operations.
If a machine suddenly breaks down, the problem must be solved as fast as possible. This is the only way for users to save time and money. If the users are not in a position to handle this by themselves, the BEUMER Group sends their globally located technicians to prevent longer downtimes. In addition to service technicians, Customer Support also provides qualified telephone support for troubleshooting, which is available 24/7. However, it can be challenging to successfully communicate complex problems quickly and clearly over the phone. Imagine if the customer had the opportunity to have a BEUMER technician take a quick and easy look at the problem at any time – on-site support, without actually being there. The BEUMER Smart Glasses make it possible.
The employee at the machine puts on the glasses and starts the BEUMER Support app via voice command. The employee transmits a service number and a pin code to the hotline, and the connection with image and sound is established. The BEUMER technician receives the same image as the customer. The technician can directly give instructions and display all relevant information in the field of vision. The employee has both hands free to follow the instructions of the expert and carry out the necessary actions. Faults can be solved quickly and precisely – at any time. The BEUMER experts are available around the clock, seven days a week. Language barriers or the lack of specialized knowledge are no longer relevant to troubleshooting. Together with the user, we can also better validate why the fault occurred based on the recorded images.
As part of the comprehensive BEUMER Customer Support, users add the BEUMER Smart Glasses as an extension to their monthly or annual hotline service agreement. Together with BG.evolution, the BEUMER Group is currently developing further digital products under the umbrella of "Smart Solutions". Many of our customers are already showing a clear interest in the BEUMER Smart Glasses.
This article is published by
Customized material handling systems from BEUMER Group
BEUMER Group
is an international manufacturing leader in intralogistics in the fields of conveying, loading, palletising, packaging, sortation and distribution technology. BEUMER Group offers the right solution for almost every logistic challenge.
A ...