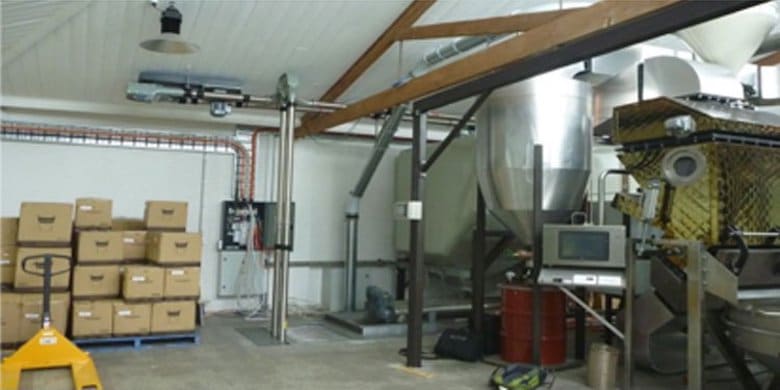 Allpress needed a clean, efficient conveying solution for gently transferring green and roasted coffee beans. As many of their trademark combined roasteries and cafés were in refurbished buildings they also needed flexible, space-saving equipment that worked well in tight places.
As a high-grade food producer operating in an integrated retail and production environment, hygiene, total batch transfer, and product integrity were front and center in Allpress's material handling needs. Finding quiet, sleek, sophisticated equipment that enhanced Allpress's cultural commitment to giving customers a transparent look at their innovative roasting process was also on the agenda
The solution
After exploring a range of food-grade conveying options, Allpress's team settled on the Floveyor as the optimal solution for their needs.
Their reasons for choosing Floveyor were two-fold. Firstly Floveyor has enjoyed an unmatched reputation for safe, innovative food industry conveying since the 1960s with coffee as a well-established product on their résumé. Secondly, Floveyor's elegant modular design and aero-mechanical technology was the perfect fit for Allpress's integrated café and coffee roasting operations.
Floveyor's small footprint and capacity to maintain high-velocity transfer and horizontal or vertical angles complemented Allpress's combination of tight fits, quirky locations, and fixed plant.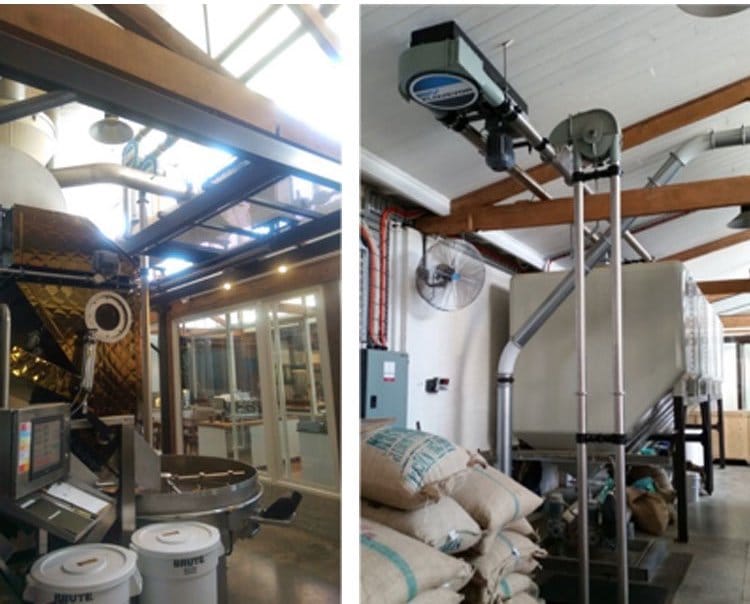 The results
To date, nine custom-designed Floveyors have been installed in multiple Allpress roasteries across the globe.
Their gentle fluidizing aero-mechanical technology maintains the premium condition of gourmet green and roasted coffee beans at both ends of Allpress's innovative hot-air roasting process.
Floveyor's quiet, dust-free operation and minimal maintenance requirements blend seamlessly into the on-site roasting process without compromising the café experience of Allpress's customers in any way.
We are delighted to be the conveying system of choice for Allpress. Like them, our reputation is built on developing deep expertise, constant innovation and maintaining a single-minded commitment to being the best we can possibly be in our respective industries.
This article is published by
The Floveyor is the original aero-mechanical conveyor, invented by our family-owned business back in 1960. Since then, we've driven its evolution, pioneering our industry's benchmark product suite and establishing ourselves as the world's aero-mechanical conveying specialists. Learn about the holistic engineering ethos that makes our solutions ...