The system elevates tire chips vertically against a building wall while providing an adequate area for vehicle passage at the base of the structure.
DSI was tasked with developing an efficient way to deliver an alternative fuel source for cement production. The challenge in this project was the vertical elevation of tire chips 133 feet along the face of an adjacent building while maintaining secure vehicle access underneath the system.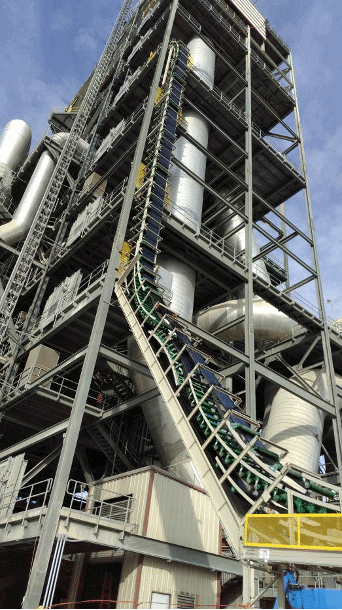 Continuing the legacy of innovation, DSI designed a combination Sandwich belt high angle conveyor with both a Snake and a GPS arrangement to attain the required specifications. At the base of the unit, DSI included a 55-degree angle segment before the vertical section. This 55-degree portion allowed for a secure area for vehicle passage.
All successful Sandwich Belt high angle conveyors have the "heart of a Snake", whether they are a pure "Snake" style or a GPS (Gently Pressed Sandwich) style.
The Snake system hugs the conveyed material using only radial pressure induced by the inherent belt tension on an engineered curving profile. The GPS system is used along straight portions of a sandwich profile. Instead of alternating convex curves, hugging pressure is applied by fully equalized pressing rolls on a spring-loaded frame.
The sandwich conveyor is an integral part of the environmentally friendly process of recycling used and rejected tires for fuel in the cement-making process. This has been achieved in the past by delivering complete tires into the process via a hook elevator. However, industry research has found that the burning process can be made much more efficient by delivering the tires in the form of small chips. The DSI Sandwich Belt Conveyor offers the optimal means to deliver the bulk chip material vertically to its destination.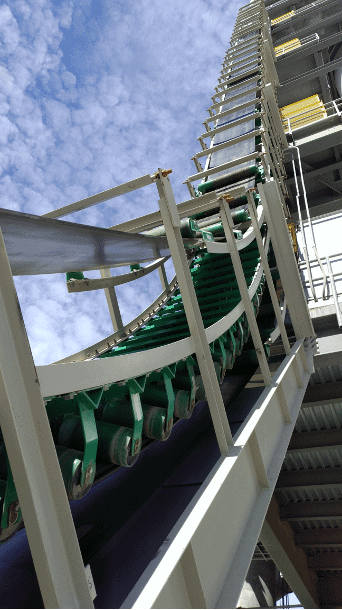 DSI Sandwich belt high angle conveyors take on many forms and offer many advantages. Each DSI Sandwich conveyor uses standard, smooth-surfaced conveyor belts, face-to-face, to gently but firmly contain the product being carried. This not only makes steep angles possible. It also offers a clean, environmentally sound operation because the material remains hugged between the belts. The use of all conventional conveyor parts ensures high availability and fast delivery of replacement parts and low maintenance costs. A DSI sandwich conveyor is capable of higher conveying speeds and greater capacity than other high angle conveying methods. The availability of wide belts and hardware makes capacities greater than 10,000 t/h easily achieved with a DSI Sandwich conveyor. High angles of 90° are typical, and lifts of 300m are easily accomplished.
Dos Santos International is the world's foremost authority on sandwich belt high angle conveyors, founded and led by the inventor of the system, Joseph Dos Santos. DSI was founded on its extensive worldwide experience in sales, engineering, and construction of bulk materials handling systems and equipment. This has included major contributions that have expanded the range of bulk handling and transport solutions. Most notably, advances in sandwich belt high angle conveyors have led to their worldwide utilization. The expertise of DSI spans a wide range of materials handling systems and equipment including high angle conveyors, high powered, high capacity, high lift slope conveyors, and long overland conveyors utilizing the very latest technology and innovations.