The company's concept starts with the blending system; this is augmented by transportation and filling systems supplied and produced by EMT. Customers have a choice; EMT can assemble entire turn-key processing and handling systems or can integrate individual machines into the client's existing line. However, EMT's reputation has been established primarily through supplying long-lasting total concepts, from dry bulk product intake through blending system to filled FIBC.
The personal approach
Gustaaf Zeeman, Managing Director of EMT, said: "Our ultimate aim is customer satisfaction. This can only be achieved by correctly identifying the requirements of each individual customer and then by designing and installing the correct, top-quality equipment to meet those needs. Close cooperation between EMT and the customer is essential to a satisfactory project outcome; through collaboration, the best way of working on a specific project can be decided. This is of crucial importance to the way in which we work at EMT."
Within the field of dry bulk materials, anything is possible at EMT. At one end of the equipment supply spectrum, the company can supply simple, manually operated machinery, suitable for use in a low labor cost environment; state-of-the-art computer-controlled, fully automatic equipment can also be supplied by the company. In addition to new machinery, EMT always has in stock a range of reconditioned second-hand equipment that might meet the needs of the more cost-conscious client.
Ensuring that the equipment supplied is durable, reliable, and user-friendly is essential to the EMT business philosophy. The company's product range includes a number of standard machines that are already proven in commercial operations in a range of environments. This equipment can be adjusted to meet the specific needs of the customer. All of the machines emblazoned with the EMT logo are engineered and built in the company's own factory at t'Zand in The Netherlands.
Machine reliability and longevity is guaranteed by the use of durable materials. All key elements, such as hoppers, blenders, conveyors, elevators, screw auger conveyors, etc. are manufactured of stainless steel, ensuring that rust is not a problem. Where the customer has opted for a completely computer-controlled system, the recipes being employed, operational rates, size of batches, etc. can be monitored remotely from a computer terminal.
Good blending: the optimum starting point
The blending machines supplied by EMT are all capable of high capacities. The standard product range includes:
Weighcont Blender:
A continuous blender with a loss-in-weight control system.
The number of hoppers is unlimited, varying with customer preference and perception of his market.
Capacity ranges from zero to 120 tonnes/m3 per hour.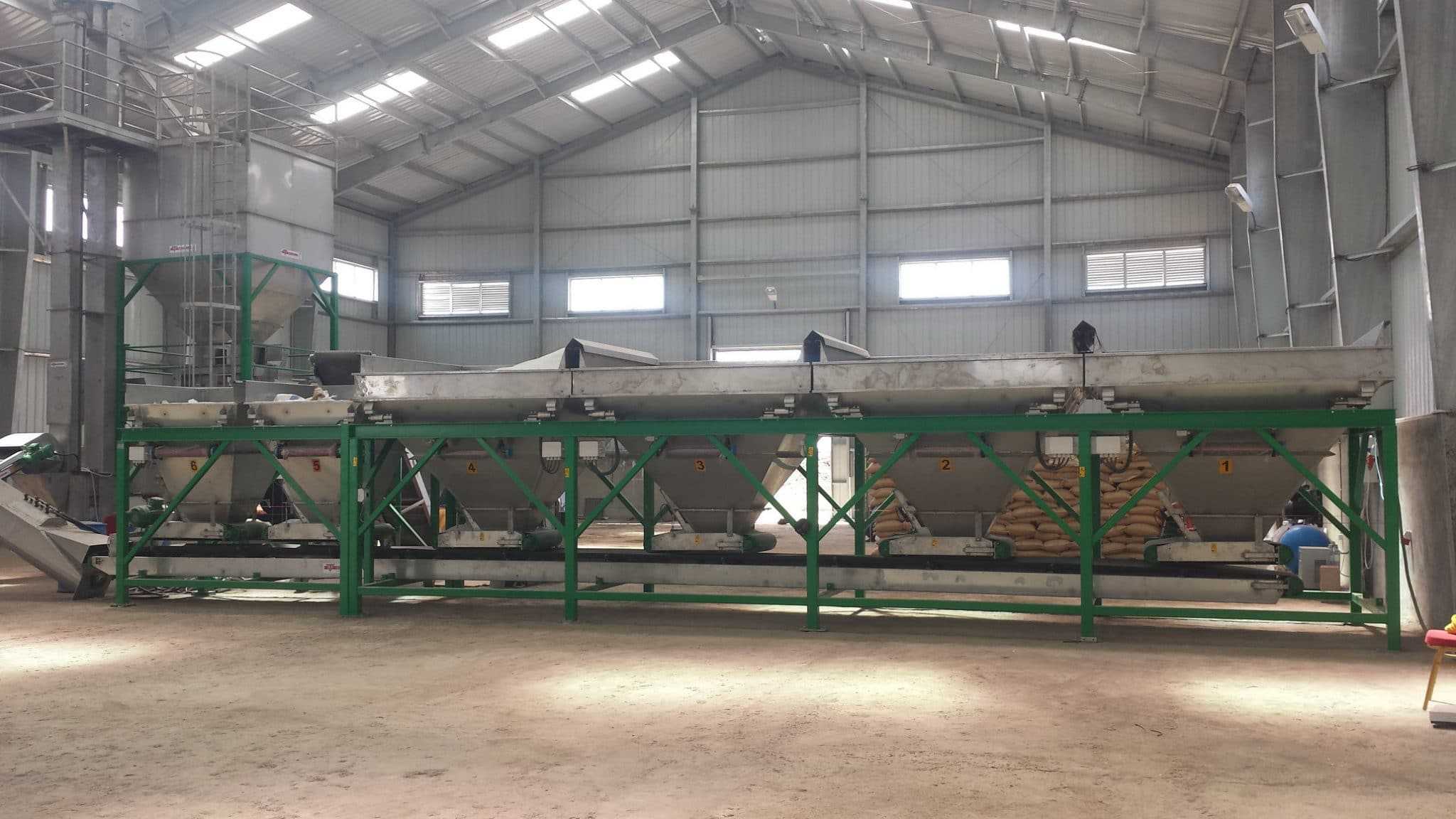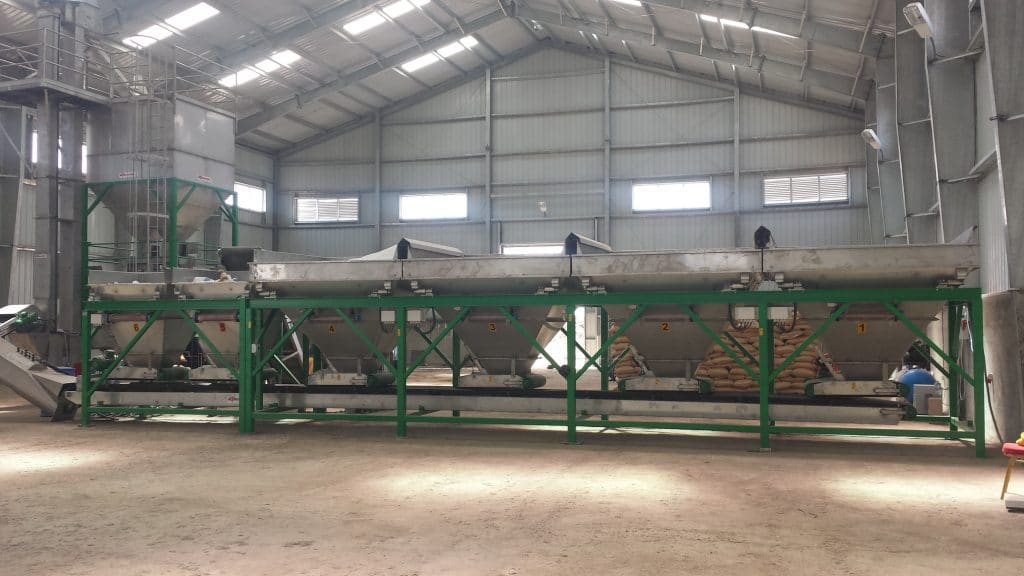 Shamrock Blender:
A drum-blend style system with flights inside the drum.
Capacity up to 50 tonnes/m³ per hour.
Blender capacity varies from 5,5 tonnes up to 9 tonnes per batch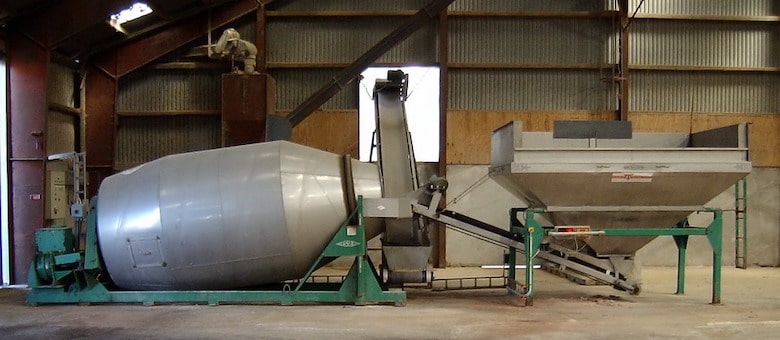 Vertical Blender:
A conical augur with integrated hopper and weighing scale.
Blend capacity zero to 60 tonnes/m³ per hour.
Blender capacity varies from 4.5 tonnes to 14 tonnes per batch.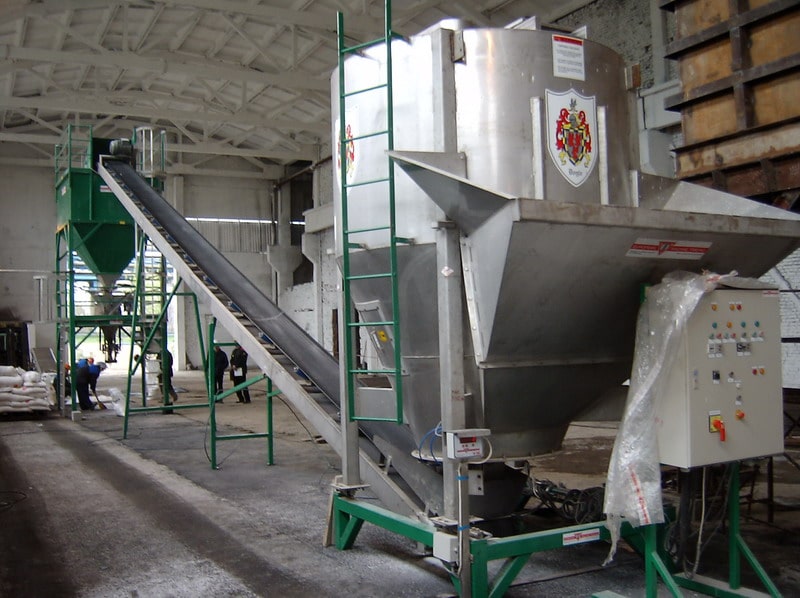 All machines will be supplied with digital weigh systems to ensure accurate, correct dosing and all can be connected in a seamless manner to ensure that they form part of a continuous bulk-through blending-to bagged product production line. EMT can deliver all of the equipment required to ensure a smoothly flowing process, including custom-made conveyors and elevators.