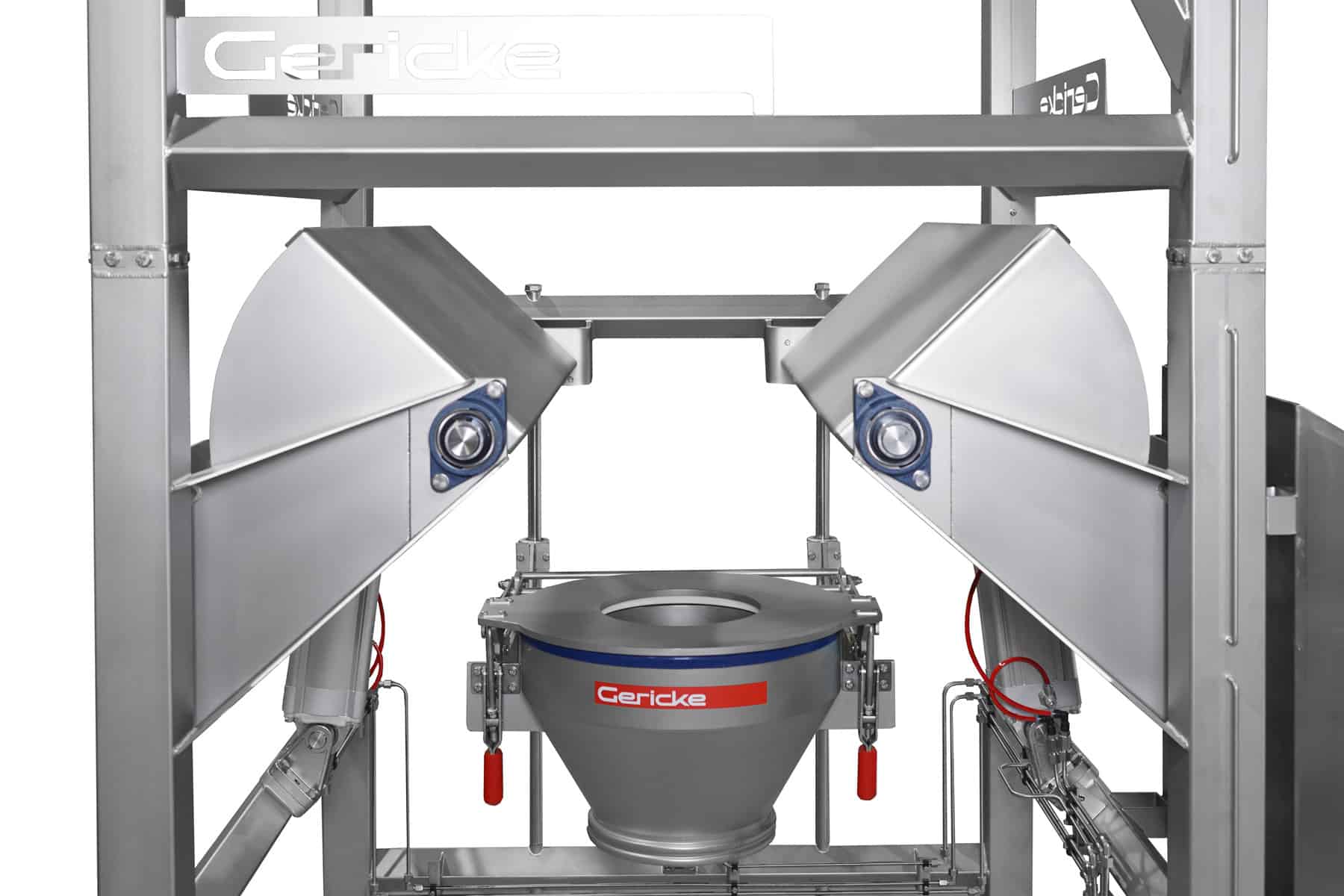 The BBU Big Bag Unloader® from process equipment manufacturer Gericke features optional, integrated bulk bag massagers that automatically improve the flowability of non-free flowing materials.
Designed with a proprietary pneumatic operating system, the bulk bag unloading station sets dual stainless steel rams on opposite sides of the flexible intermediate bulk container (FIBC) that rotate back and forth to agitate multiple points inside the bag at the same time. Powders, granules, flakes, pellets, and other bulk materials that agglomerated during storage and/or transport are safely loosened in seconds to promote continuous discharge and complete emptying without clogging the spout, compromising the bag, or degrading the material.
An ideal accessory for food, nutrition, chemical, pharmaceutical, and other manufacturers processing hygroscopic materials and ingredients, the bulk bag conditioning system helps break up the caking and clumping that occurs from exposure to ambient moisture and from long periods in storage. The sanitary massagers are commonly specified for processing sugar, salt, cocoa, coffee, and powdered milk, as well as plastics such as nylon, acrylic, polycarbonate, and PET.
The bulk bag unloading station may also be customized with an automated hoist, pneumatically operated bag closing system, and empty bag disposal system, among other optional accessories. Testing is offered in the company's New Jersey test center and tests may be viewed live in person or online via live stream.
This article is published by
Gericke Feeding, Mixing, Conveying, Size Control Technology. High-class workmanship for a world of industry. Gericke supplies conveying, sifting, high-precision feeding, and mixing solutions that handle a broad range of ingredients such as pellets, powders, floodable powders and fibreglass for food, chemical, industrial, and pharmaceutical industries.
Gericke process ...