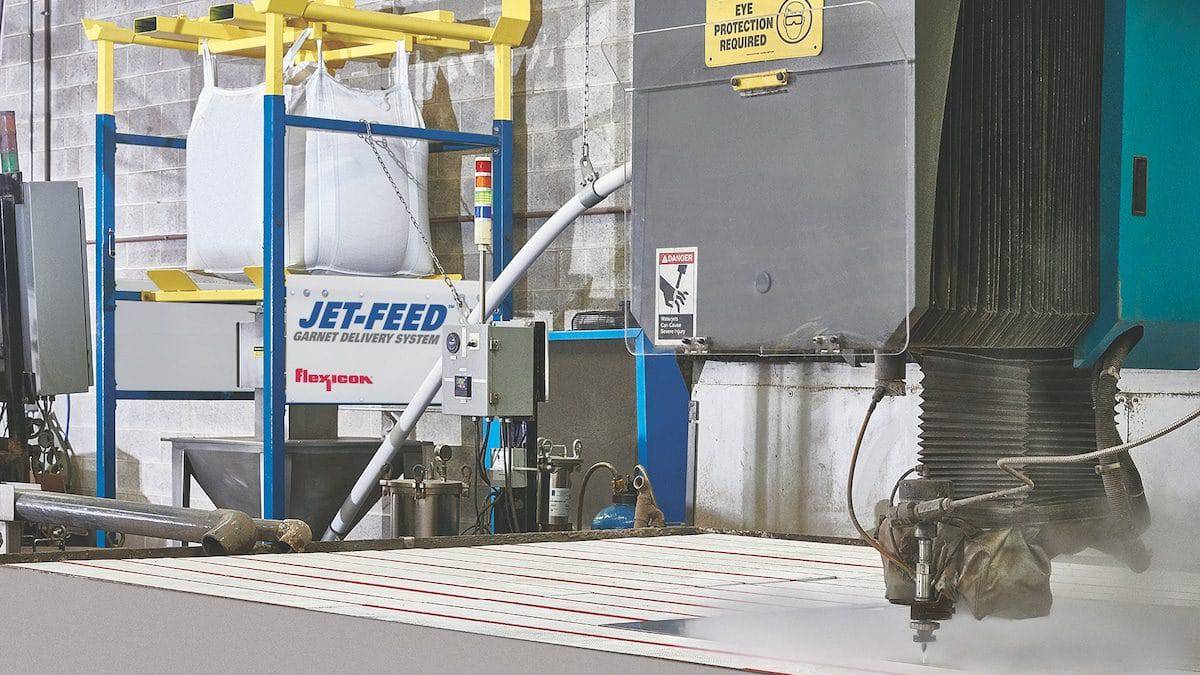 A new JET-FEED™ Garnet Delivery System from Flexicon automatically feeds garnet directly from bulk bags to waterjet cutters, eliminating worker fatigue, potential injury, labour, spillage, dust, downtime and higher material cost associated with manual dumping of bags typically weighing 25 to 50 kg.
A BFF Series BULK-OUT® bulk bag discharger allows floor level connection of bag straps to a lifting frame, which is forklifted onto cradles of spring-loaded POP-TOP™ extension posts. Weight of the full bag compresses the posts, which stretch the bag upwards when it empties/lightens to promote flow.
The bag outlet spout is pulled through an iris valve which is then closed, preventing material flow while the spout is untied and the access door is closed. Releasing the valve slowly prevents uncontrolled bursts of garnet into the hopper and dust into the plant environment.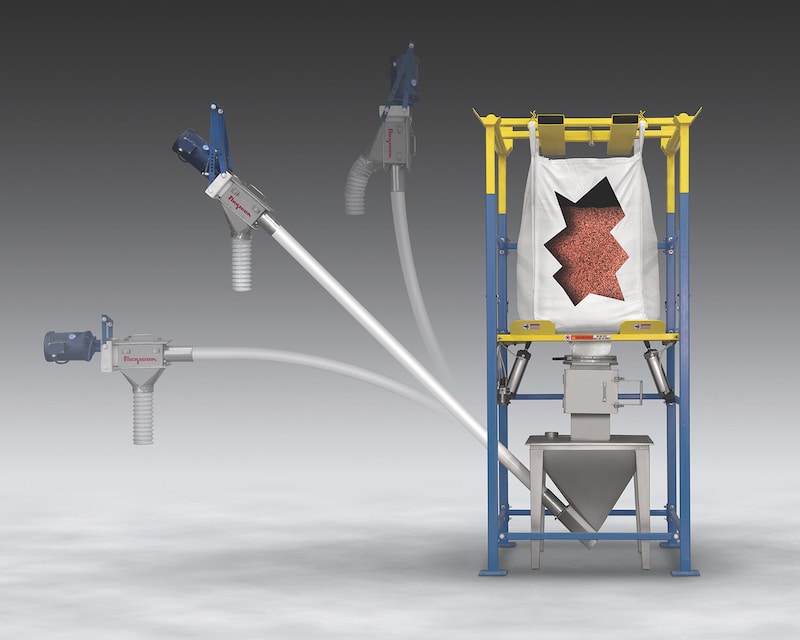 The discharger employs FLOW-FLEXER™ bag activators that raise and lower opposite bottom sides of the bag at timed intervals, loosening compacted garnet and promoting flow into the bag discharge spout. As the bag lightens, the stroke of the bag activators increases, raising the bag bottom into a steep "V" shape, as the spring-loaded posts stretch the bag upwards, promoting total discharge.
The floor hopper charges a Flexicon® flexible screw conveyor, which can be routed vertically, horizontally or any angle, over short or long distances, to the waterjet pressure pot location.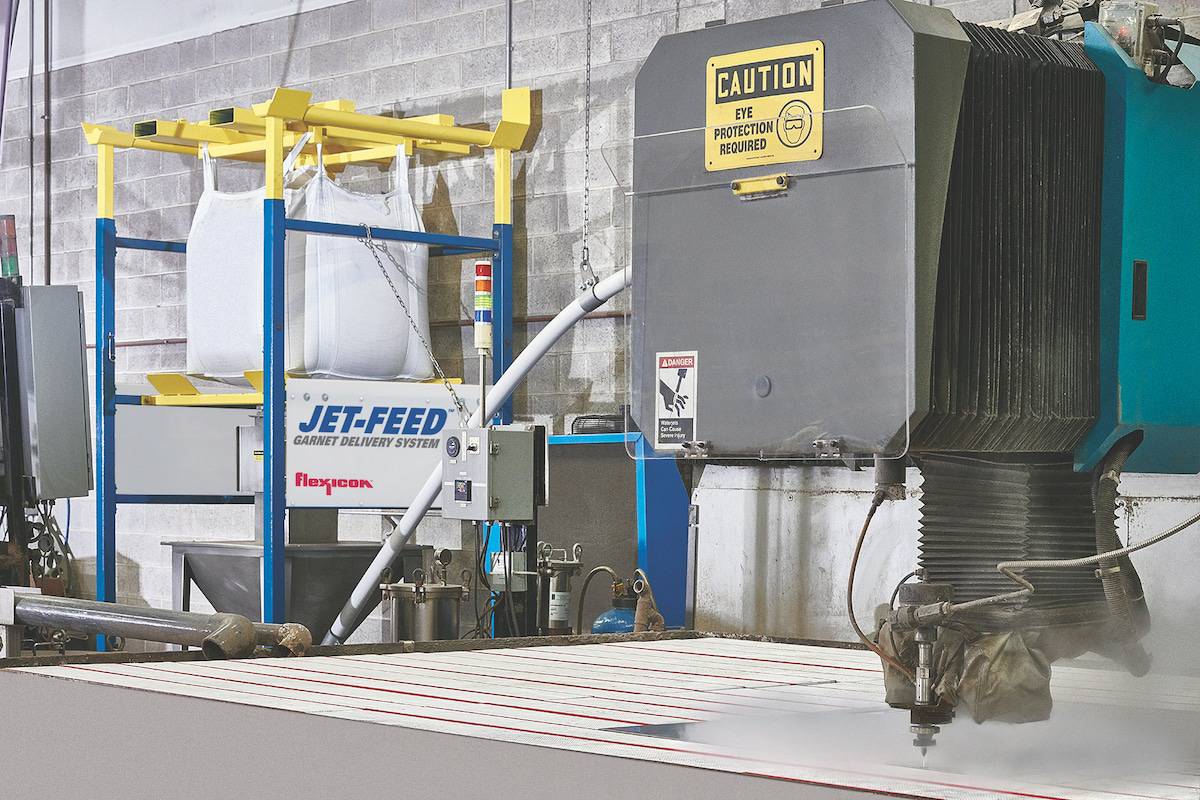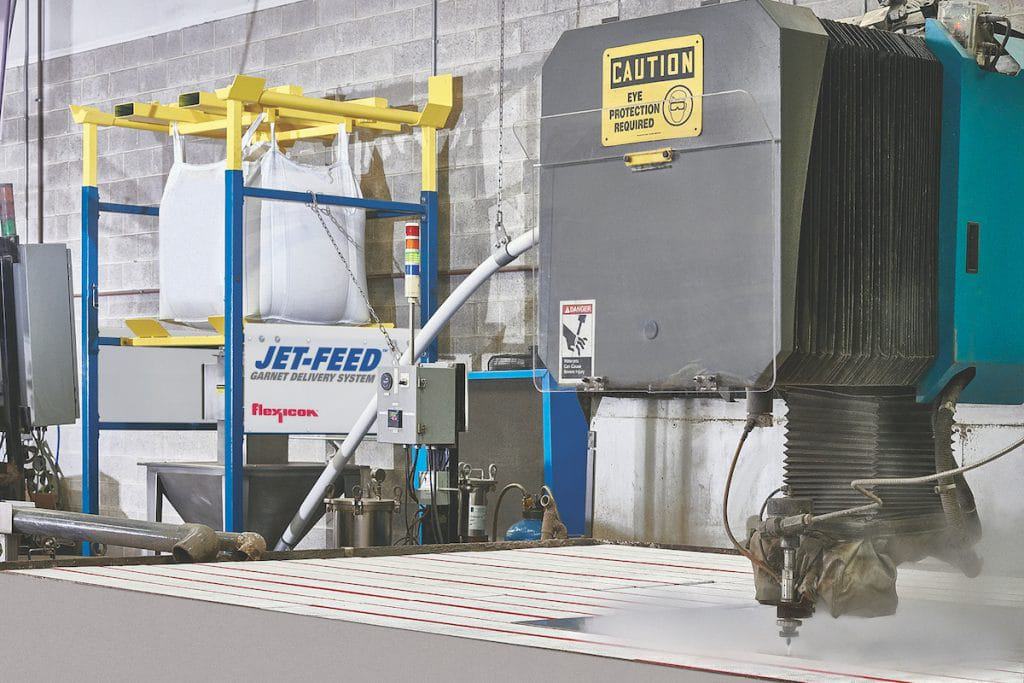 The only moving part contacting garnet is a rotating screw that self-centres within the abrasion-resistant polymer tube, preventing garnet from grinding between the screw and tube wall. The screw is driven beyond the point at which garnet exits the conveyor, preventing contact with seals. The rugged inner screw is the only moving part contacting material, limiting maintenance to periodic lubrication of the electric drive motor.
The conveyor can be started and stopped manually, or automatically by a PLC linked to high and low level sensors installed on the pressure pot.
For information contact Flexicon Europe Ltd, +44 (0)1227 374710, sales@flexicon.co.uk, www.flexicon.co.uk
This article is published by
Convey, load, unload, weigh, feed, and process virtually any bulk solid material
Flexicon Corporation
Flexicon Corporation
 is a world ...