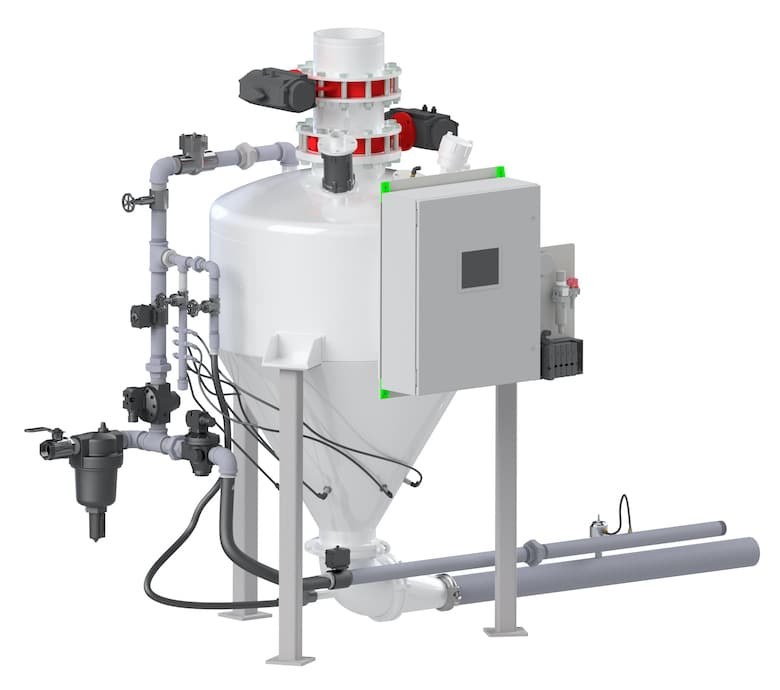 The Coperion K-Tron dense phase pressure vessel systems employ high air pressure and low air volume as the motive force to convey powder or granular bulk solid materials through a pipeline at low velocity.
The system is ideal for greatly reducing abrasion, conveying fragile materials, and minimizing the segregation of dry bulk solids.
The Ominveyor system achieves greater efficiency and reliability by controlling convey air pressure and airflow along the entire length of the convey line, whether the rate and distance are small, large or anywhere in between.
Utilizing Coperion K-Tron's air injectors is key to the system's ability to handle virtually eve­ry dry bulk solid material in a safe, efficient and effective manner. In this fashion, the system can be optimized to reduce compressed air consumption and still handle a wide variety of materials.
This article is published by
Innovative and Sustainable Bulk Material Processing Solutions.
Coperion and Coperion K-Tron are system and equipment suppliers, including extruders, feeders, pneumatic conveying and components, who understand the importance of process efficiency. We design, develop, manufacture and maintain systems, machines and components for the plastic, ...