Here are the five key considerations to go over with your equipment supplier before you make your final selection:
Capacity/throughput – Nutraceutical manufacturers often start with what they need their equipment to accomplish, such as, "I need to produce X pounds of this powder per hour." Equipment suppliers can match the right screener/sifter or customize equipment to meet variables, including efficiency, cleaning specifications and loading/unloading solutions. 
Mix quality – This is an area where industrial processors should never cut corners to ensure the ultimate product quality. When preparing ingredients for the optimal mix, given ingredients must be the right size, so the mix looks a certain way, dissolves, or encapsulates a certain way. Again, knowing the materials you are working with and what throughput you need will help in selecting the right screener or sifter. 
Cleaning/maintenance – A great cleaning and maintenance program is important, especially when quickly going from one batch to another. For an example of quick cleaning, Kason VIBROSCREEN units open with a simple clamp ring within minutes, exposing the screen for inspection or replacement. The Kason CENTRI-SIFTER has a removable endplate offering quick access to slide out the screen basket and internal parts. 
Management of difficult materials – When working with sluggish materials, any flat deck vibratory unit should push as much energy into the batch as possible. Look for the appropriate motor with the option of horizontal and vertical amplitudes. Processors can also choose to include an anti-blinding device, such as screen rings or anti-blinding ball tray assembly. Anti-blinding devices hit the bottom of the working screen for easier separation and movement across the screen. 
Choosing the right solution – While most processors look to vibratory screeners, centrifugal sifters are also great for sluggish materials. As a centrifugal sifter processes sluggish material, the paddle assembly fluidizes it, adding energy to the particles and separating them from the larger mass. The result is an "airborne" mixture with a better chance of finding the screen hole openings.
While this is written from the nutraceutical perspective, it applies for decision-making on processing any type of bulk powder material, including industrial, food, dairy and chemical industries.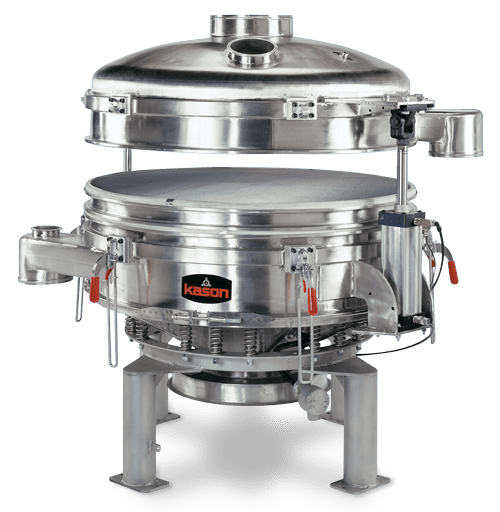 Experienced engineers listen to customers to consult on the right equipment both now and for the future.  Kason offers a complete selection of screening and processing equipment ideal for nutraceutical applications, from off-the-shelf units to complete, built-to-spec high-capacity systems. We also bring more than 50 years of engineering excellence, innovative design and practical application expertise. Kason leads the way for performance, dependability, ease of maintenance and aftermarket support.
When you're ready to talk to an application specialist about your nutraceutical sifting process, fill out our contact form or call 973-467-8140.