Quick Cleaning for Rotary Valves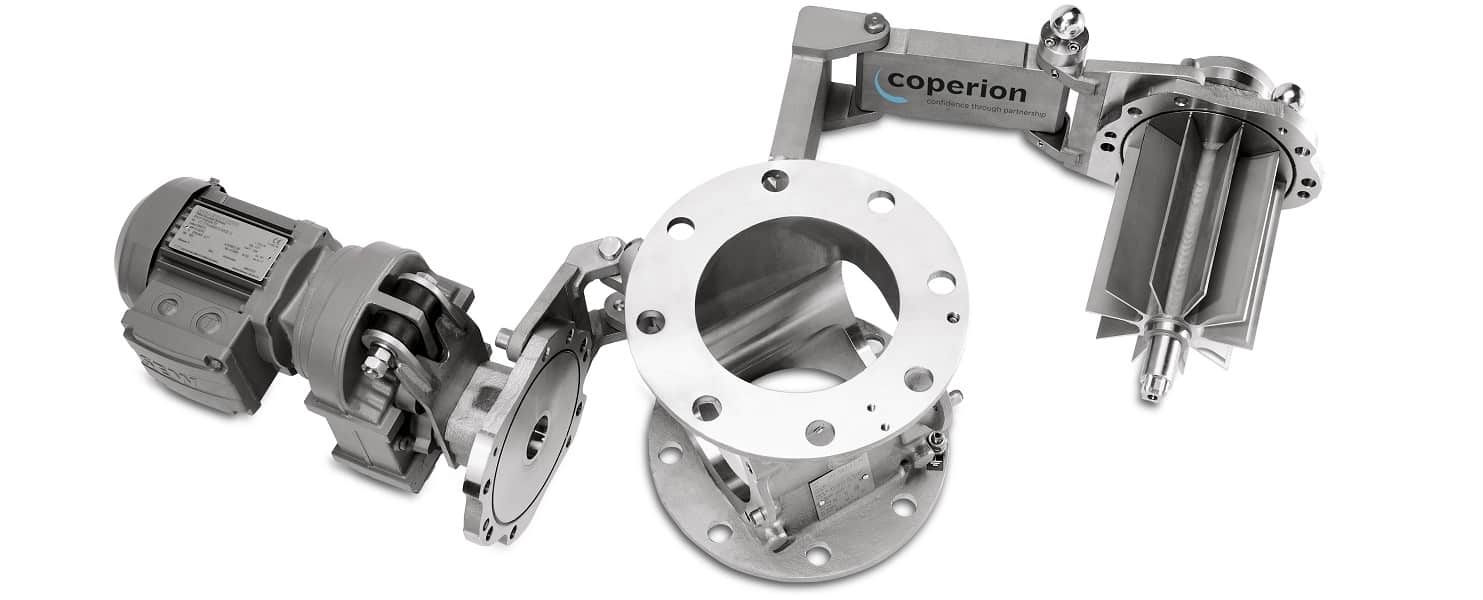 Extremely stringent quality requirements can be critical in the plastics and chemical industries when more than one product may be run through a single rotary valve. It is often necessary to clean and inspect valves regularly to meet increasingly stricter specifications and prevent cross-contamination.
Function / Procedure
Quick-clean designs allow the rotor to be pulled out for cleaning. This method is suitable if the rotor must be cleaned separately to remove stubborn caked deposits. This task is easily completed with the Coperion FXS (Full Access System) extraction feature. FXS1 allows for easy extraction of the rotary assembly from the non-drive side without the need for hoist devices.  The FXS1 hinge offers advantages over the typical rail design. It offers better access to clean and inspect on the drive side of the rotor and the internal housing. FXS2 can be combined with FXS1 to allow for both the rotor and drive side to be removed and accessed.
The thrust side plate can be quickly pulled out of the housing with the rotor intact and swiveled to one side (FXS1). For this purpose, the rotor is provided with a quick-cleaning coupling which permits for rapid separation from the drive-side endplate.
These features are important when manually cleaning between color or material changes. The rotor would be manually cleaned and inspected while outside of the housing. 
Proper metal finishes on the rotor, housing and welds help reduce material build-up and make it easier for the equipment to be cleaned. This can be done through a variety of means. Mechanical polishing, electropolishing, chemical coatings, or proprietary surface finishes such as Smart Glide Finish can be used to reduce material build-up.
Advantages of the Coperion Technology
The optimal design of Coperion rotary valves means both side plates of the valve can be opened and pushed to one side. This is the only effective way to confirm full cleaning on all surfaces between the housing and the side plate.
Another quick-cleaning feature is the rotary design which allows complete removal of the rotary assembly for cleaning purposes. This also allows complete access to the seals on each side of the valve, for complete verification of cleaning.
The optional Full Access System (FXS) hinged extraction feature ensures easy, maximum accessibility and facilitates complete cleaning.
This article is published by
Innovative and Sustainable Bulk Material Processing Solutions.
Coperion and Coperion K-Tron are system and equipment suppliers, including extruders, feeders, pneumatic conveying and components, who understand the importance of process efficiency. We design, develop, manufacture and maintain systems, machines and components for the plastic, ...