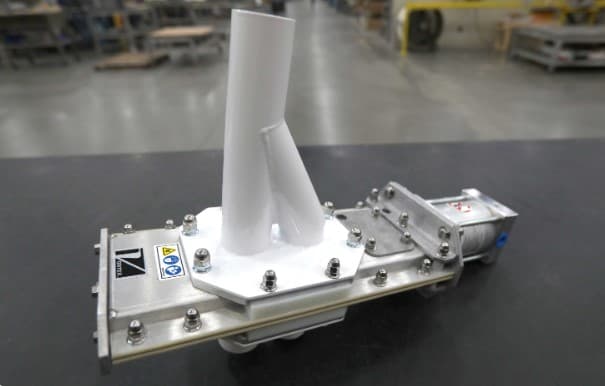 In this application, 50mm (2") Vortex Wye Line Diverters are included on a factory piece of equipment that acts as a multi-tool machine used for building airplane parts.
As holes are drilled to fasten sheet metal, the diverter is used as part of a vacuum system to pull away shavings. The shavings are routed through the straight leg to reduce wear and the off leg pulls to clean air. The straight leg is opposite the air cylinder to fit better in the client's process.
These specific Wye Line Diverters feature Teflon pressure plates
Aluminium valve body with live loaded, wear compensating seals with a 304 stainless steel blade
Inlet and outlet weldments are constructed from carbon steel. Material contact is carbon steel, 304 stainless steel and polymer
Inlet has a straight through conveying line design for easier "in line" installation of multiple diverters.
PET pressure plates are backed with a foam void filler and live loaded natural rubber load seals
Features an electropolished valve blade
Double acting air cylinder actuator
Air cylinder is equipped with a magno-piston for use with magnetic reed position indication switches
This article is published by
Vortex Global Limited is considered the world leader in valves for handling dry bulk solids. Vortex engineers and manufactures slide ...