Thayer Scale's EMC Scale Offers New Batching and Blending Solutions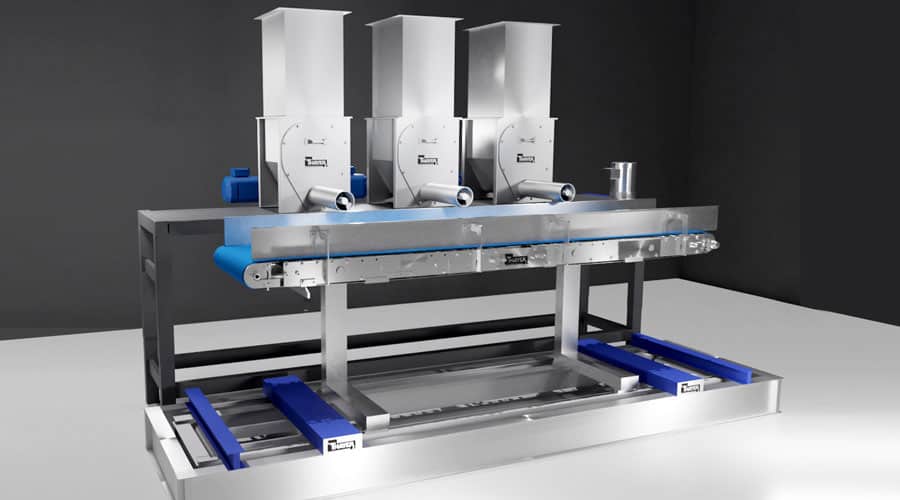 Thayer Scale's new Elongated Mass-Counterbalanced (EMC) scale is a precise, mass-counterbalanced scale that permits a long conveyor (which may be belt-conveyors, metal-segmented conveyors, or other similar devices) to be "converted" to a real-time weighing system.
It is a low-profile scale that overcomes space and layout restrictions, lowers required investment, as well as increasing plant throughput. The EMC is available in lengths up to 40 feet, and widths of 36, 42, 48 and 60 inches providing ultra-high length to width ratios to weigh conveying equipment, belt or metal segmented conveyors, bucket elevators and more.
One common application of the EMC is accumulative batching or blending of multiple ingredients. Lower-cost volumetric feeders can be utilized for each ingredient since the weighing function is being performed serially by the EMC. Replacing a number of Loss-In-Weight Feeders and/or weigh belt feeders each having a built-in scale and controller with volumetric feeders (vibratory, screw, belt, vibratory) feeding to a single weighed conveyor can provide substantial cost savings. Also, since only one scale is used to control all feeders, minor span errors will have no effect on blend accuracy. By supporting the entire collection conveyor including skirt boards and individual ingredient receiving hoppers (if required to contain the quantity of material), this configuration can be used to accomplish either accumulative ingredient batching or serial batching (discharging one ingredient from the conveyor at a time). See www.thayerscale.com for more details.
Weigh Any Product on Any Conveyor
Stainless Steel Belted Conveyors, horizontal or inclined
Hinged Plate Conveyors, horizontal or inclined
Bucket Elevators
Partitioned Belt Conveyors, horizontal or inclined
Powered Roller Conveyor, horizontal or inclined
This article is published by
Thayer Scale is a leading global manufacturer of equipment for the continuous weighing industry. Founded in 1949, we provide engineered solutions for the food, energy and ...