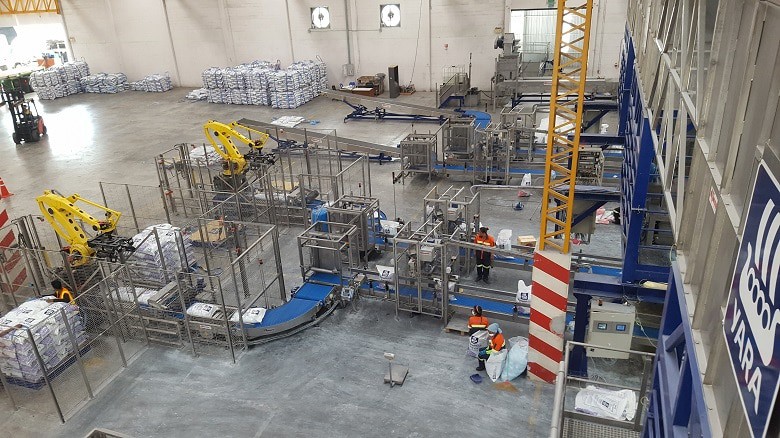 'T ZAND - Based in the Netherlands, EMT is a global supplier of blending, bagging and transport equipment for fertilizer industry, having installed improve in order to reach Yara's required standards and quality. More than 500 machine lines in 65 countries.
In addition to its own products, EMT supplies equipment made by Doyle. All machines are tailor-made to meet the precise requirements of the customer's set-up, therefore it is possible to move these systems to different locations. With blenders and bagging lines that are constructed inside containers, the user has a lot of flexibility.
EMT's customers include producers, exporters, importers, distributors and wholesalers, and the EMT team comprises of engineers, 3D cad designers, technicians, administration and management. But besides the blenders, and big and small bagging lines, EMT produces conveyors, elevators and chain conveyors to move the bulk material. All machines are constructed in stainless steel and are made for a fertilizer environment. Additionally, Warehouse filling systems is another specialty, where EMT produces the conveyor systems to fill the warehouse with bulk material. Many times these systems are combined with screening machines to make fertilizers a better quality
EMT has also developed different coating machines to add liquid or powder inhibitors to the fertilizer granules. All bagging lines and the Weighcont blender line are operated with automatic control such as indicators and computers. Therefore it is possible for the EMT engineers to give service to the machines and customers even at a distance, by means of internet connection. The machines are loaded in the production factory in The Netherlands into closed containers to ship to the customers. The EMT engineer will commission the machine line together with the customers' technicians.
Yara, Thailand
In September 2015, Yara Thailand signed a contract with EMT for the supply of machines for 25–50kg filling bags, fertilizer coating and a transport system of portable conveyors to fill the bagging line directly out of river barges. The project was designed and developed to meet technology, health and safety regulations.
Before EMT installed the machines, the bagging process was conducted manually, which required a large workforce. Additionally, the accuracy of the weighing process needed to improve in order to reach Yara's required standards and quality. EMT constructed, delivered and installed the machine line in 2016. Indeed, 16 x 40ft high cube containers were shipped from the EMT factory in the Netherlands to Thailand. EMT has its own designing engineers so the machines were modularly built and bolted together in the existing warehouse of the customer. This meant no civil works to the building or concrete floor structure was required.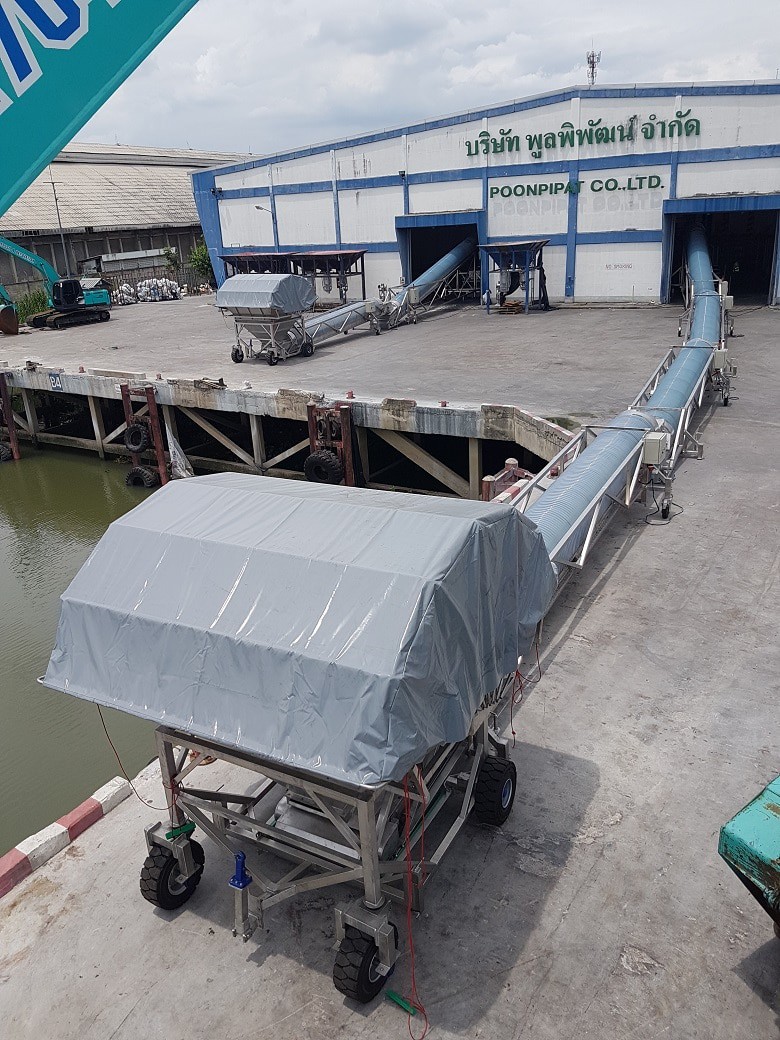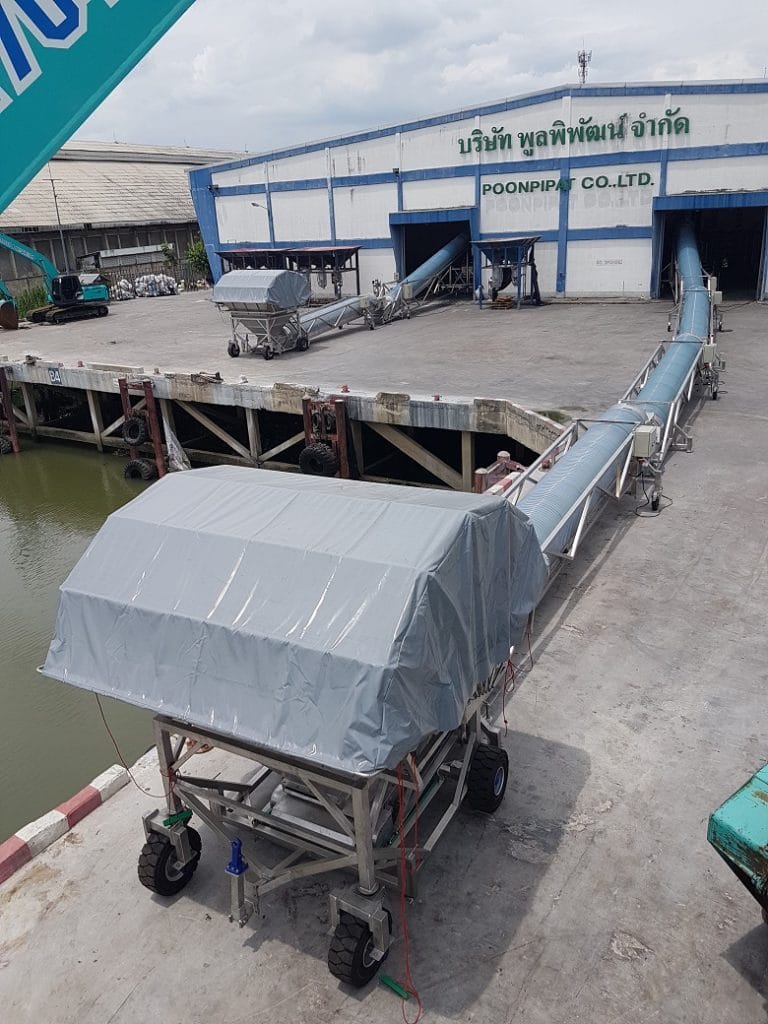 Eight fully closed stainless steel conveyors were supplied. These conveyors were mounted on wheels and are used to transport the fertilizer over the quay from the barge to the bagging lines. Two, stainless steel harbour intake hoppers were also supplied. When the fertilizer enters the warehouse, three screens with lump breakers are used to eliminate lumpy material.
Then three stainless steel elevators, each with a capacity of 120 tonnes, transport the product to quarto bagging lines where a duplex weighing system was installed. Stainless steel air exhausting filters are located on top of these bagging lines and a unique air dryer system is used. The bags are then closed with a four needle sewing system.
The third line is a truck/container offloading conveyor system. This line has a weighing belt conveyor to check the product flow and a unique blending scroll auger to coat the fertilizer before bagging.
The factory is operated from a central control room, where complete factory visualisation is possible on two 20 inch flat- screen computers. The line is fully controlled by a PLC and PC. All bagging lines are connected to this central control system so that the operator can control the factory from this room. All generated data is stored in the computer system.
In this machine set up, six lines are placed next to each other, with a total capacity of 300tph. Two robots are installed in two lines, with the possibility of adding another four robots in a later stage, meaning a total of six robots can be installed. Using robot arms for the heavy work creates a safe working environment for Yara's employees.
As a supplier of blending, bagging and transport equipment for the fertilizer industry, EMT is constantly improving its machines and plans to work as efficiently as possible when developing new technologies. In the future, EMT expects to extend its network and delivery worldwide.
Global installations
A major project was recently installed for Agricultural Transformation Agency ATA in Ethiopia, which consisted of four production factories for blending and bagging. ATA promotes the agricultural industry and works with local cooperatives and agricultural distribution centers. In these factories, EMT installed a Weighcont blender line, bagging lines and box-fill conveyors, including lump breakers. Following the installation, ATA could fill bags at a rate of 50tph and blend with a capacity of 100tph.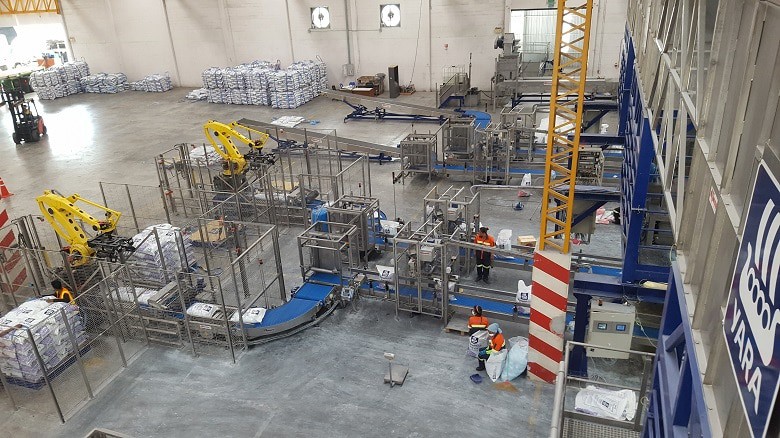 A similar project has been installed in Rwanda and other African countries, whilst Agron, in South Africa, has recently installed one Weighcont blender, one Shamrock blender and a few bagging lines for small and big bags, as well as warehouse filling equipment. In 2015, EMT installed a warehouse box filling system and Weighcont blender line at Ekompany in the Netherlands. The company had a control system to fill the raw materials fully automatic into the factory where the customer processes slow release coatings to the fertilizer granules.
More than 500 references are available to inform you about the EMT standard quality. The machine supply is a turn-key set up. For advice and system explanation, the EMT sales manager will visit the customer to make sure that the customer's request and delivery are done in the right way.
This article is published by
EMT offers a wide range of blending and bagging equipment. EMT  is specialized in the development and production of blending and bagging equipment. Besides their own products, EMT supplies equipment made by Doyle Manufacturing (USA). The high number of machines (400), that EMT supplied over 40 countries, shows the popularity of these machines. ...