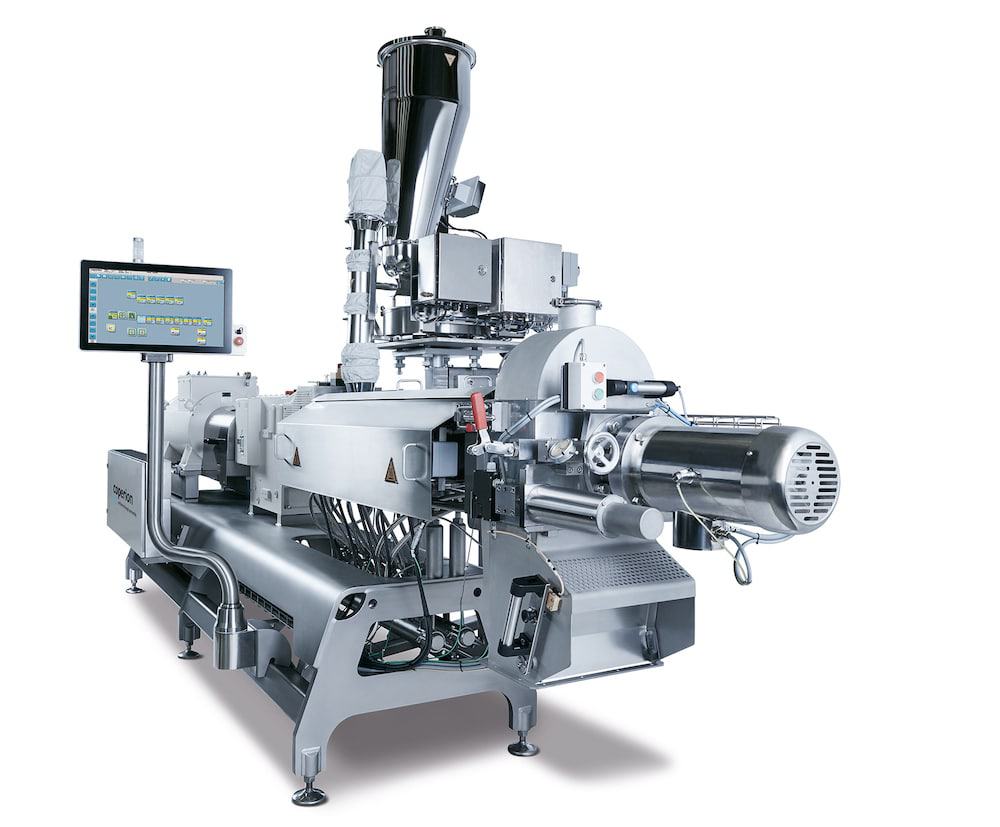 At this year's
IFT Annual Event and Food Expo
, June 2-5, 2019, in New Orleans, Louisiana, Coperion and Coperion K-Tron will present the latest technology in feeding, conveying and extrusion.
Exhibits on display include a gravimetric twin screw feeder and video animation demonstrating a broad range of food process solutions. Also on display will be a working model of the screw elements of the Coperion ZSK Mv PLUS twin screw food extruder to illustrate the variety of extrusion process applications available.
According to Sharon Nowak, Business Development Manager Food and Pharmaceutical at Coperion K-Tron, "Today's global food manufacturers are searching for partners in system and equipment supply who understand the importance of process efficiency and food safety. For this reason, global food and pet food manufacturers of all sizes rely on the extensive application experience and design expertise offered by Coperion and Coperion K-Tron."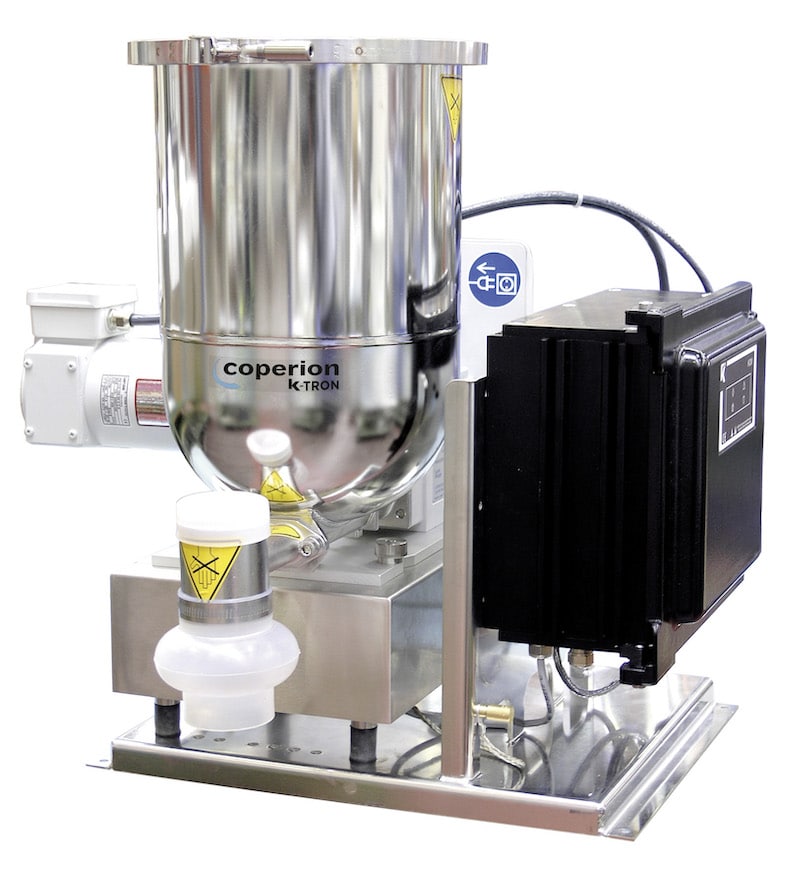 The company invites you to stop by their booth No. 5312 and learn about extrusion for product development including flavor encapsulation, wet and dry texturized proteins and specialty end product shapes and sizes, as well as feeding and material handling technology, batching and dispensing of the most difficult flowing ingredients and the most technologically advanced components in the food industry. The systems and equipment provided by Coperion and Coperion K-Tron ensure optimal product and process safety, including compliance with EHEDG, FDS, FSMA and/or GFSI initiatives, standards and regulations.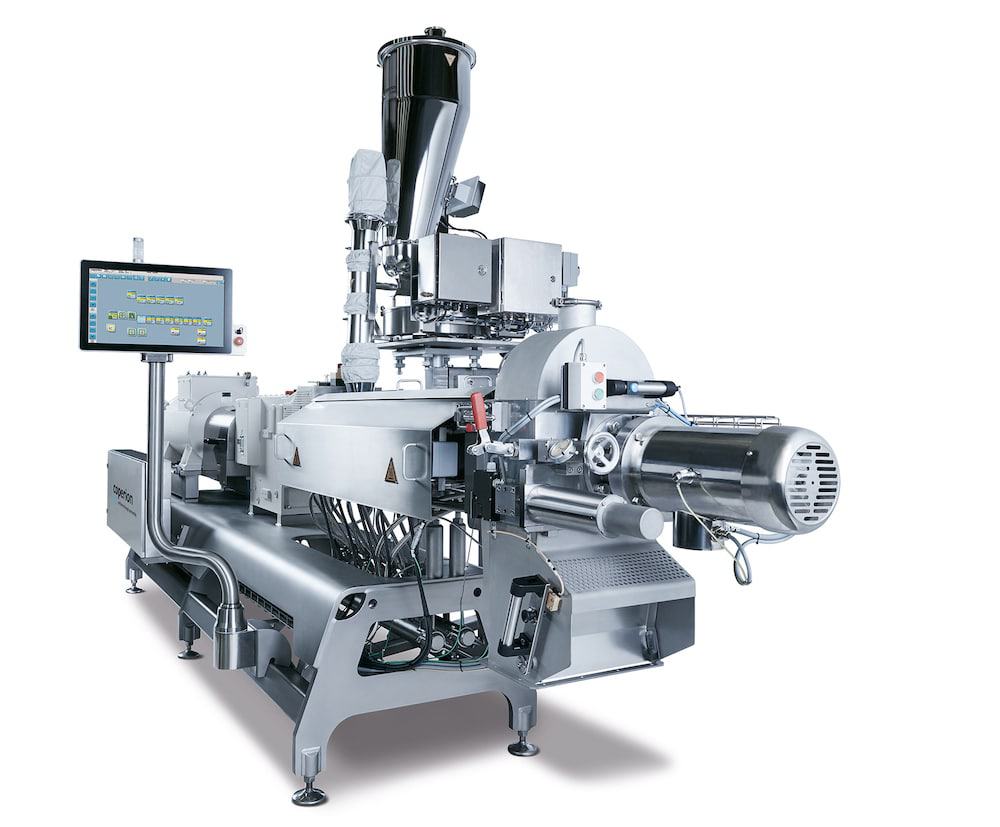 ZSK Mv PLUS Twin Screw Food Extruder
Coperion's twin screw extruder ZSK Mv PLUS provides ideal conditions for the extrusion of many types of food and pet food products. Closely intermeshing screws with tight self-wiping profile eliminates stagnant zones over the entire length of the process section. The effect of this is a constantly high conveying efficiency and perfect self-cleaning. Excellent product feed characteristics allow the ZSK Mv PLUS to achieve very high throughputs even with small machine sizes. Investment and operating costs drop significantly compared to conventional production methods or to processes using older extruder series.
Coperion K-Tron Twin Screw Compact Feeder: An Optimal Solution for Feeding Difficult Materials
The Coperion K-Tron KT20 twin screw feeder with interchangeable feeding tools is mounted on a fully enclosed platform scale for high accuracy feeding of difficult flowing ingredients including additives and flavors. All feeder parts in contact with the material being fed are stainless steel, and feeding equipment is easy to disassemble. A horizontal agitator gently moves the bulk material to the large throat and then into the screws. Specialty designs are available for clustering of feeders above extruders, blenders and other processes for optimal accessibility and ease of cleaning.
For additional information on Coperion & Coperion K-Tron food processing solutions and services visit: www.coperion.com/food
This article is published by
Innovative and Sustainable Bulk Material Processing Solutions.
Coperion and Coperion K-Tron are system and equipment suppliers, including extruders, feeders, pneumatic conveying and components, who understand the importance of process efficiency. We design, develop, manufacture and maintain systems, machines and components for the plastic, ...