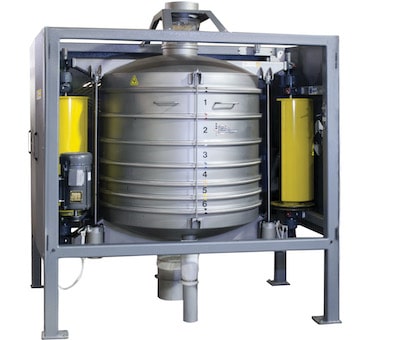 LEAVENWORTH, KS - Great Western Manufacturing's QA36 In-Line sifter is designed with a high net screening area and is an ideal HACCP solution for operations with moderate to high production volumes.
The QA36 is manufactured with a high level of sanitation in mind; as well as ease of maintenance using light weight components, and snap-on food grade rubber gaskets and stainless steel construction of all product contact areas.
Each QA36 is engineered to the customer's specific application and is designed to reduce product degradation through the utilization of a gentle gyratory sifting motion. Like all of Great Western's In-Line models, the QA36 In-Line is uniquely engineered to work under pressure and designed for direct insertion in pressure or vacuum dilute phase pneumatic conveying systems.
Click here for more information Great Western Manufacturing's QA36 In-Line sifter
Sign up for Screening & Separation E-Updates
Recent Screening and Separation e-newsletters
Read our last "Screening and Separation" e-newsletter campaigns here:
Great Western Manufacturing is a leading designer and manufacturer of industrial sifting equipment used for scalping, grading or fines removal from dry, free-flowing powders or granular materials. The equipment uses a horizontal gyratory sifting motion which retains material longer, has a slower and more gentle sieving action, and minimizes vertical ...