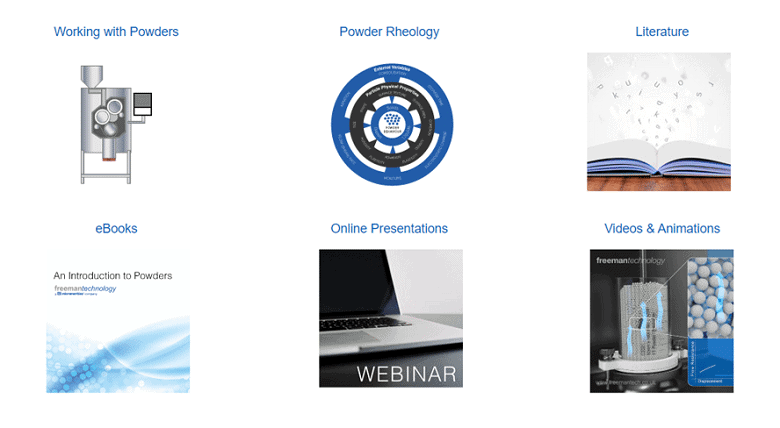 TEWKESBURY - In the current climate online resources are going to be of even greater value to powder processors. At Freeman Technology we have distilled 20 years of experience in powder flow and powder behaviour into a variety of formats to help industry understand how and why powders behave the way they do. Below is a brief summary of the resources currently available on our website:
Powder Rheology
Powder rheology is the study of the behaviour of powders as bulk assemblies, consisting of solids, liquids and gases. This page explains how powder rheology allows users to measure the dynamic flow and shear properties of powders as well as quantifying bulk properties such as density, compressibility and permeability.
Working with Powders
This section of our website gives visitors a brief overview of the complexity of powders, the challenges associated with working with powders, and how comprehensive powder characterisation can help predict behaviour, ultimately leading to optimised product development and efficient manufacturing.
Literature
Our literature library contains a wide variety of downloads which cover information on specific industries from pharmaceuticals to additive manufacturing, and application-based content from filling to caking. The section is easy to navigate with all literature categorised according to industry.
eBooks
We have published several educational guides introducing working with powders. They are written in a straightforward, easy to understand style, addressing individual topics providing a foundation for those with little prior knowledge of powders, as well as being a useful resource for those looking to expand their understanding of the factors relevant to product development and processing performance.
Online Presentations
Our selection of on demand presentations are designed to provide an introduction to powder flow and powder behaviour, including 'Working with Powders: How Comprehensive Characterisation can Optimise your Process', 'Using the FT4 Powder Rheometer® for Wet Granulation Applications', and 'Evaluating Process-Relevant Powder Properties for Additive Manufacturing'. They also provide viewers with an overview of the powder testing instrumentation available from Freeman Technology.
Videos and Animations
Several videos and animations are available providing viewers with an introduction to Freeman Technology, the products we offer, and our extensive application knowhow.
This article is published by
Freeman Technology specialises in systems for measuring the flow properties of powders and has over a decade of experience in powder flow and powder characterisation. The company invests significantly in R&D and applications development, and provides detailed know-how alongside its universal powder tester, the FT4 Powder Rheometer. Expert teams ...