The history of Lorandi Silos
Lorandi Silos is a company from Brescia, founded in 1952 and managed by the same family for three generations. At the beginning of the 1980s it took its first steps in the world of plastics, developing a solid competence in the storage and handling of materials in granules, ground flakes or powder. To date, Lorandi silos and plants are present all over the world and the drive towards internationalization has led to the creation of many foreign offices including North America, Spain, and India.
Plants for handling, storage and processing of plastics
The plastics sector changed over the years, principally to contain the consumption and use of polluting materials deriving from oil and to encourage the use of compostable and biodegradable bioplastics such as PLA.
Lorandi Silos also builds plants for the storage and handling of polylactic acid, responding to the needs of the market in a timely and punctual manner. The chemical composition and the chemical and mechanical properties of PLA are, in fact, quite different from the more common and polluting polyethylene. This drive to innovate, combined with the quality of the proposal, led Lorandi Silos to identify in CAMLogic the trustworthy partner for the control instrumentation used as a safety threshold, especially for overflow, in its plants.
The solution identified for Lorandi Silos
Lorandi Silos needed instruments that could be adapted to different types of materials, both plastics, and non-plastics, in the form of granules, ground flakes, or powder, while preserving its high-quality standard. CAMLogic proposed a control system for solids:
reliable
ATEX certified for certain specific applications;
versatile and adaptable to different plants and processed materials.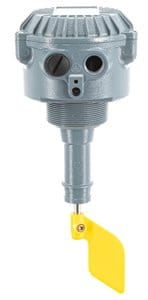 To satisfy the request of Lorandi Silos, CAMLogic proposed a PFG05 rotary level indicator, widely used and appreciated for its reliability and flexibility. The die-cast aluminum casing makes it suitable for hard working conditions and non-stop work.
The PFG05, supplied to Lorandi Silos with 24/48V AC or 24V DC power supply, can be equipped with a variable-length extension and alternative paddles depending on the density of the processed material. The ability to customize the same basic product allowed Lorandi Silos to reduce the design and acquisition times, being able to rely on a proven and efficient instrument.
For the processing of plastics and bioplastics, therefore, the creation of custom level indicators has proven indispensable. A solution that has consolidated the collaboration between Lorandi Silos and CAMLogic, two companies with the same goal: obtaining an efficient, effective, simple, and lasting result that responds to the evolution of the market.