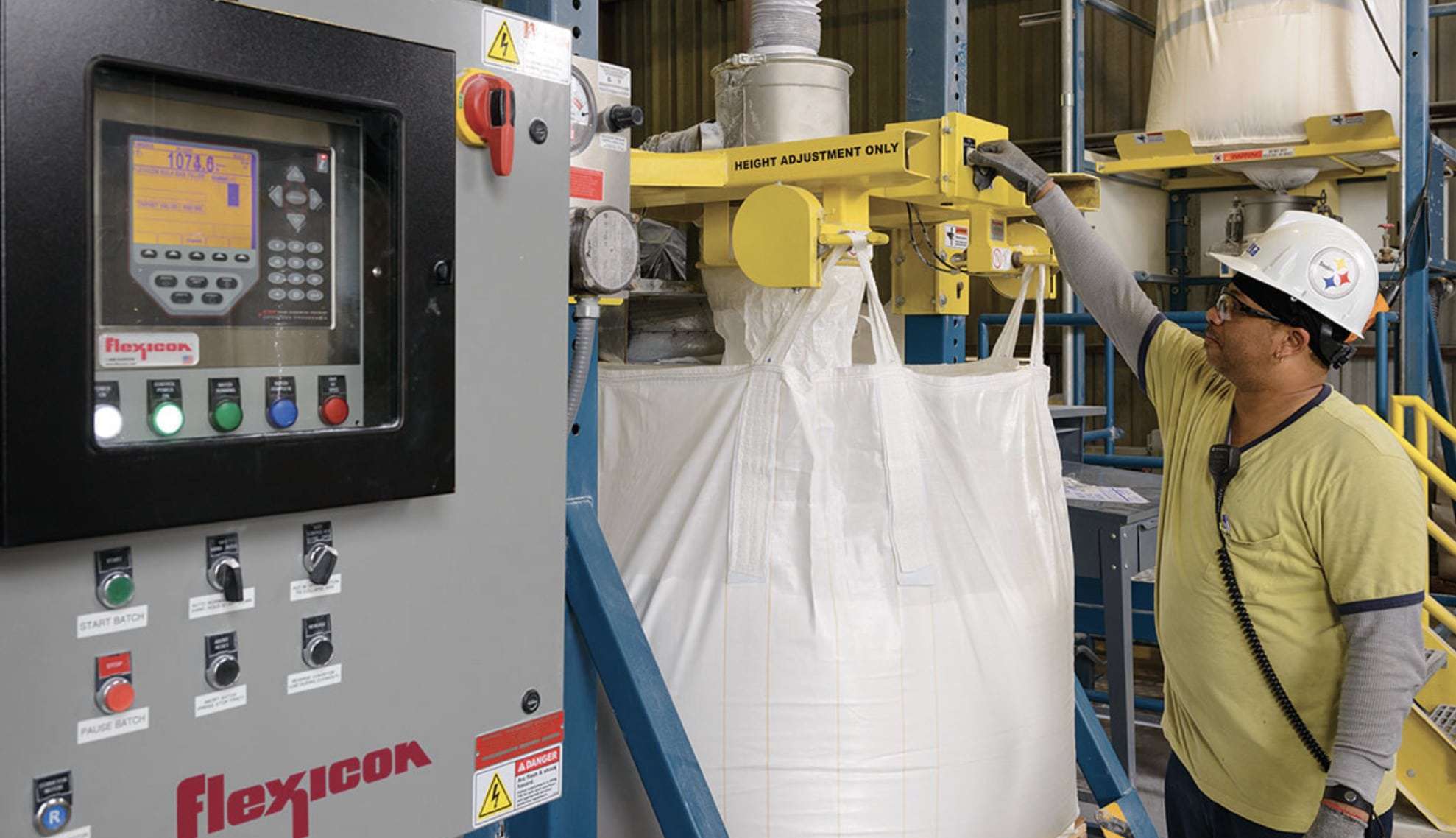 Kaneka North America LLC needed an efficient, dust-free method of re-packaging PVC modifiers to replace manual methods in place since 2003.
The plant packages grades of modifier products into bulk bags (907kg, 771kg, 454kg) and 23kg sacks based on projected customer orders for product grades in specific bag sizes. When the actual orders don't match the projections, the plant needs to transfer products from one bulk bag size to another.
Previously, forklifts suspended a bulk bag above the hopper of a portable screw conveyor which transferred the material into the desired size bulk bag. Similarly, material was discharged from a bulk bag into the hopper of a valve bag filling machine for 23 kg sacks.
Both operations presented safety risks from the suspended bulk bags and generated high levels of dust. Product loss also occurred, and operations frequently had to stop for cleaning and removing dust that would pose a safety hazard. "Re-bagging was inefficient, and the fine powders generated dust," said Brian Wilson, Staff Reliability Engineer at Kaneka North America.
In the new system supplied by Flexicon, a flexible screw conveyor transfers powder from the first of two BULK-OUT® bulk bag dischargers to a TWIN-CENTERPOST™ bulk bag filler. The second bulk bag discharger empties into the hopper of the valve bag filler for 23 kg sacks located under the discharger.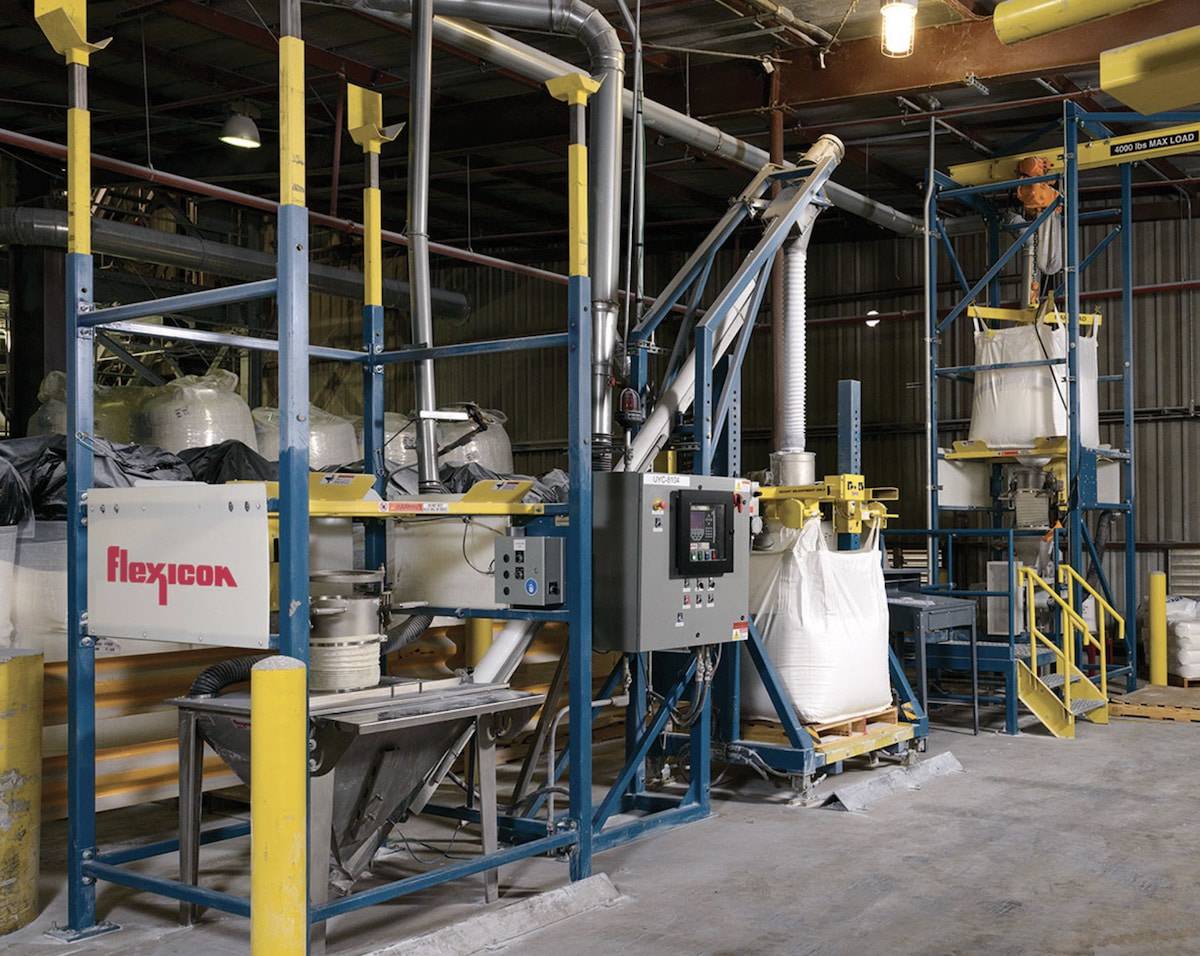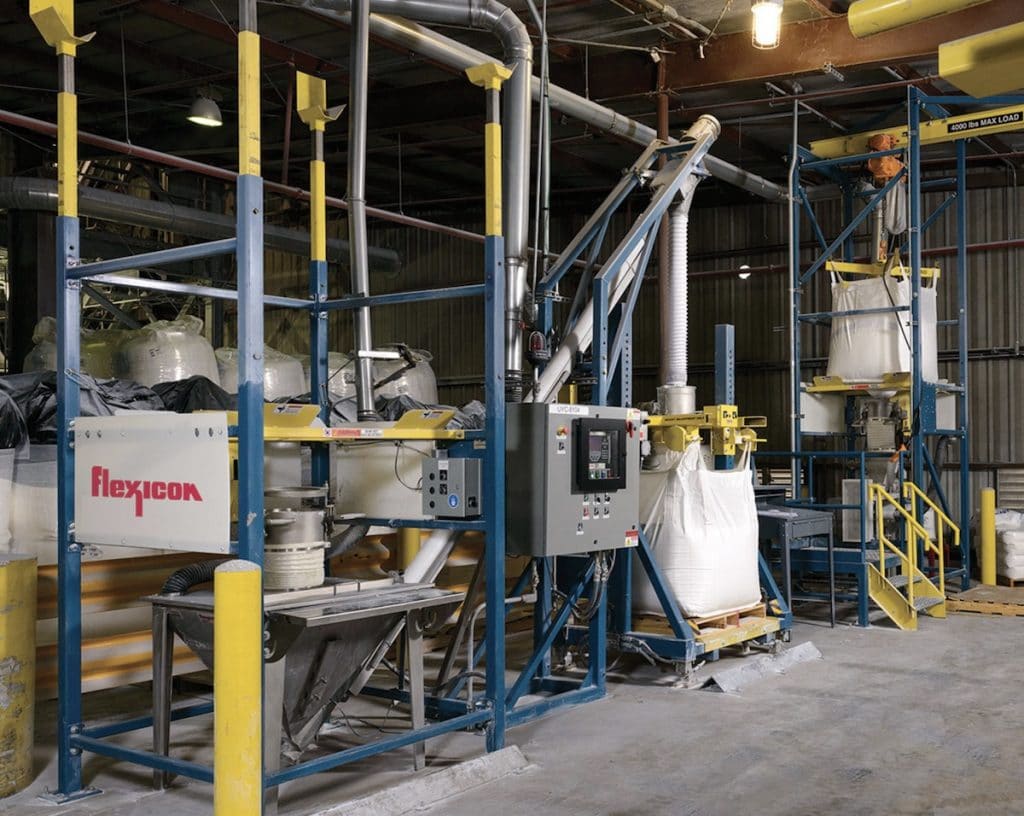 Discharging material into various size bulk bags
In Kaneka's "bulk-to-bulk" transfer system, the loops of bulk bags are connected to a bag lifting frame which is forklifted onto a cradle at the top of a BULK-OUT® bulk bag discharger model BFF-C-X.
A SPOUT-LOCK™ clamp ring that is raised pneumatically by a TELE-TUBE™ telescoping tube makes a secure, sealed connection to the bag spout, preventing contamination of the plant environment with dust during material discharge. The telescoping tube maintains constant downward tension on the bag as it empties and elongates, promoting material flow into a 226 l hopper.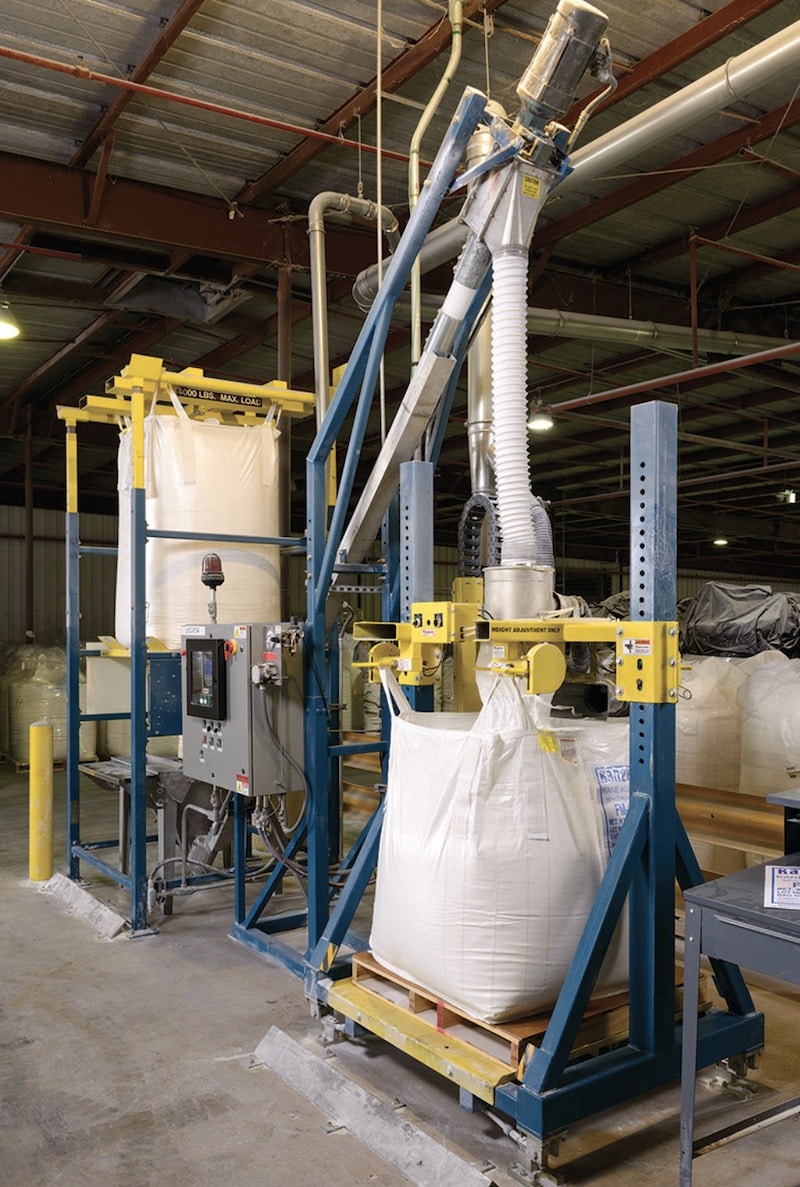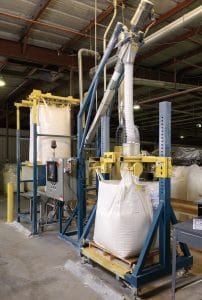 As the bag lightens, POP-TOP™ extension arms at the top of the four discharger posts increasingly stretch the bag upward into a cone shape, as FLOW-FLEXER™ bag activators raise opposite bottom sides of the bag into a "V" shape on timed cycles, promoting total discharge from the bag.
The receiving hopper of the discharger is equipped with a hinged lid and bag tray support, allowing material to be dumped manually from sacks, boxes and other containers.
A 3.6 m long flexible screw conveyor, inclined at 45º, transfers the PVC modifiers from the hopper to a TWIN-CENTERPOST™ bulk bag filler with height-adjustable fill head to accommodate a wide range of bag sizes.
The operator attaches the bag loops to retractable hooks that support the bag during filling. Under PLC control, plant air inflates the bag while an inflatable collar seals the bag spout which, together with a filtered air displacement vent, prevents the escape of dust.
Load cells supporting the filler transmit weight gain information to the PLC which stops the flexible screw conveyor once the target weight is gained.
Discharging material from bulk bags to 23 kg sacks
In Kaneka's "bulk-to-sack" transfer system, a BULK-OUT® model BFC-C-X bulk bag discharger empties contents of the bulk bag into the hopper of the valve bag filling machine for 23 kg sacks.
The BFC Series discharger differs from the BFF Series discharger in that bags are lifted from the plant floor by means of a cantilevered I-beam with hoist and trolley, eliminating the need for a forklift. This hoist assembly was installed to fit limited headroom where the bulk bag discharger is located. As with the "bulk-to-bulk" transfer system, the discharger employs a SPOUT-LOCK™ clamp ring and TELE-TUBE™ telescoping tube.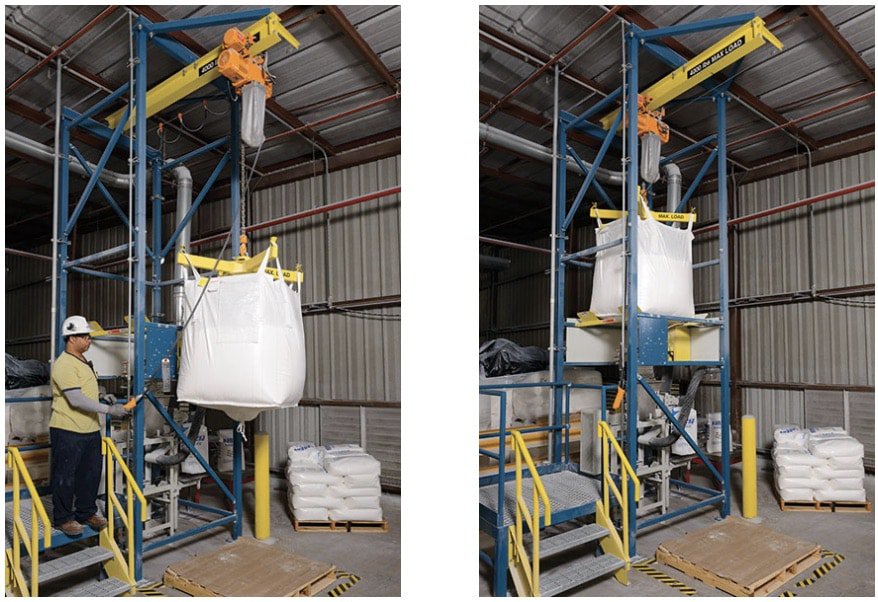 Dust-tight system boosts productivity
From start to finish, both operations are completely enclosed, greatly reducing dust emissions. Dust control for both transfer systems has been further enhanced by connecting to a recently installed dust collection system with explosion protection. Vent hoods and mass balance dust collection spouts were installed as required to make the system as clean and safe as possible.
"Dust generated from the re-bagging operation has been significantly reduced. The new system improves our productivity by an order of magnitude," Mr. Wilson concludes.
Kaneka North America LLC offers a range of performance modifiers for PVC and engineering resins to meet customers' physical and chemical property requirements.
This article is published by
Convey, load, unload, weigh, feed, and process virtually any bulk solid material
Flexicon Corporation
Flexicon Corporation
 is a world ...