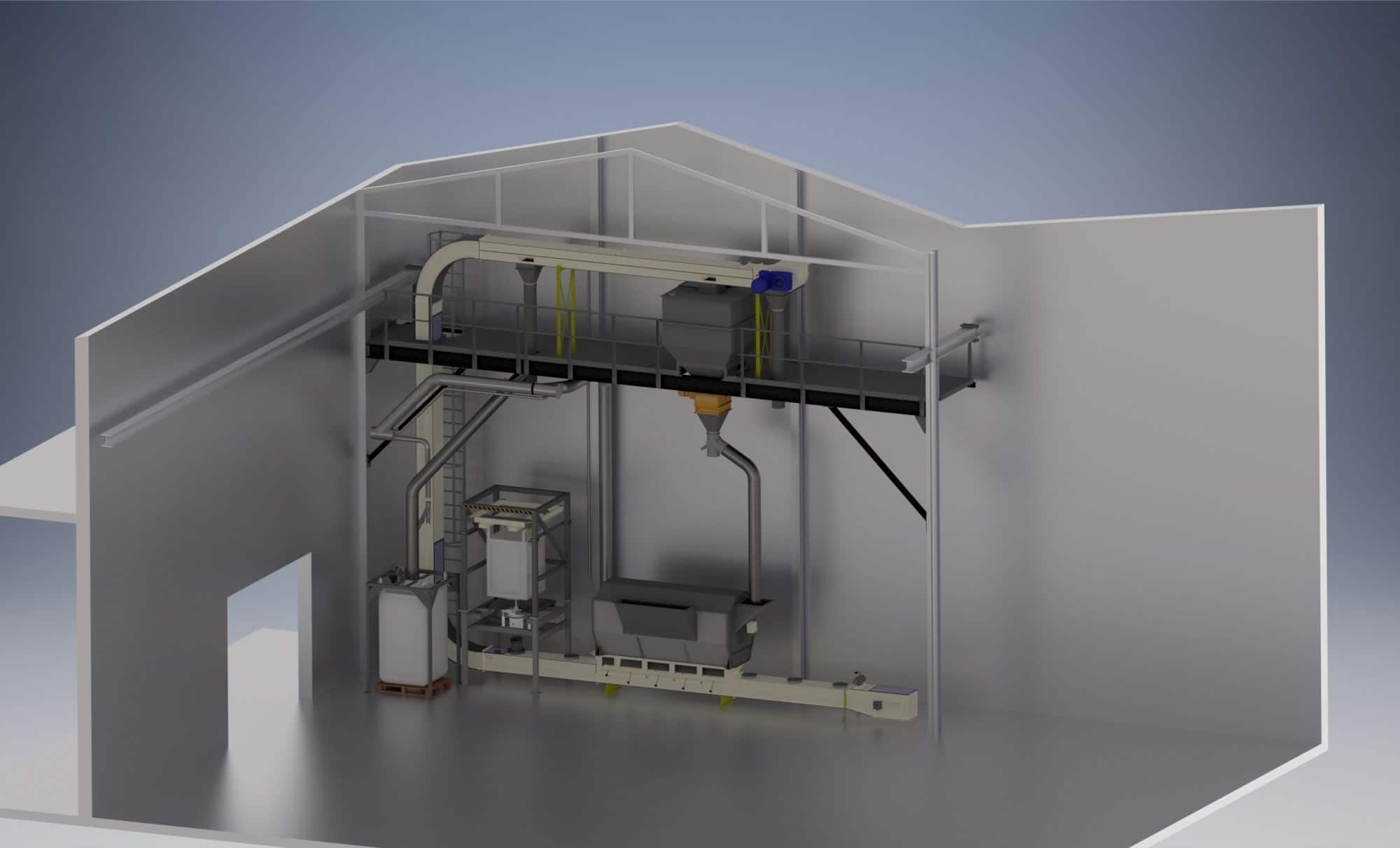 With this setup, Poeth is the first system integrator / machine builder in the Benelux that can perform endurance tests at 0-120 m3 / hour.
This investment makes it possible to test in a closed loop and it has a double purpose:
Testing with Z / C-Conveyor
Endurance tests with various machines on feasibility such as sieving machines, continuous mixers, crushers etc.
By e.g. placing a sieve machine inline can be tested for capacity. At the bottom of the machine, coarse and fine product is then collected together and returned to the top by the Z-Conveyor. By subsequently running the system in a "loop" for hours or days, the actual production situation can be better simulated.
Testing with Z / C-Conveyor
The conveyor is used in very diverse industries and applications. With the setup, various critical issues can be tested, such as:
sensitivity to segregation
sensitivity to bridging
sticky / smearing behavior of powders
abrasion / wear through the product
aqueous products
contamination-sensitive powders
The Z / C-Conveyor is modular, and is a.d.v. the tests determined the correct configuration. A digital showdown provides additional insight into the behavior of the conveyor with various products. The set-up is also suitable for safe testing with atex-sensitive powders.
Poeth also has a small Z-Conveyor test set-up for small capacities up to 20 m3 / hour.
If you want to buy a machine but are unsure about the feasible capacity? Then it is now possible to test this in advance.
We are also willing to examine third-party machines to see what the options are for carrying out an endurance test.
High-Frequency Screening Machine
The Poeth high-frequency sieving machine is very suitable for products from recycling / circular processes. Plastic PET flakes get stuck in the screen deck for x hours of rotation. The high-frequency sieving machine can automatically tension and relax the sieve deck during vibration and cleans itself automatically because the particles are, as it were, launched. Using In this closed loop setup, this kind of expensive testing can be performed relatively easily.
The set-up will be ready for use in approx. 2 weeks. Please contact us if you wish to have a test carried out.
Various tests have already been planned for:
sugar
carbon black
minerals
metal powders
dried vegetables
recycled PE and PP
milk replacers
This article is published by
Poeth develops, produces, erects and commissions, sophisticated machinery and production lines for various processes in solids handling. Our knowledge and experience is mainly based on agri-industrial processes, since 1921. Applications of Poeth machinery and process experience are found in food processing as well as f.i. in recycling of bio-mass. An ...