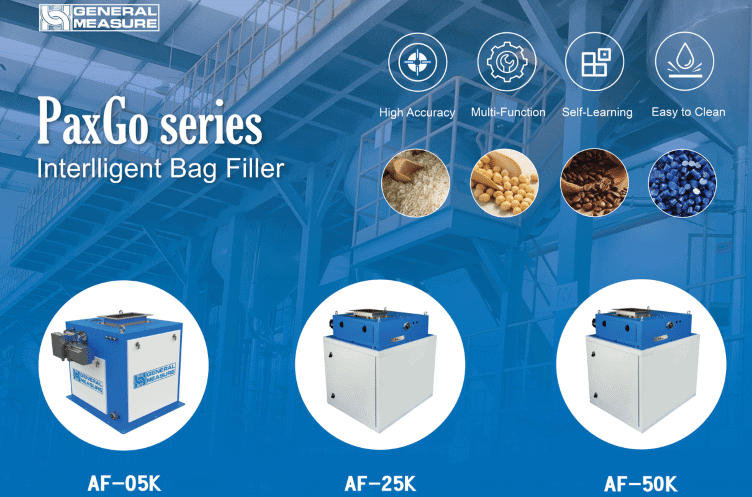 At present, as to meet the end users' operation and management needs of saving labor costs and improving automation and intelligence capability.
The packing equipment manufacturers are developing towards to system integrator providing the whole packaging line combining with various equipment for the end-user. Meanwhile, the main request of end-user at present is demanding more functional, intelligent, and user-friendly bagging machines with better performance, as well as demanding a systematic solution, which requests the equipment manufacturers to invest time and money on designing and providing optimal system solution but not the individual equipment.
Features of Second Generation Intelligent Bag Filler
Under this circumstance, in order to meet the urgent needs of a system integrator in intelligent bag filler for the whole bagging system, the bagging machine manufactures have to put more effort in product R&D and quality improvement. Therefore, General Measure launched the 2nd generation intelligent bagging machine with 5kg, 25kg, and 50kg weighing range to fulfill the clients' requests and business goal. The highlight features are shown as follows:
Self-Adjusting Function: only set the target weight and start the auto adjustment, the bag filler begins self-learning for 10 packs and find the optimal output performance, which is really easy to operate
Smart Feeding Algorithm: while running, the bag filler is able to adjust the parameter to the optimal status automatically for avoiding errors by the environment changes.
Combine with Vibrator: the vibrator makes the weighing range wider. AF-05K can weight from 50g to 5kg.
Fast Speed: the bag filler with single hopper can pack 1000p/h.
High Accuracy: the accuracy can reach ±2g.
Module Design: stable running and easy maintaining
Servo Motor: more accurate control system.
Data export: with USB connecting, the packing data can be easy exported. It also supports the wireless transmission.
Focusing on niche part or combining the whole system are two current trends of bagging industry. It is too hard to strike the balance between the parts of equipment and whole system. Thus, let equipment manufacturers concentrate on units production, and system integrator committed to design the optimal system.
This article is published by
General Measure Technology was found in 1993, with 27-year experience in weighing industry with advanced technology and high quality products. Our main products are weighing controller with various software options, checkweigher and packing auto filler. Since 2006, General Measure has dominated the high-end market and occupied more than 30% of the ...