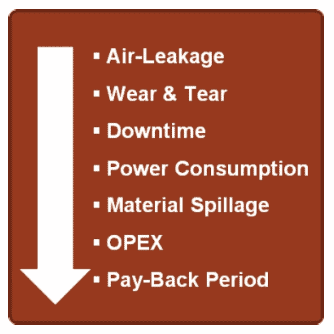 Their Ariyalur plant has a capacity of 3.5 MTPA and approached us in providing a solution for productivity enhancement, efficiency improvement, and operating cost reduction, in their Line 1 Cement Mill bag house.
To handle the highly abrasive cement dust under the mill's bag house application with a pressure of 5 kPa and temperature of 140°C, their Engineering consultant recommended going with conventional type double-decker (one above the other) rotary airlock valves per silo.
With the process, the power consumed was about 3.7kW power per motor thus power consumption of 7.4kW per bag house. In turn, a total of 7,77,888kW is consumed in a year for 24 motors in 12 silos of the bag house.
The plant maintenance team faced huge air leakage, material spillage, frequent tripping and environmental hazards at the bag house.
They were spending huge money annually repairing aforesaid valves due to abnormal wear on handling high abrasive cement dust. In addition to this, they need to replace the valves every 3 years.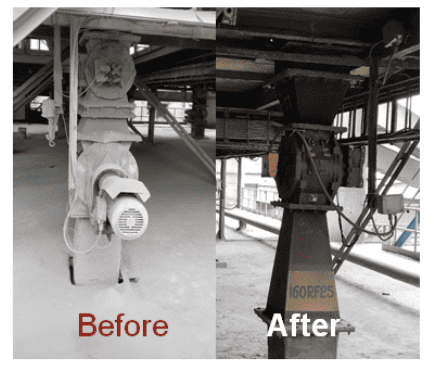 Anval conducted a detailed study at their site and recommended going with a single Rotary Floating Shoe (RFS) valve coupled with a 1.1kW motor instead of two conventional rotary valves per silo.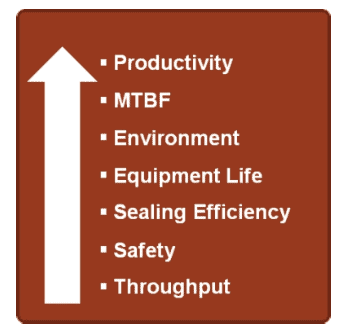 RFS Valves, composed of a Ceramic embedded rotor with a "Floating Shoe" to create a positive sealing and to transport even the most abrasive materials.
Thus, the performance and efficiency of the bag house increased by 4 times due to a drastic reduction in air leakage. In addition, annual power saving comes to a total of approximately saved more than 6,62,256kW.
• Savings/PA =INR 52 Lakhs
• Payback period=6 Months