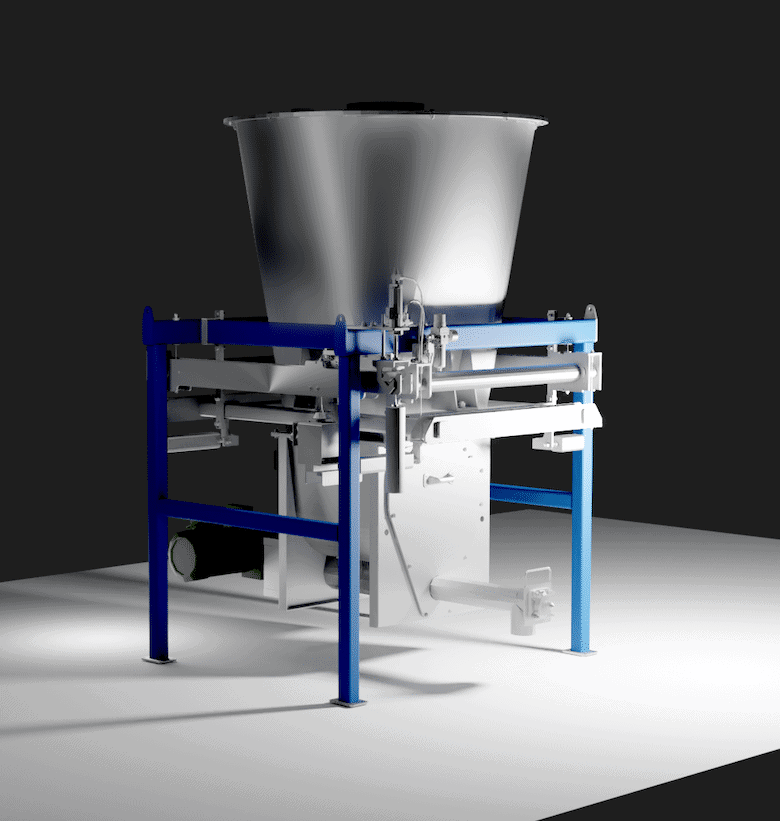 All Thayer Scale Powder Feeders feature integrated material agitation zones, specialized auger designs and a wide range of proprietary feed algorithms to ensure reliable feeding of difficult materials.
All models in the LIW Powder Feeder family incorporate a volumetric feeding subsystem designed to provide consistent, reliable metering of the target material at desired flow rates, ranging in capacity from grams per minute to tons per hour. The volumetric feeder is paired with a fully mass-counterbalanced platform or cable scale to provide maximum signal and ensure accurate, reliable weight measurement in the most difficult operating conditions.
Mass-counterbalancing provides the means to maximize the differential weight signals representing flow rate, which permit operation over higher turndown ratios and enable longer times between hopper refills. The reduction in noise relative to signal levels also permits operation using higher controller gain settings. This is particularly beneficial when the feeder is set to follow a variable demand (dynamic set-point) signal. Also, calibration confirmation using test weights of a scale with mass-counterbalancing is simpler and quicker owing to its leveraging advantage.
The line of Thayer Scale Powder Feeders is the most versatile in the industry. Each model is designed exclusively for the stringent requirements of Loss-in-Weight feeding of powders and other sluggish, cohesive materials. Thayer Scale offers a robust set of proprietary add-on accessories designed to defeat the problematic flow issues common with these materials, such as bridging, flushing, adhesion and cohesion. They assure accurate and uniform feeding over a wide range of flow-rates.
Thayer Scale's suite of Powder Feeders features proprietary technology. A patented U-trough feed chamber with an independently driven agitator assures precise, reliable delivery of material to the feed screw. It also eliminates material build-up, controls material aeration and delivers a steady constant flow of material.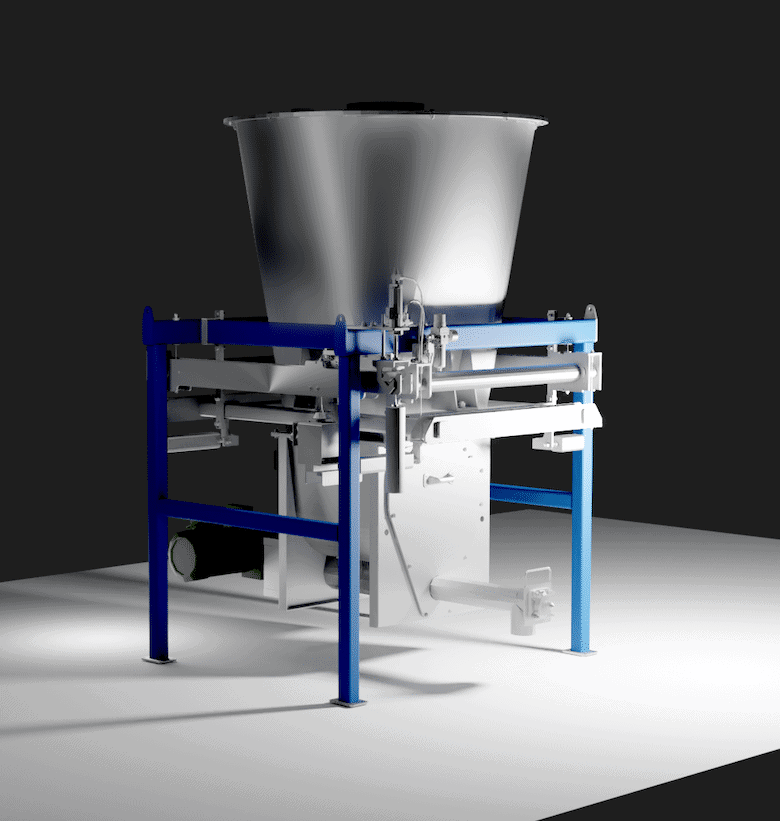 All Powder Feeders in the Thayer Scale product family utilize patented Force Measurement Suspension System (FMSS) cable scale technology. Thayer Scale's is the most rugged and forgiving weighing system available on the market. It can take more physical abuse and tolerate more foundation and distortion/deflection than all other known designs.
The exclusive Thayer Scale FMSS cable suspension design provides extremely high sensitivity. Feeder "dead load" is mass-counterbalanced so that only material weight (live load) is measured. This feature helps assure excellent control in "noisy" environments.
The Powder Feeders offer best-in-class calibration. Built-in Automatic Test Weight Lifter (ATWL) provides a means for automatically applying a known test load and going through a calibration sequence on a computer or push-button demand to check calibration. A foolproof self-checking software algorithm in the feeder control instrumentation prevents erroneous calibration.
The test weight calibration method has proven accurate and reliable over decades of in-plant use. Unlike material sampling, it is always clean, fast and safe. Unlike electronic signal simulation, it actually tests the performance of critical electro-mechanical components under the full deflection range of the load cell.
Key Features of the Powder Feeder Family:
Patented U-Trough hopper and feed chamber provides practical and economical means for metering difficult powders
Independently-driven agitator assures precise, reliable delivery of the material to the feed screw
FMSS Mass-counterbalanced scale (adapts to all mounting arrangements, sustained sensitivity without maintenance, permits 90+% load cell utilization)
ATWL Automatic Test Weight Lifter
Wide range of quick-release screws with integrated shaft seals
This article is published by
Thayer Scale is a leading global manufacturer of equipment for the continuous weighing industry. Founded in 1949, we provide engineered solutions for the food, energy and ...